Skidmore Cares gears up for holiday assistance effort
November 29, 2012
Skidmore Cares gears up for holiday assistance effort
November 29, 2012
Mark your calendar for December 7—Skidmore Cares Friday—when Skidmore employees and their families will come together to celebrate the season and to make a difference in the lives of area families in need.
Launched in 2006 by President Glotzbach and Marie Glotzbach, Skidmore Cares is designed to enhance the meaning of the annual campus holiday gathering at Scribner House. This year, the event will take place from 3 to 8 p.m. on December 7.
Attendees are encouraged to bring non-perishable food items and school supplies for donation to local service agencies (a list of requested items is available here). The items may be dropped off in the sleigh in the front yard of Scribner House or taken directly to the Carriage House collection center. There will be no on-campus collection of donations this year.
Retirees are also invited to the open house, and family members are welcome as well. As always, there will be supervised activities for children and the ever-popular cookie decorating in the Carriage House.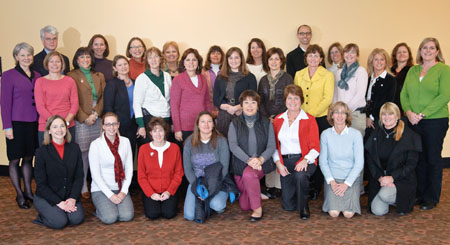 The Skidmore Cares cheerleaders for 2012. To the far left arePhil and Marie Glotzbach.
"This year we have shifted our focus for Skidmore Cares to a Friday to make it easy for folks to stop by on their way home from work. It will be convenient for everyone to gather on a Friday afternoon to share in the spirit and camaraderie of the season at the annual open house at Scribner House," said Marie Glotzbach. "As in past years, it will be wonderful to see the sleigh brimming with donations, showing not only our generosity as a community, but also our awareness of the struggles many families are facing."
This year's Skidmore Cares beneficiaries are the Franklin Community Center,Salvation Army, Saratoga County Economic Opportunity Council (EOC), Domestic Violence Rape Crisis Services of Saratoga County, Mary's Haven, the Latino Community Advocacy Program, Corinth Central School District, the Saratoga Springs City School District PATHS Program, and Shelters of Saratoga.
Skidmore Cares organizers are working with groups of employees, designated as campus "cheerleaders," to help encourage participation in their divisions of the College. Students on campus are involved through the efforts of the Student-Athlete Advisory Committee, Benef-Action, and the "Beatlemore Skidmania" concerts, organized by Professor of Music Gordon Thompson and a group of students. Proceeds from two of the concerts are being donated to Skidmore Cares to distribute to the designated agencies.