Sailing the seas in a first-year seminar
November 19, 2012
Sailing the seas in a first-year seminar
Professor Tillman Nechtman is giving his first-year seminar students a lot of ownership, and they're loving it.
November 19, 2012
Members of the Scribner Seminar, "Sailing the
Seas with Captain Cook," pose for a group shot.
Wednesday, November 7 was a big day in the Scribner Seminar "Sailing the Seas with Captain Cook," an interdisciplinary investigation of the 18th-century maritime world. Peer mentor Ben Polsky '15 and Professor Tillman Nechtman arrived in tandem but quickly parted ways, with Polsky striding to the front of the classroom and Nechtman slipping into a back-row seat. Polsky carried a captain's hat, signifying his new role as crew leader. Nechtman, who had represented Captain Cook, could no longer carry the hat, or do much else, given that his class had just read about his death at the hands of the Hawaiians.
"What's the significance of Cook's death?" Polsky asked the 12 first-year students who had just read Glynn Williams's The Death of Captain Cook: A Hero Made and Unmade. "Was the death an outgrowth of anger on the part of the islanders? Was Cook an aggressor or a selfless man? A villain or a hero?" For the next 80 minutes, the conversation flowed seamlessly, with everyone contributing except for a certain professor with a Ph.D. in British imperial history, who later admitted, "It was so hard for me not to talk." But dead is dead.
It was a 'death' that Nechtman had planned for ever since he decided to assign each student a specific role on Cook's ship. He would be Cook, Polsky served as his lieutenant, and his first-year students assumed shipboard positions such as cook, surgeon, naturalist, astronomer, and artist. Nechtman explains, "Being experimental is part of the vibrancy of the First-Year Experience. In this case, students get their own seminar within the seminar based on their roles. Their in-character filters are always on, both as learners and teachers. Mine, too. I'm finding out things I didn't know from my students." Other experiential elements of his seminar, woven in with assigned readings and presentations, include a sauerkraut competition (the cabbage-based dish was thought to fend off scurvy among the sailors) and the construction of a model replica of Cook's first ship, the HMS Endeavor.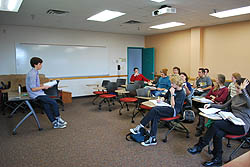 Ben Polsky '15 leads the class, while Professor
Nechtman (in red nearest to the door)
takes a back seat.
So what did the professor learn by giving up control to his peer mentor, in this class and beyond? "Ben had never heard of Cook," says Nechtman with a laugh. "He didn't know Cook from the man on the moon two months ago. And here he was walking the class through a pretty high-level discussion about how we understand the meaning of Cook's death. Ben really owned the space. He raised the bar for the students." Nechtman adds, "They've learned so much, too, in terms of how to understand and talk about history, how to work through contentious and complex material. I realized that they can do this class without me, which is the ultimate goal of the liberal arts."
Polsky, who hopes to be a professor some day, says he is grateful for the "opportunity to develop leadership skills. Professor Nechtman has given me a lot of responsibility, which I couldn't have gotten anywhere else." Elizabeth Reisen '16 says she is struck that Nechtman "takes the class very seriously, but makes it our job to do so much of it. We're all invested. As the ship's astronomer, I've had to really know my job, including taking control of the sextant for charting our course."
As Reisen talks, other members of the class are at work on the 12-by-8-inch replica of the Endeavor, an effort spearheaded by Polsky, with guidance from Professor Gary Wilson. Nechtman says the experience of a history colleague convinced him to give boat-building a try. "I wanted to open up to other ways of having students learn," he says. "There's something about a hands-on project that deepens the experience and opens new pathways of understanding."
Interestingly, making a model boat from small strips of wood has been more than a learning exercise; it's become a chance to exhale, to bond, to laugh a little. One October day Ben Wetherbee '16, the ship's gunner, takes out his fiddle and plays lightly. Another student wonders out loud if Cook ever wore a captain's hat. And talk of the boat's sails prompts a conversation about Skidmore's sailing club. There are even jokes about the sauerkraut, the aroma of which lingered longer than expected in Nechtman's office.
Three students take a turn assembling a
model of Cook's HMS Endeavor.
Midshipman Victoria Eldridge '16 remarks, "I didn't expect that I would enjoy this class this much. It's comfortable, it's not stuffy, it's not a typical history course. I like the boat-building and I like hanging out in the dorm with these guys. I can't believe I'm saying this, but it's fun." (For a fun video produced by the class on Cook's first voyage to the Pacific, see below.)
Nechtman is all for fun, but his main interest is in helping his students learn how to grapple with and put into perspective "competing truths and contradictory narratives." Cook may have sailed into the Pacific more than two centuries ago, but the collision of cultures that took place during his voyages and how to make sense of them are timeless issues, and arguably more important than ever in today's interconnected, global world.
For Nechtman, "Absolute meaning is never possible, perhaps. But embracing uncertainty is a great way to begin one's intellectual journey. The humility that comes from not knowing paves the way to an openness for knowledge." And like his students, the professor has been modeling that and continuing to learn and grow.


Posted On: 11/19/2012