Highest honor
January 7, 2013
Sallie (Penny) Chisholm '69 will be awarded the National Medal of Science for her revolutionary work in oceanography.
Chisholm with her two award-winning children's books.
Biologist Sallie (Penny) Chisholm '69 is among 23 eminent researchers in the U.S. who will receive the nation's highest honors for scientists, engineers, and inventors in an early-February ceremony at the White House.
President Barack Obama will present the National Medal of Science to Chisholm and 11 others; in addition 11 people will also receive the National Medal of Technology and Innovation. In a statement the president said, "I am proud to honor these inspiring American innovators. They represent the ingenuity and imagination that has long made this nation great—and they remind us of the enormous impact a few good ideas can have when these creative qualities are unleashed in an entrepreneurial environment."
The National Medal of Science was created by statute in 1959 and is administered for the White House by the National Science Foundation. Each year a committee of Presidential appointees selects nominees on the basis of their extraordinary knowledge in and contributions to chemistry, engineering, computing, mathematics or the biological, behavioral/social and physical sciences.
Chisholm is a distinguished biological oceanographer whose studies of the dominant photosynthetic organisms in the sea have revolutionized scientists' understanding of life in the world's oceans. She holds an appointment in MIT's School of Civil and Environmental Engineering, where she is the Lee and Geraldine Martin Professor of Environmental Studies and a professor of biology.
In 1988 Chisholm was part of a team that discovered the ocean phytoplankton Prochlorococcus, the world's smallest, yet most abundant, photosynthetic organism. These tiny, teeming blue-green algae are the basis of the ocean's food chain and more. During photosynthesis they use sunlight energy to take up carbon dioxide and evolve oxygen thus playing a key role in regulating the earth's atmosphere and climate.
Chisholm has developed Prochlorococcus into a model system for study, to help us better understand the role that these photosynthetic microorganisms play in sustaining ocean ecosystems. She has worked with biochemists, geneticists, microbial ecologists and others to understand Prochlorococcus's biology from the genomic level up to its role in the global biosphere.
Her laboratory was the first to publish a genome of Prochlorococcus—finding that it contains only 2,000 genes (compared to 30,000 for a human). This, said Chisholm, is the smallest number of genes that can convert sunlight energy and basic elements into biomass. "It behooves us to understand exactly how…this tiny cell converts solar energy into living biomass," she has said. These blue-green algae, also called cyanobacteria, are "not just some esoteric little creatures; they dominate the ocean," she added.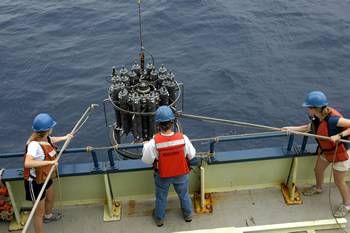 Recovery of a Conductivity, Temperature, Depth
(CTD) Sensor with a rosette of niskin water bottles
in the Atlantic Ocean. The CTD sensors collect data
that describes the physical properties of the sea
water and the rosette of niskin water bottles allows
the capture of sea water at specific depths for
biological or chemical sampling of the ocean.
She has integrated her studies of this microbe into a new understanding of oceans, using flow cytometry to discover that these small plankton contribute substantially to marine productivity — often accounting for as much as half of oxygen production in some regions of the sea.
Chisholm earned a B.A. degree in biology-chemistry at Skidmore, the home of her "scientific roots." When explaining her start as a scientist, she says, "I always tell people that the project I worked on for my senior thesis was not on a cutting-edge topic, but that didn't matter. I learned how to do science in the most rigorous way. I learned the fundamental principles of the scientific method. That is what matters, as that is what students carry with them when they move on."
She carried that knowledge to Cornell, where she studied in 1970, and to the University at Albany, where she earned a Ph.D. in biology in 1974.
Chisholm has teamed with illustrator and children's book author Molly Bang in producing two award-winning children's books. Their first collaboration, Living Sunlight: How Plants Bring the Earth to Life (Scholastic, 2009), was acclaimed in 2010 by the American Association for the Advancement of Science as the year's "Best Children's Science Picture Book." Their second, Ocean Sunlight: How Tiny Plants Feed the Seas (Scholastic/Blue Sky Press, 2012), has just received this same award for 2013.