Zephyros Winds, distinguished chamber ensemble, to perform at Zankel
February 8, 2013
Zéphyros Winds, distinguished chamber ensemble, to perform at Zankel
February 8, 2013
Zéphyros Winds, one of America's most distinguished chamber ensembles, will perform at 8 p.m. Saturday, Feb. 16, at the Arthur Zankel Music Center on the Skidmore campus, as part of the Sterne Virtuoso Concert Series.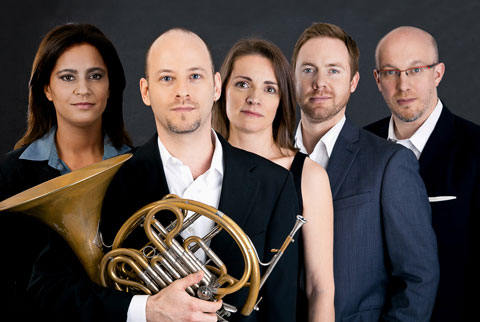 Zephyros Winds
Now in its 18th season, Zéphyros Winds brings together five of the finest wind players of a generation – James Roe, oboe; Jennifer Grim, flute; Marianne Gythfeldt, clarinet; Saxton Rose, bassoon; and Zohar Schondorf, horn – who specialize in presenting insightful programs drawn from the wide spectrum of chamber music featuring wind instruments.
Taking its name from the Greek god of the West Wind, Zéphyros Winds first gained national attention in 1995, when, one year after its formation, it won both the first and grand prizes at the Fischoff National Chamber Music Competition, becoming the first wind quintet in the competition's 22-year history to do so. The ensemble made its New York debut in 1997 at Merkin Concert Hall, and began extensively touring throughout the United States.
Zéphyros Winds has appeared at the nation's most prestigious concert venues, including the Library of Congress, Wolf Trap, Carnegie's Weill Hall, Dumbarton Oaks, Duke Performances at Duke University, and "The Movado Hour" at the Baryshnikov Art Center in New York City, Da Camera Society of Los Angeles, Skaneateles Festival, and Lincoln Center's "Great Performers" series. In 2010, Zéphyros performed in Beijing, China, at the National Centre for the Performing Arts' May Festival. Zéphyros has given master classes at the Yale University School of Music, the Juilliard School, the Eastman School of Music, and the Idyllwild Arts Academy.
Zéphyros performances encompass the repertoire for wind quintet, including works for winds and piano, and winds and strings, and ranging from solo players through wind ensemble. The Feb. 16 program includes Maurice Ravel's "Le tombeau de Couperin," Elliott Carte's Esprit rude/esprit doux for flute and clarinet, August Klughardt's Wind Quintet, op. 79, Paul Pierné's "Suite Pittoresque," and Endre Szervánszky's Wind Quintet No. 1.
Admission for the 8 p.m. Feb. 16 Zéphyros Winds performance is free for students and children, $8 adults, and $5 seniors and Skidmore community. For advance reservations visit www.skidmore.edu/zankel or call the Zankel box office (518) 580-5321 for more information. The Zankel Music Center is wheelchair accessible and offers listening devices for the hearing impaired. For more information, please visit www.skidmore.edu/zankel.