McCormack residency features Armitage Gone! Dance
March 18, 2013
Science as a starting point for performance is the key to a unique event planned as part of this spring's McCormack residency.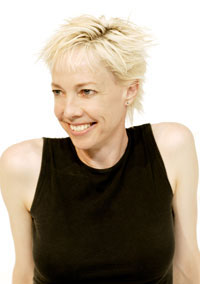 Karol Armitage (Photo by Marco Mignani)
Fables on Global Warming, a performance-art musical about sustainability, will be presented Saturday, March 23, at Skidmore College by Armitage Gone! Dance, a company directed by Karol Armitage.
Scheduled at 7 p.m. March 23 in Skidmore's Dance Theater, the event is free and open to the public. Tickets are required and may be reserved by clicking here.
Fables on Global Warming features eight dancers who explore the connections between humans and animals, culture and nature, and science and art, entwining dance, song, and visual puns with Asian theatrical traditions.
Director/choreographer Armitage worked with visual director Doug Fitch and composer Corey Dargel on the production, which features Dargel singing and speaking as the narrator accompanied by two musicians. The production is designed to appeal to a wide audience, including children, newcomers, and members of the dance-loving public.
Science is the point of departure for Fables on Global Warming. Dr. John Harte, a leading ecologist from UC-Berkeley's Department of Environmental Science, has worked with Armitage to ensure that climate change issues are thoughtfully embedded in the fabric of the fables.
The performance features three troubadour-like musicians costumed as extinct animals from North America. Movement is used several ways. At times, dancers move as animals and speak in their voice. At other times they break out into virtuoso dance that redefines the shape and geometry of movement itself. They become puppeteers and create an enormous animal out of dancing body parts, or make the calligraphy of a gnat's flight visible. Other scenes offer opportunities for poetic movement. The scenes flow one into the other through imaginative and delightful visual punning in the hands of Fitch, whose charming do-it-yourself style costumes, puppets, and props bring magic to the show and transformations occur from thin air.
Karole Armitage, director of the New York-based Company Armitage Gone! Dance, was rigorously trained in classical ballet. As a professional dancer she performed in Balanchine's Grand Théâtre de Genève Company and in the Merce Cunningham Dance Company.
Known as the "punk ballerina," Armitage is renowned for pushing the boundaries to create works that blend dance, music and art by drawing upon her technical knowledge of dance to blend virtuosity with conceptual ideas from the frontiers of movement research. She directed the Ballet of Florence Italy (1995-1998), the Biennale of Contemporary Dance in Venice (2004), served as resident choreographer for the Ballet de Lorraine in France (1999-2004) and created works for many companies, including the Bolshoi Ballet, Ballet Nacional de Cuba, Les Ballets de Monte Carlo, and the Paris Opera Ballet. She choreographed two Broadway productions (Passing Strange and Hair, for which she received a Tony nomination), videos for Madonna and Michael Jackson, and several films for Merchant Ivory productions, among others. Known for directing opera from the classical repertoire for important European Opera houses, she also choreographed The Cunning Little Vixen for the New York Philharmonic (2011), for a William Wegman dog (2012), and the Cirque du Soleil production Amaluna (2012). In 2009 Armitage received France's most prestigious award, the Commandeur de l'Ordre des Arts et des Lettres, and also is the recipient of a Guggenheim Fellowship.
A scene of trees from Fables on Global
Warming.
Over the past 30 years Armitage and her dancers have shaped the evolution of contemporary dance through the creation and performance of new works. The most recent incarnation of the company, Armitage Gone! Dance, was launched in 2004 when Armitage returned to the U.S. after 15 years abroad. Dedicated to redefining the boundaries and perception of contemporary dance, the company extends the mandate of innovation that characterizes both her earlier Armitage Ballet, founded in 1985, and her first full-time company, Armitage Gone!, founded in 1979.
Armitage Gone! Dance is well known for its collaborations with innovators in music, science, and the visual arts, including artists David Salle and Jeff Koons and string-theory physicist Brian Green.
The performance will wrap up a weeklong visit by Armitage to Skidmore as this year's McCormack Visiting Artist-Scholar. During the residency Armitage will meet with modern dance students and an arts administration class, and participate in a dialogue at 8 p.m. Tuesday, March 19, in the Payne Room of the Tang Museum. Armitage will talk with Interim Dean of Special Programs Paul Calhoun on the role of art in explaining science and its impact on our lives.