Goliath vs. bantam
May 23, 2013
From corn breeds to calories to recipes, today's food issues have a lot to do with size and competition
by Susan Rosenberg
with illustrations by Brucie Rosch

"Food is not just part of our physical fabric. It's part of our growing up and family life. We engage with it, usually in a group, at least a few times every day," notes Spanish professor and cultural scholar Viviana Rangil. From body-mass index to tastes and taboos, our very identity is shaped by the food we eat.

Pour on some politics, global trade, and high tech, and it's no wonder we devour news headlined "'Pink slime' served in school lunches," "Drought threatens nation's wheat crop long term," "Health secrets of the shopping cart," "Food-borne diseases rising," and "Helping cities feed themselves." Every budget cycle, legislators wrangle over federal farm subsidies, even though two-thirds of American farmers never collect one, according to an OnEarth magazine article. From 1995 to 2012, OnEarth estimates, nearly 90% of agricultural subsidy money went to just 20% of farms—the biggest holdings, owned by megacorporations like Monsanto, Cargill, and ConAgra. Subsidized or not, much of what's grown in America's breadbasket we never see on a plate. Corn goes for sweetener, cattle feed, and ethanol fuel; a lot of wheat is exported; soy is processed into additives as well as chow for farm animals from hogs to chickens to salmon. Nearly all corn, soy, and canola is now grown from genetically modified seed, and the growth hormone administered to dairy cattle is itself genetically modified.

Is this food system intensive and efficient, or a rapacious agro-industrial monster? Several Skidmore minds, on campus and off, are helping to lead new thinking on such issues, and Scope asked a few of them for insights.
More and smaller
Economics professor Mehmet Odekon has guided students in collaborative summer research on food-chain market sectors. They found that between 1997 and 2007 just 10 companies shared 56% of the seed market; in agrochemicals, the top 10 firms had an 89% share. And those top 10s add up to less than 20, since firms like Monsanto and DuPont are in both oligopolies. The project's conclusions recommended policy changes to diversify the markets and support smaller-scale farming.

Lauren Mandel '05 is documenting the role of urban agriculture on rooftops. A landscape architect and green-roof designer, she reports, "Some colleges and schools are planting their roofs with edibles. Restaurants are too, growing heirloom vegetables that are hard to find elsewhere. Urbanites are beginning to realize that you can't get any more local than your own roof!" Mandel covers this trend in her new book Eat Up: The Inside Scoop on Rooftop Agriculture. She says large warehouse roofs are even hosting "commercial-scale farms, some with a few chickens or rabbits (for meat as well as manure), and some with bee hives" to help ensure pollination so high off the ground.

Hydroponics, using liquid nutrients rather than soil, is ideal for roof-mounted greenhouses. Mandel writes about greenhouse farms on Montreal roofs, and she says the Whole Foods chain buys from "a New York operation like this to get fresh year-round produce at competitive prices." Hydroponics, she suggests, "can feed a lot of people with very little labor, because it's often highly mechanized."

Biology professor Monica Raveret-Richter agrees that "high-input methods of agriculture are not the only route to high yields." Raveret-Richter, who has researched foraging behaviors in social animals from insects to birds to humans, teaches a popular course on the ecology of food and is currently writing a book on it. She says, "Understanding how the environment and evolution influence your choices really changes your way of approaching the food landscape."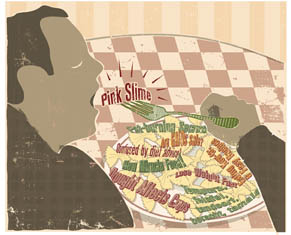 Raveret-Richter's advice is to eat less meat, since raising animals is an extremely high-input enterprise. But with any food, she says, "eating close to the source" directs more of the price to the grower, reduces shipping and storage, and shortens the production line from farm to table. She also calls for policy-level action, to cut back support for monocultured commodities such as corn and wheat and to boost it for "diversified, low-input, organic farms." She says data show that "we can feed people this way. Our challenge for advancing agriculture should be in productivity and sustainability, not just output." Such farming, she adds, also "improves resilience in times or places of food insecurity."

Journalist and food blogger Mary Nelen '79 points back to Skidmore as "a good example of local food in action." Student advocacy for more locally raised products in the dining hall led to deals with area farmers and spurred the creation of the campus garden that now supplies hundreds of pounds of organic produce to the College's dining service. Nelen was impressed that the students weren't taking agriculture courses or getting academic credit but simply "wanted better food and taught themselves how to grow it. Can this be duplicated in other environments? I think it can. Almost all of us should be doing it." She's currently writing a book titled From Scratch.

With organic gardens and farmers' markets spreading, "this is a promising time," Andrew Plotsky '00 declares. People like him, alarmed that "we have the fewest farmers we've ever had in this country" and eager to fix "a broken system," are picking up shovels and, in his case, going online. Serving small farmers around Washington's Puget Sound, he works for a local butchering company and also owns FarmRun, a media and marketing business. A self-taught pork connoisseur, he also raises a few heritage-breed pigs for himself, focusing on healthy, natural husbandry, humane slaughtering and hand-butchering, and old-fashioned, artisanal curing.

"There's a lot of romance flying around in portrayals of small-farm life," Plotsky cautions. "My friends and I know how it really works—how freakin' hard it is—but we're committed to the economy and well-being of our small group." He believes their paradigm has real promise to contribute to "a radical revisiting of classical agrarian society, which doesn't go backward but uses modern technology to forge a new agrarian system."

He acknowledges that when he started out, "the immediacy of taking life—and pigs are very charismatic—was difficult. But I've learned that it's possible to love both pigs and pork. The heartbreak and labor are worth it, to participate in a farming community." In fact, true sustainable agriculture, he argues, is more than raising the food; it also includes "blacksmithing and carpentry and all the other jobs that make a farming life­style possible." Plotsky wants his niche to be media, for communicating the value of small-farm products compared to cheaper, mass-produced supermarket fare. "The key for industrial meat processing," he says, "is low price and high profit; for us, it's quality. We scald and scrape the hide, rather than skinning the pig and losing good fat and flesh. Leaving the skin on also supports the biology of traditional curing for prosciutto and other meat." Along with butchering, his company teaches curing and sausage-making—spreading natural pork cultures into the nearby human culture.
Food cures
The spread of food cultures is of special interest to Rangil, both as an academic and as an expat from Argentina. "I grew up eating seasonal food and local game and fish," she recalls. "On my great-grandfather's farm, after a pig was butchered in the winter, we kids would help with cooking and preserving the pork." On sabbatical this past year, Rangil researched "Latino foodscapes," interviewing people who emigrated from Puebla, Mexico, and San Juan, Puerto Rico, to live in New York City.
Her advice is to "check the number
of ingredients: the list should be
short and they should be recognizable."
While Rangil's study subjects usually want to cook their familiar recipes, and many can't afford not to cook, for nutrition consultant Marti Wolfson '02 a big hurdle can be convincing people to cook. With a culinary degree from the National Gourmet Institute and experience teaching at a holistic health and lifestyle center, she's a from-scratch fan. In place of eating packaged food or take-out, "cooking does take time, but it's much healthier," she says. "I also believe the act of cooking is very healing, and cooking with your family is quality time that's nourishing on many levels." Wolfson has been pleased to see that the Food Network and other TV cooking shows seem to have revived Americans' interest in preparing whole, unprocessed food at home.

Of course, food choices reflect not just social influences but basic biological adaptation. Raveret-Richter says, "For humans in the wild, optimal foraging would draw us to sugar and fat and meat." For 21st-century urbanites trying to stretch a paycheck and also honor their heritage, it might mean beans and grains, to afford enough for everyone at the table. In her research, Rangil has noticed "a strong sense of duty around nourishing the family—primarily among women, who are typically the cooks and shoppers."

Rangil proposes that food both distinguishes cultural identities and bridges them. Her study is charting a Latinization of the US that's "a reciprocal and transformative trend for both the Latino and US cultures." Cuisines—from "authentically ethnic" to muddled to "fusion"—help "create alternative affiliations and 'imagined communities' that can reconfigure notions of citizenship," she says. She also notes that Americans' disposable incomes allow them to sample foreign foods as entertainment. "We like to 'eat the other'—which can suggest a devouring of a colonized culture, especially if we don't try to understand that culture a little bit through its food."

"You are what you eat" certainly cuts more than one way. For biologist Raveret-Richter, "We become part of our environment by eating of it." As a youngster, she ate fish from Lake Michigan, before its pollution was widely recognized. As an adult she came to realize that "whenever you eat a fish, you join the marine ecosystem—and it joins you."

That inextricability is another obstacle for Wolfson's clients. "Food sourcing is so tough. Products made in America may have ingredients from who knows where, and we don't require labeling of genetically modified crops. You have to shop for different items at different places to get the safest of each." Her realistic advice is just to buy whole foods and, when you need to buy packaged, "check the number of ingredients: the list should be short and they should be recognizable. I think that can be more important than the nutrition labeling, because the US Department of Agriculture 'food pyramid' is more about farm subsidies and lobbying than about sound nutrition."

Blogger Nelen says one bright spot is the USDA's 2012 measure requiring twice the previous amounts of fruits and vegetables in the national school-lunch program. "Getting sugar, fat, and processed food off cafeteria menus," she says, "could begin to heal the damage done to a generation of students" whose early diets have "contributed to record rates of obesity and food allergies." Nelen would also like to see "choices limited to healthy food at home."

Wolfson confirms that starting good eating habits in youngsters is vital. She serves many clients who have food intolerances—to wheat and dairy, primarily—but "sugar is the number-one thing that people need to reduce or eliminate. An excess affects everything in our bodies, and our need for it is minuscule." Genetically engineered crops worry her too, since "we're just on the cusp of learning how they really affect us. The new field of nutri­genomics is starting to explore how food can influence our genetics and those of our offspring." She cites evidence that certain genes' expression can be turned on or off "through a clean, high-quality diet or a diet that's poor or contaminated by pesticides, hormones, plastics, and metals." Whatever complex of factors is at work, Wolfson says, "There is no question anymore that many chronic conditions today, from heart disease to bowel disorders to cancers, are directly related to a poor diet."

But take the burgeoning healthier-foods market with a grain of salt. It's nice that restaurants are offering more gluten-free or low-fat offerings, Wolfson concedes. Problem is, "many companies are jumping on the bandwagon by marketing packaged foods that replace fats with sugars, or sugars with artificial sweeteners."
Students grow real food
by Mary Nelen '78
Last spring Skidmore students took on the Real Food Challenge, a national effort to make food served on campuses as humane, fair-trade, ecologically safe, and local as possible. The goal is to make those descriptions true for 20% of campus food by 2020.
Recently well over 10% of dining-hall food has come from the student-run organic garden next to the Colton Alumni Welcome Center. How is this possible? Skidmore has four things going for it: a decent growing zone, a willing dining services director, an aggressive grass-roots Food Action Group, and Gabby Stern '13 and her compatriots.
Stern spent a summer not just toiling in the student garden, but also interning at American Farmland Trust and working with the farmers' market in downtown Saratoga—a locavore's trifecta. "I came into Skidmore with zero experience," says the environmental studies major. "Then I started working the garden. There I was, 18 years old, and it was the first time I'd harvested a carrot. There is a problem with that. How had I gone my entire life not knowing this?"
Under the umbrella of the Environmental Action Club, the Food Action Group began four years ago when students broke ground. Stern took over as manager of the garden in 2010 and contracted with the dining hall. She says, "A few professors gave their two cents, and we just learned on our own. We get a lot of support from the ES department; they covet this garden! It has been a great part of my education."
Stern got no academic credit for that work, but Faith Nichola '14 did an internship in data analysis for last spring's Real Food Challenge, providing findings to give Skidmore's administration a better understanding of the issue.
Elizabeth Cohen '14 grew up with a garden in her backyard, so the origins of a carrot were familiar to her. But coming to Skidmore put organic food in a different light. "Working in the garden made me think about where things are coming from. Affordability and access aren't the same for everybody," she says. Riley Neugebauer, Skidmore's sustainability coordinator, also sees food as a social justice issue, arguing that "sustainability includes equity as well as ecology and economy. If people don't have access to one of their most basic needs—food—or if the only food they have access to is grown with pesticides that accumulate in our bodies over time, harms the environment that we are all a part of, and doesn't tell a story about where it came from or who grew it or why that matters, then we have a justice issue."
Margot Reisner '14 followed her term as manager of the student garden with a semester in Australia to study permaculture. Reisner, in the social and cultural track of the ES major, defines permaculture as "the mentality that everything we do as humans has to do with ecology. If there is a discrepancy between the way human systems work and the way ecology works, then you are going to have a problem, such as the health problems we see today due to what we are feeding our animals and putting into the air. Permaculture mimics the way ecological systems work." After graduation, she plans to start her own farm. "I just want a place to have people live and behealthy," she says.

Socially engineered food?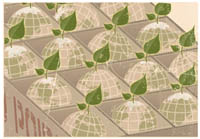 The only answer, Wolfson says, is many answers. "Take our food back into our hands, support our local farmers, educate our children, train our doctors, and cast our votes every time we shop." Rangil interjects, "We also need to acknowledge the privilege of being able to shop selectively and advocate for better systems without having to worry about putting food on our table." The more-produce rule for school lunches is reportedly resulting in students' tossing much of it into the trash. "We can't afford to throw food away," she says, "while we're trying to teach our kids how to eat."

Wolfson concurs "the population isn't getting any smaller, and our food-supply expectations grow bigger by the second." For her, one key to the problem of "how to feed the world but feed it with good nutrition" is to prune back the dominance of big agro. Andrew Plotsky, hog butcher for the world of his small circle, cites ag policy reforms too. While he respects the food safety concerns behind federal meat-packing regulations, he says, "they can only be met by big corporations with administrative departments to handle them." Absent alternative rules for small "meatsmithing," his processor is state-certified, not US-certified. On rooftops too, Lauren Mandel would like to rewrite some or­dinances. While more cities are beginning to allow small flocks of chickens, bee-keeping is usually prohibited, as bees are considered a nuisance or hazard. Mandel says, "We need ways not just to permit but to promote agriculture in residential and industrial zones."
"We need ways not just to permit
but to promote agriculture in
residential and industrial zones."
Economist Odekon shares the preference for small, local, diversified farming. "Unfortunately, the distribution of labor in global food production," he says, "is following the rule of comparative advantage. America and Europe, rich in capital, are producing capital-intensive grains and other commercial crops; developing countries, rich in labor, are producing labor-intensive fruits and vegetables." Consequently industrial nations are increasingly dependent on imports for their produce, while the developing world must import its grain. Neither group can control how cleanly its imports are farmed. "The rampant use of fertilizers and pesticides in some countries is a serious health concern," Ode­kon says, which makes "sustainable farming, urban and rural, more important than ever." In his view, though, small ag can't develop enough without "new institutional and legal frameworks—for example, new forms of collective ownership for urban agricultural cooperatives."

Cooperative arrangements also apply to meal-making. Attending Day of the Dead celebrations in Mexico, Rangil more than once witnessed people with small incomes laying out enormous feasts for up to 500 visitors. In the United States, she points out, "we more often provide charity, giving away resources that are in excess of our needs, but this was genuine sharing, the breaking in half of our only piece of bread to give to someone else." In her study communities, she says, "the money for such lavish holiday generosity sometimes comes from remittances sent home by a family member who left to find work in the States, perhaps even in agriculture."

Such foodways serve as familiar cultural resources that can mean a lot to immigrants. As Rangil says, taste is a feeling, and in fact smell and taste are often the strongest senses for triggering memory and other associations, so "food is about the past and present, the bodily and the symbolic." Curating its traditions, cultivating it, and sharing it "can bring people closer together and help us understand each other."