Selected art facuty show to launch Schick season
September 11, 2013
Selected art faculty show to launch Schick season
Sept. 11, 2013

The Schick Art Gallery at Skidmore College begins its 2013-14 season with the Selected Art Faculty Exhibition, opening with a public reception Thursday, Sept. 12, from 5:30 to 7 p.m. An artist's talk is scheduled at 4 p.m. Tuesday, Sept. 24, at the gallery. Admission to both is free and open to the public.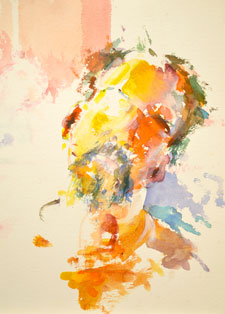 Self Portrait by Paul Sattler, watercolor,
14 X 10 inches, 2012
Each year the Schick Art Gallery features the work of four or five members of the Studio Art Department so that over the course of four years, all art faculty members exhibit their work. The particular combination of exhibitors in any given year is determined simply by the rotation. This results in extraordinary and serendipitous groupings where the whole is truly greater than the sum of its parts. This year is no exception, with a range of media and approaches from Terry Conrad, printmaking and drawing; John Cunningham, sculpture; Fabian Lopez, drawing and painting; and Paul Sattler, painting.
Conrad's work is a unique hybrid of printmaking, drawing, and sculpture. His sensibility combines a high regard for craft with an interest in found objects and detritus. The line between creative process and finished work is often blurred; with Conrad's hand-built printing presses, the material employed to create a print is a distinct sculptural object in its own right.
Conrad received a B.F.A. degree from Alfred University in 2003 and an M.F.A. degree from Cranbrook Academy of Art in 2010. He has been teaching drawing, printmaking, and letterpress at Skidmore since 2011. Conrad has shown his work extensively in both solo and group exhibitions, including such regional shows as Paper, Plastic, Concrete at the Foundry in Cohoes, and More or Less at the Albany Airport Gallery.
Cunningham's sculpture is concerned with the interaction of materials and physical forces; his work is simultaneously aesthetic object and scientific model. As models, Cunningham's pieces are capable of demonstrating force-multiplying principles, methods that may have been used in ancient societies to move stone weighing many thousand pounds. The artist holds numerous patents for inventions, including an engineering system that provides stability to buildings in earthquake-prone areas.
After receiving his M.F.A from Yale University in 1965, Cunningham worked for kinetic sculptor George Rickey from 1965 to 1968, and began teaching at Skidmore in 1967. He has shown his work both regionally and nationally, and his sculpture is held in numerous collections, including the Hirshhorn Museum in Washington, D.C., and the Schenectady Museum.
As a child, Lopez listened to his parents telling stories about their origins. Now an adult, Lopez remains interested in narrative and finds that the process of painting performs the same function as telling and receiving stories by allowing him access to places and times he may not otherwise experience. His vivid works are sometimes purely abstract, other times evocative of landscape or cityscape.
Lopez received his M.F.A. in painting from Tyler School of Art in Philadelphia in 2009 and his B.F.A. from California State University at Long Beach in 2007. His work has been shown in solo and group exhibitions in Philadelphia, Los Angeles, and Rome, Italy. He taught drawing and painting at Tyler School of Art and at Rowan University in New Jersey from 2011 to 2013. Lopez is new this fall to Skidmore.
Saksaywaman by John Cunnningham, maple,
granite, twine, 38 X 31 X 7.5 inches, 2013
An abiding passion for light, space, and color guides Paul Sattler's work. Visual phenomena of the natural world, a strong engagement with art history, and a love for the tools and techniques of the studio motivate his paintings, while aspects of his personal history provide a framework for invention.
Sattler received his M.F.A. from Indiana University at Bloomington in 1994 and his B.F.A. from the Art Institute of Chicago in 1991. His work has been shown extensively in this region and beyond, including exhibitions at Alpha Gallery in Boston and at Gerald Peters Gallery in New York. Sattler has been teaching drawing and painting at Skidmore College since 1998, and currently is the Ella Van Dyke Tuthill Professor in Art.
The Schick Art Gallery is open from 10 a.m. to 6 p.m. Monday through Thursday, from 10 a.m. to 4 p.m. Friday, and from noon to 4 p.m. weekends. Admission is free.
For more information, call 580-5049 or click here.