8 grads teaching English in China
September 27, 2013
8 grads teaching English in China
Sept. 27, 2013


Ethan Paul '13 and Jeremy Wood '13 have at least two things in common: Both are in Skidmore's Teach in China program, and both say their Skidmore friends helped inspire them to go for it. Call it positive peer pressure.
Paul's good friend Anna Tracht '13, an anthropology major, did her senior thesis on the importance of reciprocity for students who benefit from studying abroad. It struck a chord with him. "I felt like I had taken so much from my junior-year semester in Paris—both from the country and its people—but didn't have much to give back," he says. "Teach in China allows me to balance the equation."
Ethan Paul '13
Meanwhile, Wood watched two of his closest friends, David Solomon '13 and Sam Schultz '13, invest a lot of time mastering Mandarin, as they lived and learned in China for extended periods. Says Wood, "It was clear to me how their experiences had transformed their education and outlooks on life. I couldn't pass up the opportunity."
Psychology major Paul and government major Wood are among eight members of the class of 2013 who are teaching English this year at either Qufu Normal University in Shandong Province or Sun Yat-Sen University in Guandong Province. The grads teach Chinese university students who plan to eventually teach English themselves.
In all, 146 Skidmore graduates have participated in the program since it started in 1989. Accepted candidates take an orientation seminar taught by academic advisor Sandy Welter in the spring of their senior year, to prepare them for their China teaching assignments. Each grad is housed on a university campus and paid a salary—enough yuan to cover food, travel, and entertainment.
Makenzi Knight '1
3
"What makes our program unusual is the extent to which we vet and train the teachers we send to China," says Welter, who works with program manager Eliza Camire in Skidmore's Off Campus Study and Exchanges office to prepare the Skidmore teachers. "Chinese universities and Skidmore teachers know that if anything goes wrong, we're going to be in touch."
Though Paul has been in the classroom for just two weeks at Sun Yat-Sen, he's already excited about how much he's learning. He explains, "Living in another culture allows you to more effectively decide how you want to live your own life, learning that there are more options than what you've accepted since you were born."
Jeremy Wood '13

Wood is experiencing some of the same challenges that his Qufu students are, which makes him a better teacher. "To get just about anything done and to have a richer experience, you have to speak some Mandarin. But it's a constant struggle to go out and push myself to speak," he says. "I know that some of my students are hesitant to speak in class because they fear making mistakes in front of their peers. We have to reassure them that it's OK. As an American trying to learn Chinese, I remind myself of this every day."
Welter says teaching in China is much different than being a tourist or even a study-abroad student. "During their year, these young alumni are defined and viewed as professionals living and working in a university setting. When they return to the U.S., their cultural identity is grounded in choice and commitment, not just in the arbitrariness of birth and location."




For more, see the blogs of Makenzi Knight and Kellye Tamura.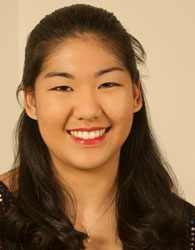 Kellye Tamura '13
2013 Skidmore Grads Teaching in China

Qufu Teachers University
Makenzi Knight: Business and English
Kellye Tamura: History
Matthew Tatkow: Health and Exercise Science
Jeremy Wood: Government
Sun Yat-Sen University
Francis Henares: Economics
Jenna Kellett: Religious Studies
Savannah Lancaster: Asian Studies
Ethan Paul: Psychology