Skidmore Unplugged promotes sustainabilility
October 12, 2013
Skidmore Unplugged, an annual energy-conservation competition, begins Monday, Oct. 14. Designed to promote energy-conscious behavior through education, the program promotes competition among campus residence halls to achieve the greatest reduction in electricity usage and to win a water-bottle refilling station for the hall that succeeds. Skidmore Unplugged runs through Nov. 3.
This year is the first in which the residence halls will compete for a water bottle refilling station, a prize that will continue to encourage sustainable behavior after the competition is over. Tory Stroker '13, a summer marketing intern with Sustainable Skidmore, developed the idea to use the water bottle refilling station as an incentive to decrease electricity use. "As opposed to other prizes, a water bottle refilling station provides sustainable incentive and emphasizes the point of the event, which is to create a more sustainable campus.

The new prize aligns with the College's push for more water bottle refilling stations on campus and will stay with the hall as a sustainable investment." Other giveaways and prizes for active participants include gift cards to Chipotle, Ben and Jerry's, Healthy Living, the Saratoga Farmers Market, and Four Seasons.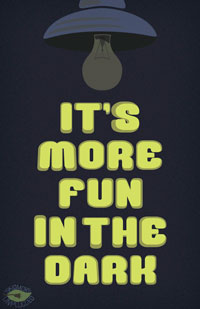 During the three-week competition, the Sustainable Skidmore Office and the student Sustainability Representatives, or S-Reps, are joining forces with various student groups and offices to showcase how sustainability can be integrated across disciplines. Many exciting events will be held throughout the competition, including a meditation workshop in partnership with the Office of Religious and Spiritual Life and One Roof Saratoga, an acoustic concert and potluck dinner at Falstaff's for Lively Lucy's Unplugged. Other activities include a costume clothes swap and s'mores on Case Green for "S'morbid," and a celebration and meditation with Hayat and Ujima for Diwali, the Festival of Lights. Diwali will be the closing event for Skidmore Unplugged, and through a guided meditation and celebration, the observance of the holiday will, organizers hope, increase awareness and compassion for our surrounding community and environment.
The Sustainable Skidmore Office will update the campus with the results from the competition. The winning hall last year, Wilmarth, decreased its electricity use by 8.7 percent. Four other residence halls — Kimball, Wiecking, Penfield, and Wait — also decreased electricity use during the three weeks and collectively saved 5,166 kWh, which is approximately enough energy to power a 60W light bulb for 148 days.