Another classic
November 27, 2013
Another classic
The 13th edition of Beatlemore Skidmania sold out three shows and raised nearly $12,000 for Skidmore Cares and financial aid.
November 27, 2013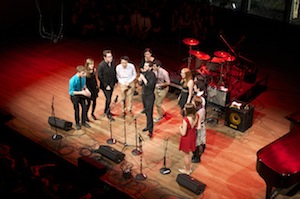 The Drastic Measures perform"A Taste of Honey."
Three sold-out shows and brisk T-shirt sales for the 13th edition of Beatlemore Skidmania have generated nearly $12,000 for Skidmore Cares and financial aid for Skidmore students.
Marking the 50th anniversary of the 1963 release of the Beatles' first two albums, the program focused on Fab Four's earliest tunes. Fifteen student groups performed, producing strikingly original renditions of Beatles repertoire.
The student groups seemed to deliberately stay away from some of the most familiar Lennon/McCartney classics so as to mine less frequently played gems from 1963, such as "Misery," "Anna," "A Taste of Honey," and "Till There Was You."
"This year was for careful listening," said Thompson. "We heard some wonderful arrangements played by some very talented students. I can't think of one performance that disappointed."
If you missed the show, you can still see the livestreams of both the Saturday afternoon and Saturday night performance here.
Producing the show is a great learning experience for the half-dozen students who typically help Thompson with all the mechanics of assembling it. This year, those students included David Slitzky '14 and Cody DeFalco '14, who handled marketing; Eva Hagan '14 and Matt Kugler '14, who focused on merchandise sales; and Noah Samors '15, Alec Cakebread '14, and Romeo Makore '15, who recruited the groups and created the program.
"In the end, everyone helped out everyone else," Thompson said. "For example, you could see most of them at the table outside the concerts selling t-shirts and posters, which they did exceedingly well, leaving us with only 14 t-shirts out of almost 400."
Two-thirds of the proceeds will be donated to Skidmore Cares, the College's annual effort to help families in the Saratoga area who are in need, while one-third will go toward student financial aid.