Skidmore to launch new summer chamber music institute
January 29, 2014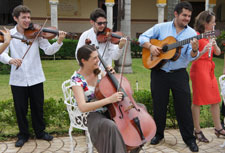 Decoda faculty and students in Mérida,
Mexico, during a chamber music
intensive presented by Carnegie Hall
and Fomento Cultural Banamex,
November 2013.
Skidmore will host a new chamber music summer institute for high school and college students on its campus this summer. Scheduled July 13-26, the Decoda│Skidmore Chamber Music Institute will be based in the College's acclaimed Zankel Music Center.
The College's Office of the Dean of Special Programs will partner with Decoda, a cutting-edge New York City-based chamber music ensemble comprising alumni of Ensemble ACJW—The Academy, a program of Carnegie Hall, The Juilliard School, and the Weill Music Institute, in partnership with the New York City Department of Education—to offer the institute. Upon completion of Ensemble ACJW, the musicians were inspired to keep playing together and create an entrepreneurial model for artists who want to meaningfully engage with society. Paul Calhoun, dean of special programs at Skidmore, said the College is thrilled to be offering a program that uniquely stresses "community service and leadership, combined with a very high level of artistic achievement."
The Decoda Institute builds on the strengths of the highly regarded Ensemble ACJW, which has been in residence each fall and spring at Skidmore since 2007. "These occasions every October and February have become firmly established highlights of our music calendar, and we wanted to explore additional opportunities," said Calhoun.
A total of 40 students will be admitted to the two-week program. During the first week, the focus will be on development of an internal community and the second week will be devoted to engaging and serving the external community. Young chamber musicians will explore leadership and community service through the intensive study of chamber music. Under the guidance of Decoda artists, students will learn how to fully engage their audiences and communities through scripted interactive performances while improving their own performance and public speaking skills.
The residency will include performances by Decoda, invited guest artists, and the student participants.
Clive Gillinson, Carnegie Hall's executive and artistic director, called the Decoda│Skidmore Chamber Music Institute "a new and exciting program that challenges young musicians to explore leadership and community service through the intensive study of chamber music." He characterized the members of Decoda as "a remarkable group of players dedicated to performing at the highest international level, but equally committed to using their talent and skills to give back to society."
Gillinson said Skidmore "has been a superb and visionary partner to Carnegie Hall for many years. I am very excited for this partnership and am confident that the Decoda│Skidmore Institute will provide an important and memorable experience for all its participants."


Decoda artists and Carnegie kids at
Suntory Hall, Tokyo, July 2013.
"Skidmore is very pleased to extend our ongoing relationship with Carnegie Hall to include this new educational partnership," said Skidmore President Philip A. Glotzbach. "The Decoda Chamber Music Institute will bring the passion and expertise of Ensemble ACJW to new generations of young artists and so will help nurture the musicians who will enrich our lives in the future," Glotzbach added.
Michael Emery, senior-artist-in-residence at Skidmore is faculty advisor and an ensemble coach of the Decoda Institute. Emery teaches violin and viola, and coaches the Skidmore string ensembles. Bassoonist Seth Baer, a founding member of Decoda and an alumnus of Ensemble ACJW, is festival director. He cited the ACJW model as inspiration for the summer program. "When we began talks with Skidmore, it became obvious that we wanted something close to our mission, which is to create in-depth residencies that allow audiences to make deeper and more exciting connections with music. In addition, we want students to excel to the highest level."
Baer continued, "This comes from our origin with ACJW, a model of education and performance. The history of ACJW at Skidmore is one of bringing music to on and off-campus stages, while keeping the concert performances (one each residency) at the highest level."
He explained that similar to many summer music programs, Decoda will stress learning about the fundamentals of chamber music. "For us, that is the goal of the first week. In the second week, we'll be taking that and building on it by taking it to the community at large. Performing at the highest level and learning first-hand, the role of the artist in our society—we hope to open the eyes of young musicians to this."
Students ages 15 to 20 are welcome to apply. Applications are being accepted from students of the following: violin, viola, cello, bass (double-bass/string), piano, flute, clarinet, oboe, bassoon, trumpet, trombone, French horn and tuba. Tuition for the 2014 two-week program is $1,800; room and board on campus is an additional $784. Students from the local area are welcome to commute. Review of applications will begin March 10. Financial aid will be available. For application information, click here or contact Wendy Kercull in the Office of the Dean of Special Programs.
For additional information about the Decoda│Skidmore Chamber Music Institute, or Skidmore's other summer academic arts programs in writing, jazz, dance, and theater please contact the Office of the Dean of Special Programs at Skidmore.
For more information about Decoda, please click here.