Bogart named 2014 McCormack Visiting Artist-Scholar
January 31, 2014
Bogart named 2014 McCormack Visiting Artist-Scholar
Jan. 31, 2014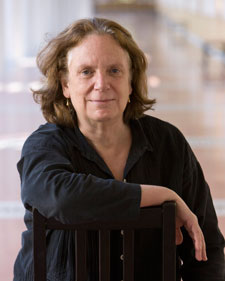 Anne Bogart (Photo by Craig Schwartz,
copyright 2011, J. Paul Getty Trust)
Anne Bogart, co-founder and artistic director of the SITI Company, will present "What's the Story?" as Skidmore College's McCormack Visiting Artist-Scholar at 8 p.m. Wednesday, Feb. 5.
Bogart will discuss the role of storytelling in the theater of the 21st century and beyond. Free and open to the public, the talk will be in Gannett Auditorium, Palamountain Hall.
In 1992 Bogart founded SITI (formerly known as the Saratoga International Theater Institute) with Japanese director Tadashi Suzuki to redefine and revitalize contemporary theater in the U.S. by emphasizing cultural exchange and collaboration. In the years since the company has earned a reputation as a top-level artistic collaborative that generates groundbreaking theater. SITI will begin its 22nd summer residency May 25 at Skidmore.
Bogart is the author of two books, both published by Routledge: A Director Prepares: Seven Essays on Art and Theatre (2001) and And Then, You Act: Making Art in an Unpredictable World (2007). She is co-author (with Tina Landau) of The Viewpoints Book: A Practical Guidebook to Viewpoints and Composition (2005, TCG Publications). "Viewpoints" is the name that Bogart and Landau gave to an improvisational technique to enable actors to deal with issues of space and time.
Bogart is the recipient of a number of honors including the Pat Miller Playmakers Award from Emory University (2011), an honorary doctor of human letters degree from Skidmore (2011), the Edwin Booth Award from the City University of New York for "outstanding contribution to New York theater," two Obie awards for direction, a Bessie Award, and the 2005 American Theatre Wing Award. She also is the recipient of National Endowment for the Arts, Guggenheim, and Rockefeller/Bellagio fellowships.
She is a graduate of Bard College and New York University.

Skidmore's McCormack Endowed Visiting Artist-Scholar Residency is designed to provide total immersion for both the artist and the Skidmore community. The artist teaches and sits in on classes and seminars, supervises students, consults with faculty, and of course demonstrates his/her talents. In addition, the residency benefits the Saratoga Springs community through outreach in the school district and partnerships with arts and non-profit organizations. The residency is under the auspices of the Office of the Dean of Special Programs.