April is Autism Awareness Month
April 11, 2014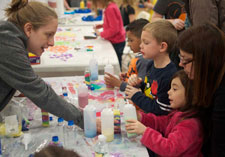 Angelika Tsakas '14 at the 2013 Autism Awareness Informational Fair.
(
Nghia Luu
'14 photos)
Skidmore will again offer a variety of events to raise awareness about autism during the month of April. The events are Skidmore's Autism Awareness program, coordinated by students in a psychology course titled "Developmental Disabilities and Autism," taught by Rachel Mann Rosan.
This is the fourth year that the class has coordinated a series of events in April to mark Autism Awareness Month to bring attention to autism, a disorder with a rising profile. In late March, the Centers for Disease Control released a report showing that the number of U.S. children with autism has grown to 1 in 68, compared with a report from just two years ago in which the CDC said one child in 88 had autism.
The CDC attributed that increase, in part, to better work identifying children with autism. The web site of Autism Speaks, a leading autism advocacy organization, provides the following information: "Autism spectrum disorder (ASD) and autism are both general terms for a group of complex disorders of brain development. These disorders are characterized, in varying degrees, by difficulties in social interaction, verbal and nonverbal communication and repetitive behaviors."
At Skidmore, Professor Mann Rosan has encouraged her students to draw on community resources to provide opportunities for the Skidmore and the larger Saratoga area to learn more about autism, including research on the disorder and ways to support individuals on the Autism Disorder Spectrum.

Mann Rosan explained, "I incorporate this event each year into the course because it is an opportunity for students to learn about the disorder in a way that is more meaningful than what they read in journal articles or hear in a lecture. There are many challenges to be faced in understanding Autism Spectrum Disorder. My hope is that these events inspire students both in the course and throughout to be aware, to get involved in the hopes of finding new and creative ways to identify the disorder and treat it."
Emily Mandel '16 (left), Mann Rosan, Angelica Tsakas '14, Lee Ford '15, and Lila Berenholz '14
at the 2013 Autism Awareness Fair.

In addition to seven public programs over the last two weeks of April (details follow), Skidmore students will again assist with the Autism Awareness Informational Fair and Carnival, scheduled from noon to 3 p.m. Sunday, April 27, at the Saratoga Springs City Center. Previously held on the Skidmore campus, the event has grown too large for the Skidmore venue, and is taking place at the city center with support from the law office of Wilcenski and Pleat PLLC. Saratoga Bridges, Inc., and the parent Network of the Capital Region are coordinating the program; Skidmore students will assist with all aspects of the event, which is free and open to the public.
The fair is specifically for families with children on the spectrum or individuals themselves. It is held for the purpose of providing one place where people in need of services can find and gather information about all of the resources in the area that are available. The carnival piece run by the students from Skidmore provides fun activities for the children that come so that their parents can gather information while they play. There will be arts and crafts, carnival games, a bounce house, and a sensory area at the fair.
Autism Awareness Month activities at Skidmore include the following. (Admission to all is free and open to the public.)
Tuesday, April 15, 6 p.m.—Tisch Learning Center, Room 202
"Gentle Sensory Autism Supports: Snoezelen, Yoga, The HANDLE," with Wendy Ashe, COTA, Bobbie Stevens, COTA—Learn about three effective gentle sensory supports for individuals with ASD. Snoezelen provides a wide range of sensory stimulation. Yoga promotes strength, flexibility, focus, and self-regulation. The HANDLE approach is a gentle, non-drug movement therapy designed for individuals with a variety of neurological challenges.
Wednesday, April 16, 6 p.m., Tisch Learning Center, Room 201
"What Can Mouse Models Tells Us About Autism Spectrum Disorders?" by Valerie Bolivar, Ph.D.—Mice play an important role in modeling the biology underlying ASD and aid in the development of better therapeutics. Dr. Bolivar will discuss her current research with the BTBR T+ Itpr3tf/J inbred strain mice.
Thursday, April 17, 6 p.m., Tisch Learning Center, Room 201
"Autism Spectrum Disorders: A Brief Overview," by Kristin Knapp-Innes, Ph.D.—An introduction to the core and associated characteristics of ASD and how these charac-teristics manifest themselves within a learning environment. She will also discuss possible causes and current treatment methods.
Games are a big draw at the Autism AwarenessFair, scheduled April 27 at the Saratoga SpringsCity Center.
Monday, April 21, 6 p.m., Tisch Learning Center, Room 302
"Autism and Adulthood: Solving the Puzzle," by Sara Mae Hickey '12—Creative employment solutions are necessary to meet the needs of the aging autistic population. Ms. Hickey will discuss the work of her organization, The Autism Initiative, in creating these types of opportunities.
Tuesday, April 22, 6 p.m., Tisch Learning Center, Room 203
Panel Discussions with Parents and Educators—Parents and teachers will share their stories of raising and working with children with ASD.
Wednesday, April 23, 7 p.m., Emerson Auditorium, Palamountain Hall
Film: Loving Lampposts: Living Autistic—A thought-provoking film that explores the debate between the two movements surrounding ASD: the "recovery movement" and the "neurodiversity movement."
Thursday, April 24, 6 p.m., Ladd Hall, Room 307
"What is it Like to Have ASD?" with Melanie Hecker, Eric Olefson, and Liana Faulkner—Individuals with ASD will speak frankly about their experiences and share their perspectives.