Skidmore's restorative justice program captures international attention
April 23, 2014
Skidmore's restorative justice program captures international attention
April 23, 2014

Skidmore's restorative justice program and its chief advocate, Associate Dean of Student Affairs David Karp, have garnered international attention that is leading to an exchange with Italy's University of Sassari next year.
Earlier this spring Karp hosted a visit by Anna Bussu, assistant professor in social psychology and psychology and law at the University of Sassari, located in Sardinia. She'd heard about his work on the subject, did some online research about his scholarship, and reached out via email to ask if she could meet him while visiting the U.S.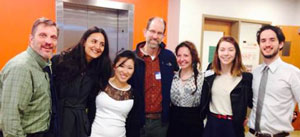 Attending the 2014 Western NY Restorative Practices
Conference at RIT are Duke Fisher (left), Anna Bussu,
Dorothy Franks '14, David Karp, Olivia Frank '16, Hannah
Kolb '16, and Stefan Cocorelis '13.

Bussu hopes to introduce restorative justice practices to her university and city via a pilot project that will draw on education, health, and government resources to create a restorative justice support network. Bussu thinks the restorative justice model would be helpful in dealing with low-level crime because it "provides good tools to build community." The Italian government will fund her program.
Her focus while observing restorative justice at locations in New York, California, Virginia, and Massachusetts was to obtain greater understanding of the role of community in the practice of restorative justice, and to compare/contrast restorative justice programs.
Bussu recently coordinated a two-year project on the diffusion of restorative justice practices in Europe. Titled "Freedom wings," the project was financed by the European Union.
While on campus in March, Bussu spent a week learning how restorative justice is practiced at Skidmore, through conversations and observation of such activities as a disciplinary hearing. She also met with members of the Fight Club and with students of Karp who are researching aspects of restorative justice in the schools and communities. Launched in 2010, Fight Club offers students the opportunity to resolve conflicts using the classic method of mediation In order to be a mediator, students must enroll in a one-credit course that has in the past been taught by Karp, a professor of sociology, and Duke Fisher, a state-certified mediation trainer.
In addition, Bussu visited Riverside Elementary School in Oneonta, where she attended a whole-school orientation (for kindergarten through fifth grade) on restorative justice. She called it a "good example of how young students can implement a plan quickly. She also joined Karp and three Skidmore students—Olivia Frank '16, Hannah Kolb '16, and Dorothy Franks '14—to attend the 2014 Western New York Restorative Practices Conference titled "Transformations: Empowering Youth and Communities Through Restorative Practices" April 9-10 at the Rochester Institute of Technology. The Skidmore team presented a session titled "Implementing Restorative Justice in the U.S. and Europe."
Bussu is back on campus to continue her research until May 21. Once she returns home, she will begin preparations to return the favor when Karp travels to Italy this summer to witness restorative justice, Italian-style, and meet with Busso's colleagues to advise on establishing a system that meets the needs of the Sassari university community. Karp hopes to bring a group of students to Sardinia in May/June of 2015.