Women's tennis captures Liberty League title
April 28, 2014
Women's tennis won its fourth straight Liberty League title Monday, April 28, by defeating tournament second seed Vassar College 5-1. In the run-up to the title match, the team secured 5-0 wins against Bard College and William Smith College. In the quarterfinal, the team swept doubles play against Bard and Zoe Valella '15 secured the clinching point with a 6-0, 6-0 win at number three singles. The team swept doubles play again in the semifinal and Melissa Hirsch '14 and Rachel Plevinsky '14 sealed the victory for the 14th-ranked Thoroughbreds (16-3) with wins at number-two and number-four singles, respectively.
Cassie Fishkin '16
Softball swept Clarkson University to secure its second Liberty League playoff berth in the program's history. In the first game, the Thoroughbreds (12-16, 6-6 Liberty League) used a three-run third inning to pull away for a 4-1 win. Abby Shea '16 plated Lauren Fortunato '17 with an RBI double and Cassie Fishkin '16 drove in two runs with a single. Fortunato picked up the win on the mount, allowing one run on seven hits over five innings of work. In the second game, Mackenzie Whiting '16 drilled a solo home run in to bottom of the sixth to break a 4-4 tie and secure the sweep and the team's first postseason appearance since 2010. Fishkin was 2-for-3 with two RBI, while also earning a complete game win. The team will face the University of Rochester Thursday, May 1, in the conference semifinals.
Women's lacrosse ended its season, battling to two one-goal wins. Tyler Phillips '17 tallied four goals, including the game-winner, to lead the Thoroughbreds past Clarkson University, 10-9, Friday night. The team picked up its second win of the week with a 15-14 overtime win against St. Lawrence University. Spencer Morgan '15 tallied six goals and added two assist and Phillips recorded a career-high seven points with four goals and three assists. Trailing 11-10 with 4:52 remaining in regulation, Phillips and Morgan potted goals 28 seconds apart to put Skidmore in with 2:30 left in regulation. The Saints managed to send the game to overtime, but in the extra frame Emma Harris '16 and Morgan both found the back of the net to seal the win. The team concluded its season with a 5-4 record in conference play, marking the first time since the 2011 season that it has had a winning record against league opponents.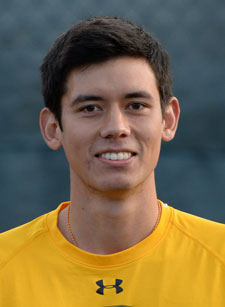 Jimmy Sherpa '14
Men's tennis rebounded from a midweek loss at No. 8 Middlebury College with a swift 9-0 win over Bard College, winning 72 of 75 games in singles and 24 of 25 doubles. Oliver Loutsenko '14, currently ranked ninth in the Northeast region in singles, cruised to a 6-0, 6-0 win at number one singles. Jimmy Sherpa '14, ranked 19th in the region in singles, also picked up a 6-0, 6-0 win at number-two singles. The 26th-ranked Thoroughbreds (10-7) open play at the Liberty League championships Saturday, May 3.
Men's golf just missed capturing its seventh consecutive conference title, dropping a dramatic 3-1 match to the University of Rochester in the Liberty League Match Play championships. The Thoroughbreds trailed early trailed early but Mitchell Campbell '17 and Tim Manwaring '16 both battled back to force extra holes in their respective matches. Campbell won the final three holes of his match and Manwaring chipped in on 17 to keep his chances alive. However, the team could not complete the comeback, as the Yellowjackets snatched the victory in extra holes. The team must now wait to see if it will qualify for the NCAA Division III tournament. The tournament field will be announced April 30.
Baseball posted a 4-3 win against Williams College before going 1-3 against the University of Rochester. Josh Brown '17 drove in a key insurance run for the Thoroughbreds (9-21, 3-15 Liberty League) with an RBI single in the seventh inning against Williams. Brown went 2-for-4 with a double and a run scored and Nick Petrella '16 picked up the win on the mound, tossing three scoreless innings. The team beat Rochester, 3-2, in the first game of its four-game series. Pitcher Kenny Ajello '17 remained unbeaten, going five and two thirds innings, allowing two runs on eight hits with four strikeouts. Marco Barratta '16 went 2-for-3 with an RBI, Nick Barra '15 was 2-for-3 and Mat Marino '17 continued to swing a hot bat, going 1-for-3 with an RBI. Baratta also belted two home runs in Sunday's 11-6 loss. He went 2-for-4 with two runs and four RBI. The team closes out its home schedule 4 p.m. Tuesday, April 29, against Middlebury College.
Men's lacrosse closed out its season, falling to No. 9 Union College, 10-3. Quinn Hawkins '14 extended his point streak to 14 games with a goal and Josh Trachtenberg '15 recorded his fifth multi-point game of the season with a goal and an assist. In goal, Matt Diaco '14 turned away 15 shots in his final collegiate game, completing his career with 452 total saves. The Thoroughbreds compiled an overall record of 4-11 with a conference mark of 1-5 this season. ~ By Dan St.-Jacques