Senior art majors present their works in year-end show
May 8, 2014
Sixty senior studio art majors will display their work as a capstone to their studies at Skidmore in the Senior Thesis Art Exhibition at the Tang Museum, May 9–17. An opening reception will take place from 6 to 8 p.m. Friday, May 9.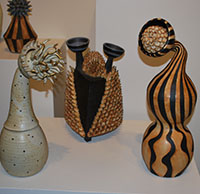 Ceramic works by Madeline Johnson
The show is sponsored by the College's Department of Art, which offers courses in numerous studio art disciplines including ceramics, communication design, drawing and painting, electronic media, fiber arts, metals, photography, printmaking, and sculpture.
Among the student participants is Madeline Johnson from Newtown, Mass., whose concentration is ceramics. "I've been inspired by the works of Ed Gorey and Tim Burton," said Johnson, whose work is on display just inside the entrance of the Tang's Payne Room. "My pieces have slightly sinister elements inspired by sea life like sea urchins, jellyfish, and anglerfish." Added the young artist, "I'm honored and overwhelmed for the opportunity to be at the Tang—really, really thrilled."
Jeremy Endo, from Long Island, has created three large panels for the show, using textile silkscreen techniques and oil paint. "My inspiration comes from modern manga [a type of Japanese comic book], traditional Japanese Ukiyo-e woodblock prints, and abstract artists such as Matthew Ritchie," said Endo. "Artists who have visited Skidmore also played a major role in my artistic development."
Ayelen Pagnanelli installs her work.
Ayelen Pagnanelli, who hails from Buenos Aires, Argentina, is among the students whose work is displayed on the Tang's mezzanine. Said Pagnanelli, "I would describe these works as geometric abstraction. These are small collages that delve into Latin American histories of political abstraction. They have allowed me to research Latin American artists from the mid-20th century, in particular the concrete artists from Argentina and Brazil, and find ways to think about politics and art. These artists thought that a better world could be achieved by their artworks, and I am fascinated by that idea."
The Senior Thesis Art Exhibition and opening reception are free and open to the public. The Tang will be open Friday, May 9, from 9 a.m. to 8 p.m.; Saturday and Sunday, May 10 and 11, noon to 5 p.m. For the week of May 12 the hours are Monday, Tuesday, and Wednesday 9 a.m. to 5 p.m.; Thursday 9 a.m. to 9 pm.; Friday 9 a.m. to 6 p.m.; and Saturday noon to 6 p.m.

Student Awards
Student awards in the Art Department this year were as follows: John P. Heins Outstanding Senior Thesis Exhibition Award, Joseph Klockowski; Marguerita Mergentime Award in textiles, Lea Carey; Barbara Greene Wild Award in ceramics, Madeline Johnson; Dorothy Dryfoos Olsan Award in jewelry and metalsmithing, Kim Mazursky; Pamela Weidenman '72 Memorial Prize in printmaking, Dylan Callahan; Jesse Solomon Memorial Award in painting, Lindsay Camp.
The studio art faculty chose to award Senior Thesis Exhibition Honors to Joseph Klockowski, Madeline Johnson, Juliana Lopez, Siwei Song, and Alison Eagle.