16th annual Academic Festival: Excellence matters
May 9, 2014
Showcasing the best work of the year from 25 different departments and programs, Skidmore's 16th annual Academic Festival featured presentations from more than 170 students, supported by nearly 40 faculty sponsors.
The campus-wide event on April 30 drew audiences to labs, auditoriums, and classrooms, where they heard scholarly papers, learned about insightful scientific and mathematical research, and saw theater and dance presentations. A closing reception and trivia challenge wrapped up the day's program.
Academic Festival is coordinated by the Periclean Honors Forum. The following is a sampling of the day's presentations.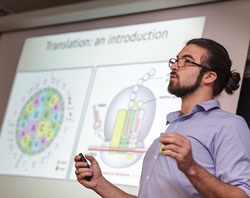 Chemistry poster presentation at Academic Festival 2014 (Phil Scalia photo)
Chemists seek to conquer real-world challenges
Dioxins are so potent that a few parts per quadrillion are enough to raise serious health concerns. But at those infinitesimal levels, they're not easy to detect. Leland Martin '14 and his faculty mentor Kim Frederick can help.
At an Academic Festival session on chemistry research, Martin outlined his work on a microfluidic device—known as a "lab on a chip"—to test for very low levels of pollutants without complex, expensive equipment. He made small plastic cards whose tiny, laser-etched channels and wells can automatically test a droplet of water for trace pollutants. After trying various methods of etching and sealing the chips, testing their water-tightness and even inspecting them with an electron microscope, he turned to the problem of filtering out the contaminants to be detected. He started with O-Sorb, a gel that absorbs tiny particles from water. But he wanted a way to isolate just one target chemical. For that, Martin experimented with an iron-oxide O-Sorb followed by a magnet treatment to release the target compound. That left rusty discoloration, so he switched to a magnetite-based O-Sorb, and he showed that the target compound could be rinsed from that gel with chemicals or even just water.
Joe Marto '14 and Hannah Swomley '15 worked in chemist Juan Navea's lab on atmospheric aerosols. Showing an animated map of aerosol flows across the planet, they pointed out dust swirling off deserts and blowing east, water vapor above oceans, and industrial fly ash or soot riding from the northeastern U.S. across the Atlantic to Europe. It's known that such airborne particles drive climate change, but their chemistry is not well understood by atmospheric science.
Marto and Swomley used high-tech flow chambers with quartz-crystal balance devices to measure how water molecules attach to metal oxides. The denser the particles became, the more water they knew had built up on them—in the same process that forms rain clouds. The team also probed how sunlight can stimulate chemical reactions among an aerosol's constituents to produce secondary pollutants such as nitrogen dioxide. Some of these chemicals can persist for days or weeks, as the aerosols drift across the world.
Costume exhibition in Zankel lobby (Phil Scalia
photo)
Ariel Alperstein '14, mentored by biochemist Kelly Sheppard, presented her work on a bacteria-eating bacterium and how it coevolved with its prey. Testing the hypothesis that it can use two different methods of synthesizing a crucial protein to stay alive, her work entailed radio-labeling of chemicals, running enzyme assays, and using PCR to separate and display various proteins. And it suggested that indeed the bacterium can synthesize the protein by stealing asparagine from its host or by using aspartate instead when it's living outside a host and has no access to asparagine. Supporting or disrupting its success could be important in its potential application as an antibiotic.
Also working in Sheppard's lab, Mark Benhaim '14 described his variation on protein research. He's been trying to add pyroglutamate to the 20 natural amino acids by re-engineering a gene to allow the attachment of pyroglutamate, in a simpler procedure than other labs have proposed. Using a fluorescent reporter chemical, mass spectrometry to identify individual chemicals, and PCR to show an array of sorted proteins, his work contributed to the optimization of steps and protocols for expanding the genetic code to include pyroglutamate, a known suppressor of cancer cells.
Jennifer Harfmann '14, working with faculty mentor Judy Halstead, studied heavy metals in sediments of the local Kayaderosseras watershed. She used spectroscopy to test for chromium, cadmium, copper, and lead in specimens from eight stream sites and four lake sites. Near urban areas, she found signs of elevated levels of minerals and salts, but no higher levels of her test metals. Future work will evaluate the sampling and testing methods and further analyze land-use maps correlated with sampling sites.

"American Potpourri": The richness of American studies
The Department of American Studies offered "An American Potpourri" during Academic Festival, featuring senior theses on topics relating to American life and culture by Kyle Giard-Chase, Mack Lacy, Veronica Monroe, Becky Stern, and Sara Vosberg, all members of the Class of 2014.
Dan Nathan, department chair, introduced the session by explaining that the student presenters all enrolled last fall in the department senior seminar. "A handful took the next step and thought of new answers to pursue, which they poured into a thesis," he said. He expressed pride in the students' accomplishments and the completion of their "long journey" of discovery.
Giard-Chase revisited the early era of the AIDS epidemic in his thesis, titled "Tell Them to Shut Up and Listen: The Impact of Gay Men's Masculinity on Early AIDS Activism." He used the advocacy group ACT UP (AIDS Coalition to Unleash Power) as a frame of reference to explore the intersection of grief, rage, and love with masculine gender-role expectations in the U.S.
Lacy explored baseball, specifically, the Boston Red Sox's recent championship seasons following decades of losses in his paper, "Into the Gap: Collective Memory and Collective Identity in Red Sox Nation." He analyzed how the team's fan base, collectively known as "Red Sox Nation" and long characterized by the heartbreak that comes with a regular string of losses, managed to cope "with a shift in its fundamental reality when the Red Sox won three championships in 10 years? He concluded that "deeply ingrained culture narratives and collective memories, baseball's incessant nostalgia, and the historic touchstone of Fenway Park" helped Red Sox Nation to adapt and survive.
Theater presentation (Phil Scalia photo)
Monroe acquired knowledge about the New York punk culture at a young age courtesy of her father, who was active in the punk rock movement, which has its roots in the political and economic climate of the 1970s. Punk rock used music as a means of artistic expression and cultural resistance, Monroe explained. It sought authenticity in its blue-collar roots and the rebellious spirit of its artists. Recent efforts to commercialize the punk era, through such developments as museum exhibitions, movies, and music revivals, are examples of "mainstream cooptation of hip movements" and "go against the movement's intentions," she contended.
Female mayors in New York State were Stern's focus. She presented "Recruitment and Role Modeling in City Hall: A Case Study of Women New York Mayors" in which she investigated "the disparity between what women politicians say and their actions." Stern said, "Research indicates that women politicians are role modes for young girls, sparking their interest in politics. These studies, however, do not explain why—and if—women politicians prioritize recruiting women. That turns out not to be the case. Stern explained, "I collected data that reveals women mayors believe in the power of visibility, do little women-to-women outreach, and fear self-identifying as a feminist."
Vosburg was the final presenter, on "Medicine and Motherhood: How Women's Roles in Healthcare Have Changed from the 18th Century to the Present." Said Vosburg, "Having children and becoming a doctor are time-consuming and energy-demanding processes. People, especially women, who want to do both often find this to be particularly challenging." She used responses from contemporary women in medicine and historical data to examine how women balance medicine and motherhood. One of her conclusions: "The current medical training system does a poor job of accommodating physicians with families, which may deter many women from attending medical school." Vosburg has a special interest in this work/life balance since she is a premed major. She indicated that for some women, a career as a physician's assistant is better than a career as a physician, because the career preparation and the work schedule are both more family-friendly.
Skidmore-Saratoga Consulting Partnership creates value for local business
"Service learning on steroids"—that's what the students call the Skidmore-Saratoga Consulting Partnership (SSCP), an upper-level management and business course.
Creative thought creating value, SSCP's tagline, was on full display at Academic Festival as students presented recommendations from their pro-bono consulting work with three established area businesses—the Saratoga Spring Water Company, Roohan Realty, and The Alpine Sport Shop. Later, the student consultants would give private presentations to the individual clients, with full financials, which they have signed confidentiality statements not to disclose.
Student consulting teams had been meeting weekly with their clients since late January, clarifying goals, collecting data, and continually shaping the projects through interactive give and take—what partnership manager Tony Giacin '14 calls the "real work." Real work in the real world: These student consultants even have their own business cards!
"What's really vital," adds co-manager Rebecca McCourt '14, is for the teams "not to jump in too quickly with ideas. First, do the research and analysis through surveys and focus groups. Talk with the client. Stay flexible. Fine-tune and tweak as you go. Then, for the final presentation, restrict yourself to a handful of major ideas. You want the client to hear it."
Members of the Saratoga Spring Water Company team(Eric Jenks photo)
The Saratoga Spring Water Company
The Saratoga Spring Water Company, which got its start in 1872 and whose water was served at the 2012 presidential inauguration and again at Academic Festival, wanted advice on how best to penetrate the high-end New York City restaurant market. Its main selling point: the history and taste of Saratoga spring water and its distinctive blue bottle.
Team members Minh Uong '14, Dan Santos '14, Ezra Levy '14, and Romeo Makore '15 identified key opportunities for their client, including adding the story of Saratoga and local sourcing to the water's value proposition and recommending that the popular 'farm to table' restaurant trend be paired with a 'spring to table' marketing campaign for the water in New York City.
The team also recommended partnering with another local firm. "When it comes to marketing help, we strongly suggest contacting Fingerpaint," said Santos. "They've got award-winning expertise. They are also local and truly appreciate the historical dimension of Saratoga Springs and its water."
The Roohan Realty team
Roohan Realty
Family-owned Roohan Realty, established in 1969 and number one in market share in Saratoga Springs, asked the Skidmore-Saratoga Consulting Partnership to craft a three-year strategic plan, the goal of which would be to grow its share of the local residential market by 10 percent, which Romeo Makore '15 said was achievable if his team's recommendations were implemented.
The team, which also included Dan Morelli '14, Kojo Amarteyfio '15, Angela Botiba '15, and Tim Colvin '15, ultimately homed in on one essential insight—the technological disruption of the real-estate industry and the critical importance of a robust, interactive online presence. Their on-campus survey of Skidmore faculty and staff indicated that nearly 80 percent of local residents looking for houses begin their search online (the national figure is more than 90%), with just 13 percent contacting a realtor directly, and only five percent via word of mouth.
Giving a mini-tutorial in online real-estate platforms like Trulia and Zillow, the consulting team showed how improved agent profiles and enhanced social media linkages with prospective customers were critical to a competitive strategy. "Strong training programs are increasingly important in recruitment and retention," advised Botiba. "Agents want professional development so they can grow their careers and their understanding of these now essential online tools.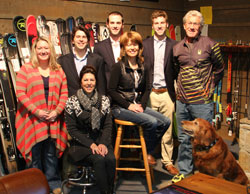 Alpine Ski Shop team
The Alpine Sport Shop
The Alpine Sport Shop, whose owner Jack Hay was in the first class of men enrolled at Skidmore, was interested in an overview of its operations, with a special emphasis on how the shop could better serve the 3,000+ members of the Skidmore community, students and employees alike. Known for its distinctive ski chalet shop, the business has been in Hay's family since 1966.
Competitive research and on-campus surveys conducted by the trio of Seth Berger'14, Gabe Steeman'14, and Nick Barra '15 revealed that a number of modest improvements could add to the bottom line.
One survey showed that, although Alpine carries many brands, only Northface and Marmot are truly popular, and another favorite, Patagonia, was missing from the racks. Skidmore students also showed interest in taking better advantage of the bus trips that Alpine runs to local ski mountains. Another challenge that Alpine faces is the perception that its hard goods (boots, skis, etc.) are more expensive than other stores, which a competitive analysis showed not to be true.
Says Berger, "The most important step for Alpine is to strengthen their relationship with Skidmore students, faculty, and staff."
"I lost a lot of sleep these last two weeks as we neared the end of the semester because this is one course where the quality of student work is very public," says executive-in-residence and SSCP Professor Colleen Burke, who brings 25 years of strategic consulting experience to her role. "We are entrusted with the Skidmore brand and we want our consulting deliverables to be worthy of that brand when we present to Saratoga's business and nonprofit leaders. The SSCP program has a tag line: 'Creative Thought Creating Value'. I believe we really delivered that value."