Waste audit yields clues about campus recycling program
May 9, 2014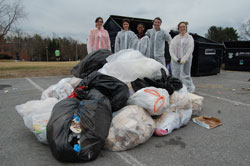 Rachel Willis and student volunteers at the start of
the waste audit. (All photos by Lauren Bosche '15)
A waste audit conducted by Sustainable Skidmore this spring has provided insight into campus waste reduction and how well the zero-sort recycling provided by Casella, the College's waste hauler, is understood and used.
Rachel Willis, sustainability coordinator in the Sustainable Skidmore Office, oversaw the audit, to assess ongoing efforts in campus waste reduction. The project involved an extremely close look at trash discarded in specified residential and public spaces during a designated week in April.
According to Willis, "The results will help us understand the percentage of recyclables that are being thrown away, which buildings need additional signage and bins for recyclable items, and which recyclables continue to end up in the trash."
Bruce Murray, head of grounds in Facilities Services, and Tom Cassidy, the Casella representative, helped Willis coordinate the audit, which was undertaken by student volunteers. Casella delivered a week's worth of trash from the Williamson Sports Center and the Sussman Village apartments—one a public space, the other private. Then student sustainability representatives (S-Reps) and volunteers donned lightweight jumpsuits and puncture-resistant gloves and literally dug in, separating the genuine garbage from the recyclables.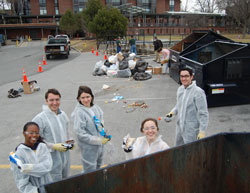 Levi Rogers (right) ad student volunteers midwaythrough the waste audit.
Art history major Baley Threatt '16 called the job difficult and "smelly," but added, "I'm learning a lot. It is interesting to see what goes into the garbage that could be recycled." Threatt was enrolled in a sustainable development course this spring.
Questions arose about garbage with recycling potential. Faith Nicholas '14, an environmental studies and English major, pointed out some Styrofoam items stamped with numbers that signify recyclable classifications. Willis said the Styrofoam had to go in the garbage, because currently it isn't accepted in the zero-sort recycling process, due to a lack of end markets and technology to support the recycling of polystyrene. Later, students asked about a box that originally contained hot coffee. Willis's answer: Although the box was made of recyclable cardboard its liner was not recyclable and therefore the box went in the garbage.
Said Willis, "There are still so many things that are ineligible for recycling, despite appearances."
One recurring issue was the large amount of paper found in the garbage, from which it was salvaged by the volunteers and added to the recyclable pile.
It's a dirty job, but that doesn't stop the Sustainabilityteam
The student team, which included S-Reps Joe Marto '14, Emma Ottenheimer '16, and Jakob Rose '16, along with volunteers Juliette Cole '15 and Lauren Bosche '15, took an hour to sort through the Sussman Village garbage and about a half-hour to sort Sports Center trash. The process went "more quickly than expected," said Willis, adding, "These students are awesome." She praised Cassidy for his help with the project, saying, "He even put on a protective suit and helped sort." Also helping was Levi Rogers, who works as a sustainability coordinator with Willis. He assisted with organizing the event and was on site during the audit, clad in protective jumpsuit and gloves.
The final tally showed that garbage from Williamson Sports Center was about 35 percent recyclable materials, and garbage from the Sussman apartments contained some 30 percent recyclables. These represent improvements from a similar audit in the fall of 2013, when 60 percent of the garbage consisted of recyclable items that could have been diverted from the waste stream.
Willis concluded, "We are seeing a slight improvement with the zero-sort recycling program, but we still have work to do. It's also good for us to know that public and classroom spaces need more attention than the apartments. This means we need to put additional signage and bins in those locations." In addition, she plans to ramp up efforts to raise awareness about the program among students, faculty, and staff.