SaratogaArtsFest reaches out to young audiences
May 29, 2014
SaratogaArtsFest reaches out to young audiences
May 29, 2014
SaratogaArtsFest 2014, which runs June 11-15, offers an impressive lineup of events for art lovers of all stripes and levels of experience. While there is plenty for the seasoned arts aficionado, festival organizers are making a concerted effort to bring the arts to young people and families.
"Spectacular Spectacles": Family Saturday at
the Tang Museum
On Saturday, June 14, for example, Broadway takes center stage throughout the day for the en plein air Paint Out, in which artists will demonstrate their craft as they paint downtown cityscapes. Among the 25 events on Saturday is a range of family activities, including a circus workshop, storytelling, arts demonstrations, hands-on art making at Skidmore's Tang Museum, dance and theater performances, concerts, and more.
On Sunday, June 15, Universal Preservation Hall hosts Kids Do Art, an afternoon of hands-on activities for children 12 years and under, noon to 3 p.m. budding artists can express themselves through clay sculpture, illustrations, crafts, music, dance, and more. To add to the fun, Universal Preservation Hall will host a performance of Cowboy Dave Around the World by Albany Symphony Orchestra and a performance by Saratoga Jazz Tap.
Sunday also offers the Beekman Street Art Fair, 10 a.m. to 5 p.m. in the Beekman Street Arts District. The day features a juried art and craft fair, musical groups, street performers, and food trucks representing the "taste of Saratoga." The event, held rain or shine, includes demonstrations in papermaking, ceramics, and weaving.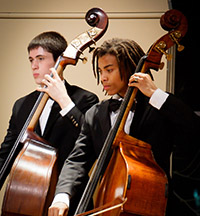 Saratoga Springs Youth Orchestra
will perform on Sunday, June 15.
A juried student art exhibition for grades K-12 runs throughout the ArtsFest, in Case Center at Skidmore College. The show will have an opening reception on Wednesday, June 11, 4-6 p.m. in Case Center's Burgess Café.
Also on June 11 will be the awards ceremony for the ArstFest's second annual short story contest, which has drawn submissions from some 30 area students, grades 9-12. First prize is $500, and the winning story will be published in Saratoga Living magazine. Awards for the top three stories will be presented by Saratoga Springs Superintendent of Schools Michael Piccirillo, who will give a public reading of the winning story. The ceremony will take place in the Spa dining room of Skidmore's Case Center at 6 p.m.
Admission to SaratogaArtsFest is free for youths 12 and under. The prices for the admission packages are $40 for adults and seniors, and $35 for military personnel. ARTSPASSES can my purchased at the Skidmore Shop and online.
For more information visit SaratogaArtsFest.org.