Sustainability office upgrades bike-share program
July 9, 2014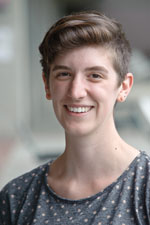 Emily Durante '15 (Eric Jenks
photo)
Skidmore Bikemore, a newly improved bike-share program that is free to students, faculty, and staff, is now under way on campus.
Launched in June, the improved program builds on a longstanding bike share initiative by adding 20 shaft-driven bicycles purchased with a $20,000 grant from the Margaret Cargill Foundation. Grant funds also supported locking bike racks, which were installed on Case walkway, not far from the entrance to Scribner Library.
Emily Durante '15, a double major in environmental studies and geosciences, manages Bikemore and was instrumental is the program's upgrade. Earlier this year Durante was named Newman Civic Fellow by Campus Compact, a national coalition of colleges and universities dedicated to fostering civic and social responsibility. Fellows are recognized for their efforts to explore social issues and work toward positive change.
Durante has been focusing on environmental issues, particularly those related to transportation networks. On campus she has led efforts to mobilize and coordinate student environmental organizations and to create the bike-share program.
"The campus community has been incredibly welcoming to the idea of a bike-share model. I hope Bikemore will continue to set new standards for sustainable mobility and resources for members at Skidmore and other colleges, as well as the greater Saratoga Springs community. The program has become a great foundation for the development of sustainable infrastructure in the region, and I am very excited about the prospects of expansion on campus and collaboration in the City of Saratoga Springs," said Durante.
Levi Rogers preps new bikes for use. (Eric Jenks
photo)
Sustainability Coordinator Levi Rogers collaborated with Durante on the Bikemore upgrade. He explained that the chainless, shaft-driven bikes are low-maintenance and less prone to rust issues. The seven-speed bikes are highly durable and easy to navigate on campus hills.
Anyone with a Skidmore ID can check out a bike from Bikemore. Potential bike users need to go to the Sustainability Office, where they will be asked to review the rules of Skidmore Bikemore, sign a waiver, and obtain a PIN. Bikes are locked to the Bikemore rack outside of the library, and "rentals" are good for 24 hours. (Click here to read the release and waiver.) Program participants use PINs to unlock the electronic key box and take a bike from the rack, providing easy access and monitoring. Skidmore has partnered with On Bike Share to bring Bikemore to campus.
Rogers said that the vendor is "the best fit" for Skidmore, since it is a cost-effective program and "a great company to work with." The program is easily expandable, which is a goal when resources are available, he added.
Although Bikemore is just a few weeks old, it has been well received. Rogers told an area newspaper, "The response has been unbelievable. Even though it's the summer, we've had over 60 people register for the program." The number has since increased to more than 100.
Bikeshare will be available on campus from around late March through November, or until the snow arrives.