In Memoriam: Nadine Gordimer
July 15, 2014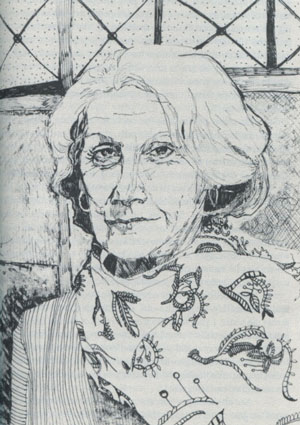 Drawing of Nadine Gordimer by Lowell Boyers, courtesy
Salmagundi magazine
South African writer Nadine Gordimer, a generous friend to Skidmore's Salmagundi magazine, died July 14, 2014. "Her work helped break the silence about the struggles and tragedies of South Africa under apartheid," noted The New York Times.
Gordimer's work explored the souls and stories of the people of her native South Africa, probing the ways in which its apartheid political system affected their lives. Skidmore Professor of English Robert Boyers provided this remembrance of the celebrated author:
"Nadine Gordimer, one of the great writers of the twentieth century, died on July 14 at the age of 90. The obituaries will indicate that she lived a full and rewarding life. As the winner of the 1991 Nobel Prize for Literature she had a very large international readership which went far beyond her native South Africa, where her books were sometimes banned and where she was widely known as an effective and committed opponent of the apartheid regime which finally collapsed in 1994.
"Gordimer's greatest work was the novel Burger's Daughter, though others—including July's People—were taught in high schools and colleges and brought attention to the evils of apartheid at a time when newspapers around the world were alert to the system but few writers of consequence devoted sustained literary attention to the subject. Gordimer often noted that she was not by instinct a political writer, but that she found it impossible to live under apartheid without addressing it in her work. Had she been born in a different sort of country, she said, she would probably not have written about politics at all. Though she refused to regard her work as "political fiction," she had to admit that her narratives were deeply immersed in politics. Other important novels by Gordimer include The Conservationist, A Sport of Nature and The Pickup. Her short stories are included in virtually every anthology of twentieth century world fiction, her most famous story was 'A Soldier's Embrace.'
Author Nadine Gordimer receives a warm welcome at receptionfollowing her Frances Steloff Lecture. (Phil Haggerty photo)
"Gordimer was a loyal and generous friend to Skidmore's Salmagundi magazine, which devoted an entire special issue to her work in 1984 and brought her to the Skidmore campus on several occasions, where she participated in public interviews, gave public readings from her work, and met with students. She delivered the annual Frances Steloff Lecture at the College in the fall of 1990 and was given an honorary doctorate of humane letters at a public ceremony on that occasion by then-President David Porter."
In the course of her long association with Salmagundi and with the editors, Robert and Peg Boyers of the Skidmore faculty, Gordimer contributed to the pages of the magazine more than a half dozen short stories, one novella ("Something Out There"), three essays and two printed interviews. Robert Boyers last introduced her at the 92nd Street Y in New York City in the fall of 2003 and conducted an extensive correspondence with Gordimer over 30 years.
The magazine will mark her passing in its fall 2014 issue.
Click here for The New York Times obituary.