Schick Art Gallery scene of unique performance series this spring
April 21, 2016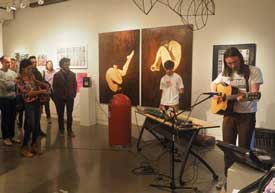 A performance of "Music in the Schick."
"Music in the Schick," a new series offered this spring at the Schick Art Gallery, will present its fourth and final installment at 5 p.m. Thursday, April 21, with a free program of experimental and improvised student and faculty musical acts.
Adam Tinkle, a lecturer in both arts administration and documentary studies in the John B. Moore Documentary Studies Collaborative, will offer a unique audio-visual experience. He will perform an original saxophone composition in combination with vibrant projections. Colin Minigan & the Feel Good Ensemble will premiere an improvised piece composed by senior music major Colin Minigan '16, which explores space and movement through droning vocals, piano, cello, and an electric cactus. Bring Snacks, a new collaboration featuring Jack Bryant '16, Logan Sweezy '17, and Teddy Braziunas '18, will present soft and sentimental sounds with synthesizers.
The series of musical offerings was made possible at the gallery this semester thanks to the efforts of Leila Farrer '16 and Teddy Braziunas '18. The goal of the series is to challenge how people interact with music, the space itself, and the art exhibited in the gallery. "One of the reasons we put this together is to draw more people into the gallery—we're giving a space for music performers, but also exposing more of the community to the artwork in the Schick," says Farrer.
The Schick Art Gallery in the Saisselin Art Building is a distinctive space for students to apply what they have learned in their classes in a non-academic setting, and experiment with creative approaches. "There is a cross between visual arts and music, which is something that Skidmore, as a college, really appreciates—having a blend of academic and extracurricular interests," says Braziunas.
"We created this program from scratch and it's gone really well. The students and faculty are excited about it and we're hoping it will continue to be successful and become a part of Skidmore's culture," says Farrer. The series has quickly gained momentum, as it has attracted more than 100 students, professors, and community members. With the assistance of Curatorial Assistant Rebecca Shepard along with support David Howson, teaching professor and Zankel Executive Director of the Arts Administration Program, Farrer and Braziunas bring an avant-garde arts experience to the Skidmore campus. ~Lisa Fierstein '16