A story of storytelling
June 20, 2016
Saratoga Springs is a well-known stop for migrant workers who come and go with the summer racetrack season. Much less known are the city's long-term immigrants from a small town of Triqui indigenous people in Oaxaca, Mexico. Many share close ties from home, they tend to speak more Triqui than Spanish, and most work behind the scenes in Saratoga restaurants. Theirs is a fascinating story—how best to convey it?

Jake DeNicola '15 has some ideas. Through anthropology professor Bernardo Rios, he learned of the Triqui region and met Eleuterio Ramirez '18, the son of a Triqui family in Saratoga. Last summer DeNicola joined Rios and Ramirez in Skidmore's monthlong Storytellers' Institute, a part of the Moore Documentary Studies Collaborative, to nurture documentarians in audio, video, and other media. He began by videoing interviews with local Triqui people, he says, "to document their day-to-day lives and what it's like becoming a Saratoga resident or helping more recent immigrants adapt."
Jake DeNicola, Bernardo Rios and Eleuterio Ramirez
Critiques and conversations with other participants in the MDOCS Storytellers' Institute, and with the accomplished artists leading it, helped the trio plan and edit. Particularly useful was the assignment to present a weekly four-minute "project pitch" video for feedback from the participants. As DeNicola recalls, that exercise "made me gather my thoughts, develop the story, and find my vision."

And the project inspired a spinoff: the trio recently returned from Mexico, where Ramirez visited old schoolteachers and family he hadn't seen for years, while DeNicola captured footage. This video is on track for the February entry deadline in 2017's international Oaxaca Film Fest.

Meanwhile, DeNicola has been asked to contribute an eight-minute video to an MDOCS exhibition at Saratoga's Spring Street Gallery. He'll provide a segment of his multi-year project on the personalities behind the '60s rock band Moby Grape. "That film is my baby," he says, and the invitation to prescreen it in progress "has been a great opportunity for me to really interact with it again."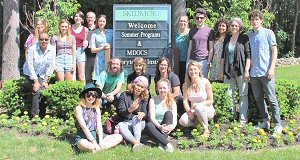 2016 Storytellers' Institute
This year's institute participants are getting similar opportunities. Student projects range from mind-altering drugs and first-time sex to a family memoir and the nuances of civil-rights history.


One faculty participant is sociologist Rik Scarce. Having written about the salmon industry, ranching and wolves, and sustainability in the Hudson River region, he's now exploring the lifestyle movement of barefoot running. His video interviews with America's fastest barefoot runner, expert podiatrists, a sandal purveyor named Barefoot Ted, and some 50 others need to be shaped into a compelling and informative package. He's curious "whether my organizational methods for a book can work for a video. As a scholar, I don't need to tell a story, but in this video I want to." Consulting with the institute's "brilliant fellows, expert documentarians, and creative students is a challenge and a gift."

Erika Schielke, a Skidmore biologist who has worked in public radio, is getting input into her audio podcasts on field biology across upstate New York. She recorded scientists on a moose-tracking session, a rattlesnake survey, a study of road salt in waterways, and more. One question for the institute: when things go wrong—"as they do in even the most expert field science," she says—is it embarrassing or enhancing? When the moose tracker halted for intense scrutiny of a distant brown shape that soon proved to be only a log, the moment gave an authentic taste of real field research, and Schielke was gratified that her fellow storytellers encouraged her to include it in her finished podcast.

The arc of a riveting story, the technology and tricks of presenting it, and the insights that a narrative can awaken in its audience are all being honed in this month's Storytellers' Institute. Full details are here.