Tradition of service
June 9, 2017
Skidmore's longtime faculty members enlighten and nurture generations of students, feeding a sort of mutual dedication society across the country and across the decades. One of the most legendary-and most striking as an exemplar of Skidmore's signature integration among many disciplines-retired this spring after a record-breaking 50 years of teaching.
Cunningham in 1969
With a BA in chemistry from Kenyon College as well as a BFA and MFA from Yale, John Cunningham was an assistant to famed kinetic sculptor George Rickey before joining Skidmore in 1967. Along with teaching drawing (including in Skidmore's University Without Walls program at area prisons), Cunningham specialized in 3D design and sculpture.

In 1970 five male architecture students from Rensselaer Polytechnic Institute, studying at the all-female Skidmore through an exchange program, worked through the night to surprise Cunningham with a 12- by 50-foot "monster" built of dowels and screw-eyes. He promptly chinned himself on it and declared it strong and sound.

Around 1990, Cunningham brought foundry expert John Galt to the art department, and soon students and faculty could cast as much as 300 pounds of bronze in one pour. Cunningham also helped usher in computer-aided design and 3D printing technologies. In 1999 he became the inaugural holder of Skidmore's Robert Davidson Chair in Art.

Known for his large-scale outdoor sculptures-often long-legged beasties that look poised to march across the lawn-Cunningham also immersed himself in studies of kinetics, vibration, and load-bearing and became a member of the American Society of Civil Engineers. He started his own business, Seicon Inc., in the 1980s and earned multiple US and foreign patents for vibration-isolation technologies useful in everything from washing machines to warships.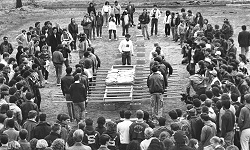 "Walk Like an Egyptian"
In 1987 and 1999, he presented the performance work "Walk Like an Egyptian," demonstrating how gigantic stone blocks were likely transported to build ancient pyramids. Before a crowd estimated at 3,000, he and a group of students showed that a relatively small number of workers could carry a huge weight by resting it on several long, flexible poles, which both distribute the load and multiply the force. Cunningham's epiphany was published in Nature, Science News, the New York Times, and other outlets. He lectured widely on "The Pole, the Pyramid and Power" as well as on his "Wholesight" concept of involving artists in all aspects of urban or environmental design. In considering the elegance of the "Walk Like an Egyptian" solution, an engineer once said Cunningham's sculpture "artistically evokes the same sense of fluidity and homeostatic interface with the environment."

Cunningham's art is part of many private and public collections and has been exhibited extensively, from the Louisiana Arts and Science Center to the Baltimore Museum of Art to the National Institute of Arts and Letters Awards show in New York City. Recently he has been focusing on 3D printing processes.

Other momentous retirements from the faculty this year:

Mehmet Odekon
Economist Mehmet Odekon, after 35 years. A specialist in global economic development, income distribution and poverty, he wrote or co-wrote four books on liberalization of the Turkish economy and edited the three-volume Encyclopedia of World Poverty. In 2013-14 he co-curated a Tang Museum interdisciplinary show on socioeconomic class and the American Dream titled Classless Society. He held Skidmore's Tisch Family Distinguished Professorship.
Steven Millhauser
Pulitzer laureate Steven Millhauser, after 29 years of teaching, coaching and nurturing aspiring fiction writers. Recently he was Skidmore's Tisch Professor of Arts and Letters. A contributor to the New Yorker and other publications, Millhauser won a 1997 Pulitzer for his novel Martin Dressler: The Tale of an American Dreamer. His story "Eisenheim the Illusionist" was made into the 2006 movie The Illusionist; his Dangerous Laughter collection made the New York Times Book Review's 10 best books of 2008; and his 2015 collection Voices in the Night also won acclaim.

Pete Stake
Pete Stake, after 31 years at Skidmore. An abstract painter with an interest in color, space, light and line, he taught courses in painting and drawing at all levels. He also served several years as director of the art department's Schick Art Gallery. Stake's own artwork has been exhibited extensively on the west coast and across the US, as well as at the University of Wales Institute in the UK.

Also retiring this spring were more than a dozen staff members from offices and departments serving every corner of the college. All were feted at a May luncheon on campus.