Alumni pride
July 11, 2017
"I couldn't believe I was wearing Skid gear with a rainbow on it," says Erika Astarita '10, marching in New York City's pride parade for gender freedoms. "Not that I ever felt Skidmore was unwelcoming, but this felt like the first moment that it was truly celebrating its LGBTQ alumni and students."
Astarita says, "My favorite moment was seeing other Skiddies in the crowd. Their faces lit up when they saw us marching, and they were so excited to get a Skidmore Pride shirt." For math major David Glassman '17, "It was a joy for me to march with my Skidmore family for a cause that is dear to me. The experience exemplified the supportive and accepting environment that I've always felt as a Skidmore student." As a brand-new grad, he says, "Participating in this event made me feel like I will always be a part of the Skidmore family."

In all, 35 alumni, parents of students, and staff members marched behind the big Skidmore banner. The two-mile route from 14th Street to 42nd Street provided a showcase for 45,000 marchers from more than 500 groups, from schools to offices to clubs to neighborhoods. Skidmore's group included 12 fellow Northeast Alumni Relations group members, from Amherst and Bowdoin to Trinity and Wesleyan.

Astarita says, "I've been participating in pride activities for many years, and it was truly special to share that with Skidmore." Her leadership involvement stemmed from the "fabulous time" she had at her five-year reunion and her eagerness to reconnect with Skidmore regularly. She found that the new alumni Diversity and Inclusion Steering Committee "is the perfect way. I can't wait to help organize more events."

That alumni committee includes 12 members, from the 1970s to the 2010s and from Texas to Boston. Wendy Wilson '96, the alumni board's chair for diversity and a committee member, says the group "wants to help ensure that alumni of color and LGBTQ alums are getting good communications about the college and invitations to programs of interest to them." She notes, "It's easy for alumni to get buried in the experience of their four years on campus, so we need to let them know what's happening at Skidmore today. Many don't know about the changes and progress that have been made, such as placing diversity as a key goal in the strategic plan. When alumni hear about some of these efforts, they often say, 'Wow, I didn't know. This is so cool!'—and they may be open to engage with Skidmore and even help these initiatives along."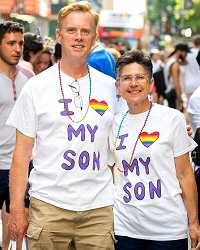 At the group's first meeting in early 2016, Wilson says, "we included current students, to help give us a sense of today's campus climate and what sorts of support the students might want when they become alumni." Then in a meeting last fall, "we decided we'd like to facilitate or guide some programming, and we've been working hand in hand with Megan Mercier," an alumni relations staff member, "who has been invaluable in keeping us organized and suggesting ideas." It was Mercier, working with Skidmore's New York regional alumni planners, who proposed the idea of inviting other Northeast Alumni Relations member colleges to join Skidmore at June's pride march. "It was a great way just to represent," says Wilson, "to show our hearts and minds, and to demonstrate Skidmore's interest and commitment." She reports that posts and photos shared from the parade "got very positive feedback from alumni around the country."

In August the diversity and inclusion group will help with Skidmore's perennial New York City diversity reception for incoming first-year students and their families. As Wilson explains, "The alumni who attend have been through student life and can give honest answers about inclusion and other questions." She recalls, "I went to it when I first came. My mom found it so helpful; she got to meet the dean of students and some staff I'd be dealing with. Of course, I arrived filled with butterflies, but it helped me to relax, because I'd already know some people when I got to campus."

The next committee meeting, to plan for the coming academic year, will be held in October. And this time, with the pride march "under our belts," Wilson declares, "we're even better prepared for future programs and events."

(Photos by Todd France '89)