Begins a golden progress
July 18, 2017
A direct bridge from theater training to the professional world of stage and screen starts right in Skidmore's backyard, and this year the curtain rises on July 18. The Saratoga Shakespeare Company, celebrating its fifth summer under the direction of Skidmore faculty members Lary and Barbara Opitz, presents A Midsummer Night's Dream July 18–29 and The Winter's Tale Aug. 1–5. Shows are free and take place Tuesdays through Saturdays at 6 p.m. in Saratoga's Congress Park.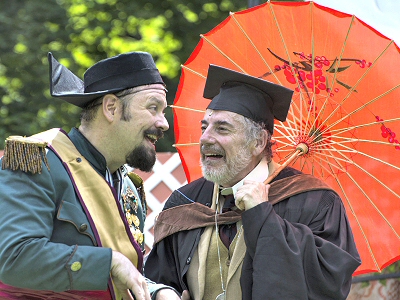 A scene from 2014's production of
Love's Labour's Lost
The troupe blends professionals with students, for what Barbara Opitz calls "a wonderful mix, and a strong program." This year's company welcomes 16 interns, from Skidmore and nine other colleges; 11 interns are actors, and the others are in directing, stage managing, and technical roles. They join 16 pros, including a London-based movement director who is an aerialist; Lary Opitz says, "For Midsummer, rumor has it that Titania's feet will never touch the ground."

Among Skidmore's student participants are Graham Cook '19 and Jessie Hamilton '20, and even an incoming freshman, Yael Schoenbaum '21. Recent grad Samantha Garwood '14, in her second year of a Boston University master's program in design, is the costume designer. Theater department faculty member Garrett Wilson is designing the sets with two student assistants. And Doug Seldin '08, who was assistant director for the company's first intern production in 2013, a fight director and actor in 2014 and a teaching artist in 2016, has returned this summer to help run the intern program and direct its production of Twelfth Night.

"The interns work long days!" notes Barbara Opitz. "They get training, prepare for and mount a play and offer workshops for kids and senior citizens through area agencies such as Saratoga Arts, the Economic Opportunity Council and Camp Northwoods." Seldin's interns this year will be performing at Congress Park as well as the Saratoga Public Library and Skidmore's Zankel Music Center amphitheater.

The Opitzes are clearly proud of the learning experience they offer. "Students work side by side with professionals, who include more members of the Actors' Equity Association than most companies like ours. We also engage actors, directors and designers with extensive credits from Broadway to regional theaters." Another distinction, notes Barbara, is the opportunity for the interns, even as undergraduates, to earn points toward Equity membership.

Another crucial ingredient is wide collaboration. As executive director, Barbara works with police, the park, and area merchants to stage and fund the plays. Donations and in-park fundraising among the audiences account for nearly half the company's income, with grants, tuition and sponsorships covering much of the rest. The biggest challenge, Lary admits, is financial: "Raising enough money and mounting the shows at a small enough cost." He says, "Our stage is stored in a barn in Schuylerville, and we do the setup ourselves. We load the truck, drive to the park and build the stage all in one day." A mere 10% of company expenditures typically go for sets, props and costumes. No wonder Barbara emphasizes, "We really value and celebrate the partnerships—with Skidmore, Saratoga Springs, the Saratoga Arts Center, business sponsors—that make our professional, nonprofit, free theater possible. With Saratoga's strength in art and music and dance, it's great to boost its theater offerings as well."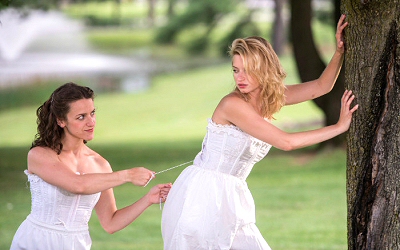 A Midsummer Night's Dream
in rehearsal
(Photo by Eric Jenks '08)
The audiences may be the company's best partners, she adds. "I see families come back each summer. I love watching their kids grow up and providing them with live classical theater. Also, people just strolling through the park notice the show and stop, and those incidental audiences often stay for the rest of the play or come back another night."

No, it's not like most theater, laughs Lary Opitz. "We cancel if rain is in the forecast. And if the bad weather starts during a show, we suspend operations and wait, hoping we can resume within 20 minutes or so. Our audiences are usually very patient and gracious." The outdoor venue means distant traffic noise, blowing breezes, and sometimes "not just dogs, but dogs chasing the park's ducks!" Each actor wears a wireless mike, and large speakers are set up to reach the dispersed audience. For Lary as artistic director (and often an actor himself) one up-side to the miking is that "the actors can be very flexible and mobile." He adds, "It's also remarkable and wonderful to act before an audience that's not in the dark. We can see the spectator's reactions and really connect with them. An actor might walk out into the crowd and play around a little with a spectator." In that signature spirit of partnership, "it's a truly engaging and immersive approach to theater."

Saratoga Shakespeare Company began in 2000, with Lary Opitz as a founding member; after its artistic director stepped down, in 2012 the Opitzes took it on, with help from Skidmore's special programs office and using campus rehearsal space in Bernhard Theater. The company is a member of the Shakespeare Theatre Association, along with 115 other companies around the world.