Skidmore hosts research conference
September 22, 2017
Neuroscience researchers Laura Noejovich '18 and George Chakolos '18 found something unexpected: Their initial data show that animations of the physical world need some exaggeration in order to be deemed plausible. The more real the animation, the more unnatural it seemed to the observers. They'll present their summer project "Charting the Uncanny Valley" this Saturday, Sept. 23, as part of a large undergraduate research conference.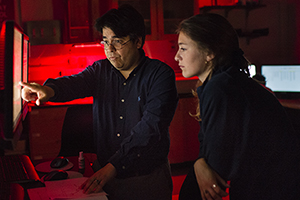 Prof. Juan Navea and Sarah Gowan '19 in the chemistry lab
Twenty-six other Skidmore students will present talks or posters on their summer research, as will 17 students from Colgate University, 30 from Hamilton College, 4 from Hobart and William Smith Colleges, 5 from St. Lawrence University, and 10 from Union College. Open and free to the public, the event is the New York Six Consortium's seventh annual Undergraduate Research Conference, hosted this year at Skidmore. [full program details]
Skidmore political scientist Bob Turner, who runs the college's Faculty-Student Summer Research Program, counts "more than 150 students and faculty from the New York Six institutions coming to our campus for this truly interdisciplinary conference featuring students from 26 different majors." He calls it a great opportunity for participants "to learn what our peers in other institutions are doing" and also for the campus and Saratoga community to see Skidmore's research work.
The Skidmore presentations will be:
ORAL PRESENTATIONS
Palamountain 201 (9:45–10:45 a.m.)
• Giorgos Petkakis '18, computer science, "Mining Code in Search of Reason"
Bolton 280 (9:45–10:45 a.m.)
• Veronica Mierzejewski '19, chemistry, "Design and Development of a Novel Antibiotic: a GatCAB Inhibitor"
• George Chakalos '18 and Laura Noejovich '18, neuroscience, "Charting the Uncanny Valley"
Bolton 282 (9:45–10:45 a.m.)
• Ana Sosa '18, sociology, "Identifying the Haitian Second Generation"
• Ruby Thompson '18, sociology, "To Be or not to Be: Ethnic Identity for Second-Generation West Indians"
POSTER SESSION #1
Bolton 280 (10:50–11:55 a.m.)
• Sampriti Thapa '18, biochemistry, "Effect of Cullin-5 Protein on Conformational Flexibility of HIV-1 VIF Protein"
• Hannah Forman '19 and Hongwei Yu '19, biochemistry, "Expanding the Genetic Code with Pyroglutamate"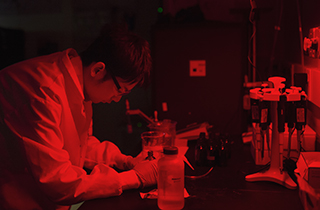 Yao Xiao '19 conducts photochemical experiments.
Bolton 281 (10:50–11:55 a.m.)
• Deborah Kim '18 and Kathleen J. Maas '18, chemistry, "Daytime Chemistry of Sea Spray Aerosols: Alternative Pathways of HONO Formation"
• Claudio Bennett-Caso '19 and Chris Ostaszewski '19, chemistry, "Non-Thermal Plasma for the Heterogeneous Chemistry of Chemisorbed Volatile Compounds with Free Radicals"
• Ronald Caruso '18, exercise science, "Effects of DhamaSPORTtm Cooling Band Technology on Recovery from Exercise-Induced Heat Stress Associated with Firefighting Personal Protective Equipment"
Bolton 282 (10:50–11:55 a.m.)
• Alexandra Cassell '19 and Alexander Smith '19, mathematics and computer science, "Developing an Oscillator Model for Group Behavior in Drosophila melanogaster"
POSTER SESSION #2
Bolton 281 (1:10–2:15 p.m.)
• Lieza Chan '18, chemistry, "Effect of Elongin-B C-terminus on Correlated Motions in HIV VIF Complex"
• Alexis Matias '18, Monique Dudar '18 and Josip Kauzlaric '18, exercise science, "Rehydrating Efficacy of Maple Water after Exercise-Induced Dehydration: Potential Sex Differences"
Bolton 282 (1:10–2:15 p.m.)
• Sophie Staton '18, social work, "VOICES: Voicing Our Individual and Collective Experiences"
POSTER SESSION #3
Bolton 280, (2:20–3:30 p.m.)
• Rebecca Wales '18, biochemistry, "Direct Route for Asparaginyl-tRNA Formation in B. subtilis"
• Elissa Williams '19 and Yutong Li '19, biochemistry, "B. anthracis Indirect Pathway of Asparaginyl-tRNA Formation"
• Caitlin Schroeder '18, chemistry, "Characterization of the Dual Pathways for B. halodurans Asparaginyl-tRNA Formation"
Bolton 281, (2:20–3:30 p.m.)
• Gabriella Gerlach '19, chemistry, "Role of Segments 1 and 2 in the ArkA12 Structural Ensemble"
• Daniel Casarella '18 and Jennifer Cristiano '18, environmental science, "Tree functional traits vs. environmental controls on key ecosystem properties and processes in the Adirondack Park"
• Emily Schlicht '18, exercise Science, "The Impact of a Novel Wrist-Cooling Device on Exercise Performance and Recovery in the Heat"
PROJECT ABSTRACTS
MINING CODE IN SEARCH OF REASON
Giorgos Petkakis '18 and David Read, lecturer, Computer Science Department
The Web Ontology Language (OWL) is a semantic specification which defines formal logical constructs allowing web sites to find information and connect facts from computers on the Internet. Every day, companies like Google use OWL-based software to seamlessly combine maps, events, locations, venues, weather conditions, and more. Broader use of OWL is constrained by the lack of a freely available computer program implementing the complete specification. Our project's goal was to enhance Apache Jena, a free, albeit non-comprehensive, software library for OWL. As our work began we found that Jena's design allows for powerful extensibility at the cost of significant complexity, requiring additional effort to understand. This presentation focuses on our work with OWL, Jena, and concepts involved with implementing computer software which supports reasoning.
DESIGN AND DEVELOPMENT OF A NOVEL ANTIBIOTIC: A GATCAB INHIBITOR
Veronica Mierzejewski '19 and Kelly Sheppard, associate professor, Chemistry Department
Two distinct routes for attaching asparagine (Asn) to its cognate transfer RNA (tRNAAsn), an essential step in protein synthesis, are known. In the direct pathway, Asn is attached to tRNAAsn; in the indirect pathway, Asn is synthesized on the tRNA using a non-discriminating aspartyl-tRNA synthetase and our enzyme of interest, GatCAB. The inhibition of GatCAB would disrupt translation and kill pathogens that depend solely on the indirect pathway, such as Helicobacter pylori and Staphylococcus aureus. We are purifying B. subtilis GatCAB to perform future inhibition experiments while also conducting in silico molecular docking studies using Autodock 4 to test the efficacy of potential inhibitors. The work lays the foundation for the potential development of novel antibiotics.
CHARTING THE UNCANNY VALLEY
Laura Noejovich '18, George Chakalos '18 and Flip Phillips, professor, Psychology Department and Neuroscience Program
As simulations of our physical world approach reality, their appearance creates feelings of unnaturalness. In robotics, the relationship between human likeness and perceived plausibility experiences a 'dip' as appearances approach realism - the "Uncanny Valley". Traditional animation avoids the pitfall into this chasm by exaggerating movement of real objects beyond what is physically accurate. A series of simulations of bouncing balls were created using deformable exaggeration. Subjects evaluated each animation as to its plausibility. For generic balls, exaggerated bounces were regarded as significantly more plausible than those that were physically accurate, regardless of their modeled elasticity. When subjects are shown the type of ball being simulated, they subjectively modify their plausibility ratings accordingly. Thus, exaggeration acts as a bridge across the uncanny valley.
IDENTIFYING THE HAITIAN SECOND GENERATION
Ana Sosa '18 and Amon Emeka, associate professor, Sociology Department
We set out to find if there is substantial selective ethnic attrition among second generation Haitians in the U.S. Ethnic attrition is a way of integrating into the host society by forfeiting one's ethnic identity. Measuring ethnic attrition is important because it may lead to a misrepresentation of the group's achievement in the U.S. We measure the extent to which parents' and respondents' characteristics bear on identify in the Haitian second generation. We use Census data to track identificational changes from 1990 to 2014. Our results suggest that family structure, socioeconomic status, and parents' and respondents' characteristics have a significant effect on Haitian identity.
TO BE OR NOT TO BE: ETHNIC IDENTITY FOR SECOND GENERATION WEST INDIANS
Ruby Thompson '18 and Amon Emeka, associate professor, Sociology Department
Ethnic attrition refers to the process through which immigrants stop identifying with the nationalities and ethnicities of their predecessors. Our central research questions are: 1) is there evidence of ethnic attrition among second generation West Indians, and 2) to what extent is it selective? Using 1990 to 2014 Census Data, we identified a cohort of West Indian second generation children in order to track how they identify across two decades. If West Indians are no longer identifying as such we cannot track their progress in the United States, which may give an unduly positive outlook on the group's success in the U.S. Our preliminary findings demonstrate that less than half of West Indians identify primarily as West Indian, and suggest that family structure, parents' characteristics, and respondents' characteristics are significant predictors of ethnicity.
EFFECT OF CULLIN-5 PROTEIN ON CONFORMATIONAL FLEXIBILITY OF HIV-1 COMPLEX
Sampriti Thapa '18 and K. Aurelia Ball, assistant professor, Chemistry Department
HIV-VIF protein is an intrinsically disordered protein (IDP) that gains stability when bound to Elongin-B (EloB), Elongin-C (EloC), CBF-β, and Cullin-5 (Cul5), forming the VCBC-Cul5 Complex. Cul5 is a scaffold protein that is directly involved in the ubiquitination and degradation of antiviral proteins. While the crystal structure of the VCBC-Cul5 Complex has been solved, the role of conformational flexibility of the complex without Cul5 is not known. To investigate the role of Cul5 on the conformations sampled, molecular dynamics (MD) simulations were run on VCBC. Using principle component and dihedral angle analysis, it was determined that VCBC is more flexible without Cul5 bound and the alternate states sampled by the VCBC complex may be important for function.
EXPANDING THE GENETIC CODE WITH PYROGLUTAMATE
Hongwei Yu '19, Hannah Forman '19 and Kelly Sheppard, associate professor, Chemistry Department
Non-canonical pyroglutamate incorporation during protein synthesis will aid the study of medical conditions like Alzheimer's disease. To better understand pyroglutamate's role in protein structure and function, an E. coli model system was developed to directly incorporate pyroglutamate into proteins. Key to this process is the use of a modified archaeal RNA-dependent glutamine biosynthetic pathway in which pyroglutamate is synthesized on an amber suppressor tRNA. Enhanced yellow fluorescent protein was used as a reporter system to determine levels of read-through, and therefore incorporation, of pyroglutamate in response to an amber codon. In order to determine presence of eYFP, fluorimetry was used. As yield was poor, we are developing a new pyroglutamate system using mesophilic enzymes. Success of this system will be confirmed by mass spectrometry.
DAYTIME CHEMISTRY OF SEA SPRAY AEROSOL: ALTERNATIVE PATHWAY OF HONO FORMATION
Kathleen J. Maas '20, Deborah Kim '18 and Juan G. Navea, assistant professor, Chemistry Department
Sea spray aerosols (SSA) are particles of varying size and composition released from bubble bursting on the ocean's surface, or marine boundary layer (MBL). SSA are known to contain complex organic chromophores known as humic-like substances (HULIS), which are naturally emitted from the MBL and/or formed though SSA atmospheric processing. HULIS are known photosensitizers that can open alternative photochemical pathways within SSA. In this study, we investigate the photosensitization of NO2 and NO3- to produce HONO, an important source of hydroxyl radicals in the troposphere, and nitrogen oxides.
NON-THERMAL PLASMA FOR THE HETEROGENEOUS CHEMISTRY OF CHEMISORBED VOLATILE COMPOUNDS WITH FREE-RADICALS
Claudia Bennett-Caso '19, Chris Ostaszewski '18 and Juan G. Navea, assistant professor, Chemistry Department
In this work we present a state-of-the-art system to study the heterogeneous reactions between adsorbed hydrocarbons and free radicals generated via non-thermal plasma. The system allows for the exposure of a well-characterized oxygen plasma plume on a hydrocarbon-coated alumina powder. Two pairs of windows in the chamber allows in-situ two-dimensional spectroscopy: UV-Vis and IR. The oxidation of chemisorbed hydrocarbon on the alumina powder via non-thermal plasma was investigated in-situ in order to determine the conditions for an effective oxidation. Our results show a novel and effective method for the free-radical reaction with adsorbed volatile or semi-volatile compounds. Quantum mechanically calculated vibrational frequencies of the adsorbed oxidized products suggest the first oxidation of cyclohexane is the limiting step.
ANALYZING OSCILLATOR DYNAMICS FOR GROUP BEHAVIOR IN DROSOPHILA MELANOGASTER
Alexandra Cassell '19, Alexander Smith '18 and Lucy Spardy, assistant professor, Mathematics Department
The wild-type Drosophila melanogaster, the common fruit fly, has an intrinsic 24-hour circadian rhythm with peaks of activity near dawn and dusk. Bernard Possidente's biology research has demonstrated that in large groups, fruit flies exhibit similar patterns of activity around dawn and dusk but has also shown a presence of random activity spikes during the light period. Our goal is to develop a mathematical model to explain and predict the population dynamics. We use the phase and Van der Pol oscillators to represent a morning and an evening oscillator as two components of the circadian rhythm. We entrain the morning to dawn and the evening to dusk and couple them to other flies. Future research will address the inclusion of the random daytime activity.
PART OF THE WHOLE: HOW STRUCTURAL CHANGES AFFECT DYNAMICS IN THE HIV-1 VIF COMPLEX
Elise Tierney '18, Lieza Chan '18 and K. Aurelia Ball, associate professor, Chemistry Department
Intrinsically disordered proteins (IDPs) are not thought to influence the conformation of folded proteins because, inherently, IDPs lack a fixed secondary structure. The IDP HIV-1 Vif, gains structure in complex with EloC, EloB, CBF-b, and Cul5 (VCBC-Cul5). Vif uses the complex to degrade the antiviral APOBEC enzyme. The VCBC-Cul5 complex crystal structure contains a truncated C-terminus EloB tail; however, NMR data has shown that with the full-length EloB tail, there was improvement to the NMR signal. We use Molecular Dynamics (MD) simulations to study how the EloB tail and Cul5 binding partner affect the conformations and dynamics of the VCBC complex. Using these computer simulations we have uncovered potentially functional alternate conformations of this viral protein complex.
REHYDRATING EFFICACY OF MAPLE WATER AFTER EXERCISE-INDUCED DEHYDRATION
Alexis Matias '18, Monique Dudar '20, Josip Kauzlaric '20 and Stephen J. Ives, assistant professor, Health and Exercise Sciences Department
Exercise in the heat results in profound dehydration, deleterious to physiology and performance. While increasing in popularity, no study has explored the rehydrating efficacy of maple water (MW). Twenty-six young healthy volunteers (n=13 males) participated in a single-blind, counterbalanced, crossover design study of the potential impact of MW on hydration, thirst, fatigue, and heart rate variability (HRV) after exercise-induced dehydration of ~2%. After attaining post-exercise measures, participants consumed 1L of MW or maple-flavored water and then monitored at 0.5,1, and 2hrs post-exercise. No significant differences in hydration, fatigue, or HRV were observed, though thirst remained higher with MW. Some of the markers of rehydration occurred in a sex-specific manner. In conclusion, MW does not appear to enhance rehydration, although sex differences in rehydration may exist.
VOICES: VOICING OUR INDIVIDUAL AND COLLECTIVE EXPERIENCES
Sophie Staton '18 and Kelly Melekis, assistant professor, Social Work Department
Using the participatory action research method photovoice, this project explored the experience of homelessness in New York, including difficulties, coping mechanisms, and actions for addressing homelessness. Over the course of 6 weeks, participants in Saratoga Springs and New York City used visual images and narratives to share the story of their everyday reality and construct strategies for change. Data consisted of images, corresponding narratives and group dialogue. Descriptive coding and thematic analysis were conducted using NVivo 11. Preliminary findings highlight themes related to 1) the 'identity' and stigma of being homeless, 2) the double jeopardy of being old/disabled and homeless, and 3) the role of providers/caseworkers. Findings suggest implications for research and practice.
DIRECT ROUTE FOR B. SUBTILIS ASPARAGINYL-tRNA FORMATION
Rebecca Wales '18 and Kelly Sheppard, associate professor, Chemistry Department
B. subtilis uses two distinct pathways to attach asparagine to tRNAAsn. Asparaginyl-tRNAAsn formation is essential for protein synthesis, but why the organism encodes for both asparaginyl-tRNAAsn routes is unknown. In the direct route, asparagine is first synthesized by an asparagine synthetase. Asparagine is then attached to tRNAAsn by asparaginyl-tRNA synthetase. For the indirect path, asparagine is synthesized on the tRNA. Characterization of the two routes will provide insight into bacterial life cycles. Accordingly, we have purified the B. subtilis asparaginyl-tRNA synthetase and asparagine synthetase to characterize the direct pathway. Also, we are attempting to knockout the direct pathway in B. subtilis to better understand its physiological role. The work will provide insight into how bacteria adapt metabolism to survive under different environmental conditions.
B. ANTHRACIS INDIRECT PATHWAY OF ASPARAGINYL-tRNA FORMATION
Elissa Williams '19, Yutong Li, '19 and Kelly Sheppard, associate professor, Chemistry Department
Two distinct routes for attaching asparagine (Asn) to its cognate transfer RNA (tRNAAsn), an essential step in protein synthesis, are known in Bacillus anthracis. In the direct route, asparaginyl-tRNA synthetase directly ligates Asn to tRNA. In the indirect pathway a non-discriminating-AspRS attaches aspartate to tRNAAsn which GatCAB then amidates. In this path asparagine is synthesized on the tRNA using a complex between a non-discriminating aspartyl-tRNA synthetase, tRNAAsn, and GatCAB, the transamidosome. We are purifying the components of the transamidosome in order to characterize the indirect pathway under various conditions to understand the role of the indirect route in this human pathogen and why it acquired an archaeal aspartyl-tRNA synthetase for this purpose.
CHARACTERIZATION OF THE DUAL PATHWAYS FOR B. HALODURANS ASPARAGINYL-tRNA FORMATION
Caitlin Schroeder '18 and Kelly Sheppard, associate professor, Chemistry Department
Protein synthesis requires the attachment of an amino acid to its cognate transfer RNA (tRNA). Two distinct pathways for attaching asparagine (Asn) to tRNAAsn are known: the direct pathway, in which Asn is directly attached to tRNAAsn by AsnRS; and the indirect pathway, in which Asn is attached to tRNA by non-discriminating AspRS and GatCAB. Bacillus halodurans uses both routes for the formation of the Asn-tRNAAsn complex. To better understand why B. halodurans possesses both pathways, we are purifying its AsnRSand AspRS in order to test and compare their activities under different chemical conditions such as reactive oxygen species and pH. This research will provide insight into how B. halodurans has adapted to survive in different environmental conditions.
ROLE OF SEGMENTS 1 AND 2 IN THE ARKA12 STRUCTURAL ENSEMBLE
Gabriella Gerlach, '19 and K. Aurelia Ball, associate professor, Chemistry Department
SH3 domains are protein interaction domains found across all forms of life and involved in both signal transduction and cytoskeleton regulation. They bind to intrinsically disordered proteins (IDPs), which are challenging to model using only experimental techniques. Thus, little is known about these binding mechanisms. One SH3 domain found in yeast, Abp1SH3, has a binding site for ArkA, an IDP. Replica exchange molecular dynamics simulations with were used to model ArkA, and segments one and two of ArkA. It was found that while the entire ArkA peptide samples at least 6 conformations, segment 1 only samples one, where nearly all residues are in the conformation polyproline II. These conformations will be used to run simulations of ArkA binding to the Abp1SH3 domain.
ENVIRONMENTAL AND PLANT COMMUNITY CONTROLS ON ECOSYSTEM PROCESSES IN THE ADIRONDACK MOUNTAINS OF NEW YORK STATE
Daniel Casarella '18, Jennifer Cristiano '18 and Kurt Smemo, assistant professor, Environmental Studies and Sciences Program
Forest trees possess specific traits that regulate many fundamental ecosystem processes, including decomposition and carbon storage. Previous studies have focused on mycorrhizal association of dominate trees, which usually associate with one fungi: Arbuscular Mycorrhizal (AM) or Ectomycorrhizal (ECM). However, environmental and abiotic factors related to climate, soil, and land-use are also considered variables that control ecosystem dynamics. This study aims to examine the effect of mycorrhizal tree types and environmental controls across natural gradients. Understanding the influence of these traits can provide the means to predict consequences of environmental change and altered biodiversity. Our results showed that specific species distribution patterns are apparent across short distances and result in correlating patterns of carbon and nutrient cycling.