Foreign correspondents
November 15, 2017
From Russia to South Africa, students are studying abroad this semester and learning even more than they bargained for. One of those blogging about their experiences is Zoe Lesser '19. Studying theater in Moscow, she says one reason she chose Russia "was because I wanted to experience culture shock." Three early observations:
Zoe Lesser
"Public places in America are much louder with everyone talking and laughing. That isn't to say that the people here do not speak and laugh-it's just much quieter."
The streets are much cleaner here; however, the trash cans are smaller and fewer. I am still trying to understand how this is possible."
There is a culture of bringing flowers: I've seen so many people walking around with flowers, and people leaving flowers at the foot of statues."
On sightseeing: "I realized that although St. Petersburg is breathtaking, it was artificially constructed to be that way. Whereas Moscow has been conceived by Russians and has adapted to the changes of Russian culture, St. Petersburg is a relic of Russia's imperial era, preserved for posterity and not for the spirit of the Russian people." [more of her blog]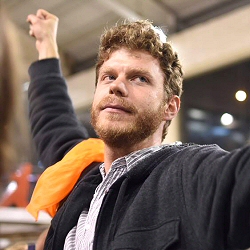 Jeff Dingler
Meanwhile in Madrid, English major and Spanish minor Jeff Dingler '18 has been watching the Catalonian independence movement: "Almost everyone I talk to, Spanish or Catalonian, seems deeply disillusioned with the political leadership. In Spain many politicians are immune to prosecution in the lower courts." He sees parallels to the U.S., where "politicians receive taxpayer-subsidized health care (a right still denied to their constituents)." In such democracies, he continues, "in return for granting all these perks, citizens receive 'representation,' which in the age of the Internet and instantaneous communication is absolutely useless. What we're witnessing now is an out-of-date system of government struggling to function in a much faster world where it's easier than ever to rig elections, buy politicians, and divide the public through a plethora of distorted facts and outright lies." Dingler calls Spain "a patchwork of diverse cultures and kingdoms. It's time for the country to embrace this multicultural history, instead of fracturing into ever smaller city-states. What Spain needs is not a new country but rather a new democracy." [more of his blog]

For lighter entertainment, he cheered from the stands at a Basque sporting event in Bilbao.

Twenty-five freshmen are also overseas this semester, taking part in the First-Year Experience in London with Skidmore professors Beck Krefting (American studies) and Holley Hodgins (psychology). "Overwhelming options" are top of mind for FYE student Liza Bryan: "I can walk out of the door and do anything, from watching the changing of the guard to wandering through Portobello Market. There's so much to experience, and I know I can't do even half of it. The clock keeps on ticking." She did fit in a trip to the Beatles' hometown of Liverpool. Bryan is finding London diverse "in every imaginable way, from ideas and attitudes to people and traditions. It's taught me to approach the world and my place in it with a much more open mind."