Our sustainable mission
April 11, 2018
About 18 years ago, Skidmore College's sustainability efforts were driven by student clubs, course projects and a small group of committed faculty and staff. There was no sustainability coordinator—nor a sustainability office.
Today on campus, you'll find a trayless dining hall with a weekly Low-Impact Dining Day, a bike-share program used by more than 600 students, sustainability competitions among apartment buildings and residence halls, more than 120 sustainability-focused courses across 20 departments, faculty and staff across all divisions of the college championing new projects, and a recently introduced dining hall compost program—and that's not even the half of it.
Skidmore has come a long way with its sustainability initiatives. It has measured a 55 percent decrease in greenhouse gas emissions from its 2000 baseline and earned a top spot on the Princeton Review's Green Colleges list. Recently the college adopted its first-ever 10-year sustainability plan.
But there's more to be done. And while the college has expanded its sustainability efforts over the last 18 years, one thing remains the same: It's still largely driven by the college's 2,500 students.
"Student projects served as the catalyst for many of Skidmore's sustainability initiatives, and students still play an integral role in supporting our programs," said Levi Rogers, director of sustainability programs and assessment.
Rogers continues, "It's a powerful message from our students. They show us where we need to be going, and they're pushing the college and the sustainability office to continue to develop and advance our efforts."
Skidmore is seen as a leader in sustainability by peer and aspirant schools, especially when it comes to renewable energy and student engagement. The college has implemented several new renewable energy projects, including more than 20 geothermal systems, a 2-megawatt solar array and a certified low-impact small-hydro facility. The sustainability office offers 15 paid student positions every semester and five academic internships where students lead, manage and coordinate some of Skidmore's core sustainability programs.
Those core programs contribute to the Skidmore College Campus Sustainability Plan, which includes ambitious energy, food, waste, lands and grounds and engagement goals to accomplish by 2025. The Campus Sustainability Subcommittee recently released the 2016–17 Campus Sustainability Annual Report, which shares the college's progress toward these goals.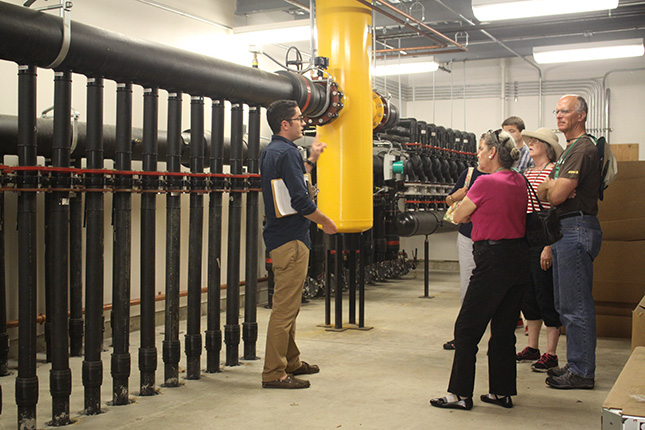 Levi Rogers, director of sustainability programs and assessment, gives campus visitors a tour of Skidmore's geothermal heating and cooling systems.
Those goals include a 75 percent reduction (from 2000 levels) in greenhouse gas emissions, for 60 percent of electricity sourced from renewable resources and creation of a comprehensive lands management plan for Skidmore's undeveloped land. Another goal? To make sustainability an essential feature of Skidmore's identity and a value that is integrated into all aspects of the college — something that is already well under way.
No matter if you're in a club on campus, eating in the dining hall or sitting in your business class, there are multiple ways for students to get involved with Skidmore's sustainability efforts. More than 120 of Skidmore's classes integrate sustainability into the syllabus, including anthropology, environmental studies and sciences, management and business and sociology.
Many of Skidmore's sustainability programs were first launched by clubs like the Environmental Action Club, which was around long before the creation of the sustainability office. There are now countless clubs that support the various dimensions of sustainability, such as Feedmore, a student-run group that collects surplus food from the dining hall to donate to local food pantries and to eliminate food waste.
"Skidmore is building a living and learning laboratory that our faculty can use in their classes and research, and for our students to engage with while studying on campus," Rogers said. "Our comprehensive approach to sustainability provides students with a truly unique experience."
Interactive Sustainability Map