Faculty-student research uncovers creative solutions to global issues
June 28, 2019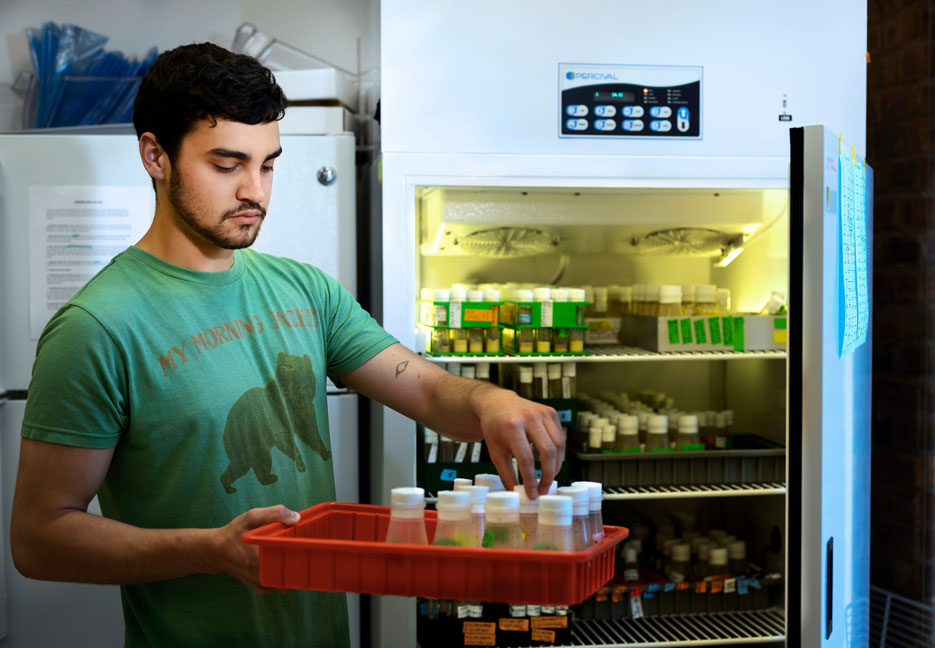 Skidmore students and faculty have been working together this summer to tackle some of the world's biggest problems, from cardiovascular disease to global warming.
Chipping away at these challenges requires time, patience and trial and error, but the critical foundation for change and discovery is being laid through on- and off-campus research.
Faculty-Student Summer Research allows Skidmore students to spend five, eight or 10 weeks in the lab or classroom, immersed in original research with faculty in disciplines ranging from biology to English. The program also fosters close, lasting relationships between faculty and students — a distinctive characteristic of Skidmore's tight-knit community.
Shay Kolodney '21, an environmental science major who has been working with peers and Visiting Assistant Professor Kristofer Covey to study ways to rapidly measure carbon content in soil, said the effort is a way for her to contribute to mitigating climate change, a cause she believes is important.
"At Skidmore, I get to know the professors well, we build good relationships, meaning then I also get to have great opportunities like this, which is phenomenal," she said. "I'm a very hands-on and visual learner."
Kristofer Covey, visiting assistant professor of environmental studies and sciences, works with Shay Kolodney '21, left, and Zoe Pagliaro '20, right, to test ways to rapidly measure carbon content in soil on Dome Island in Lake George.
This summer, students and faculty are applying creative approaches to Alzheimer's disease, the educational value of mobile-based learning apps, the effect of paternity leave on gender representation in STEM fields and many other topics.
Intense in both subject matter and time commitment, the summer research program fosters hands-on learning and a deeper investment in education.
It's where students make the shift from being consumers of knowledge to producers of knowledge. There is an amazing transformation that happens."

Bob Turner

associate professor of environmental studies and sciences and political science
The program began 30 years ago, but participation in recent years has surged. In 2005, just seven students partnered with six faculty members on summer research. This year, over 75 students and 45 faculty are teaming up to engage in collaborative research.
While students are given unique opportunities to get out into the field, conducting research is not without its challenges.
"Experiments fail, devices don't work, coding data is tedious, archival research is not glamorous and people don't want to take the survey," said Turner, who oversees the summer research program. "Students often say, 'It's harder than I expected!' But by the end, they have a deep appreciation for how knowledge is created. That experience spills over into the classroom."
Many Skidmore alumni who went on to graduate school say summer research gave them distinct advantages as scholars.
As Hassan Lopez, professor of psychology, points out, "The experience not only opens their eyes, it also strengthens their resumés."
Funding for summer research comes from a variety of sources, including alumni, family and friends of the College and external grants. This year, Skidmore faculty secured funding from a number of major organizations and agencies, including the National Science Foundation, National Institutes of Health, National Aeronautics and Space Administration (NASA) and Federal Emergency Management Agency (FEMA).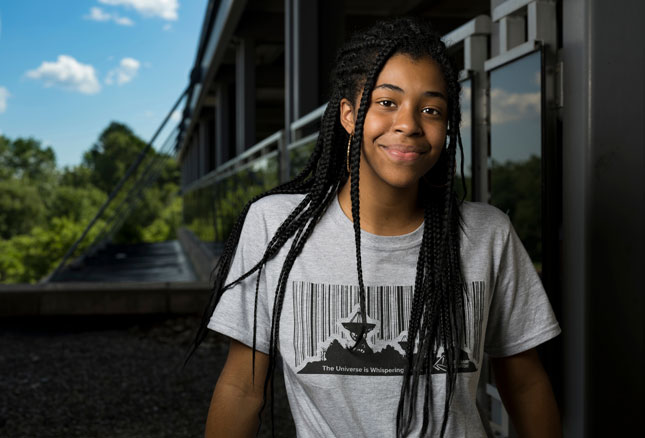 Raymi Ramirez '21, who aspires to be an astronaut, is working with a student team studying hydrogen in the Pisces-Perseus Supercluster. They will present findings to the American Astronomical Society in January.
Alongside their impactful work, students and faculty also make time for networking, the exchange of ideas and some summer fun.
"We have a bowling night and many of the research teams have made matching T-shirts with clever scientific puns that the faculty and students wear," said Turner.
Presentations from the first session of research were held June 27 and research from the second session was presented on Aug. 1 on the second floor of Murray-Aikins Dining Hall.