Former Skidmore Jazz Institute participants return to pay it forward
July 10, 2019
Mark Beaubriand, the new director of the Skidmore Jazz Institute, is filled with pride when he sees his former students pursuing a career in music.
He's been working with the Jazz Institute for 29 of the 32 years it's been in existence, and he has seen many young musicians flourish in the program. Sometimes, those burgeoning talents go on to become highly successful jazz performers. And sometimes, they even find their way back to mentor future generations.
This year, two former participants in the Institute — Sullivan Fortner of the Sullivan Fortner Quartet and Saratoga Springs native Giacomo Smith of the London-based Kansas Smitty's House Band — returned with their respective groups as guest artists, each delivering a special performance and teaching a master class. The Sylvia Cuenca Quintet also took the stage in a Stewart's Signature Series event.
Sullivan Fortner of the Sullivan Fortner Quartet is a former participant in the Skidmore Jazz Institute and returned this summer as a guest artist of the Institute.
Smith in particular has a special connection to Skidmore and to Beaubriand. Smith's mother, Shirley, is a professor of Italian at the College and introduced him to the arts at an early age, taking him to concerts and theater performances on campus. He recently told The Saratogian newspaper that his love of music "really started with my mom."
Beaubriand, who was the director of music for Saratoga Springs City School District for almost as long as he's been with the Institute at Skidmore, recognized Smith's talents right away.
"When I heard him play with the middle school band, I said, 'Who is this guy?' " Beaubriand recalled. Smith was a gifted clarinet player, but Beaubriand knew he had to move him onto the saxophone and get him into the jazz band.
"He was so talented and so interested — he just got it," Beaubriand said. "He was one of the few students I had where we would sit down and have an adult conversation about music."
Beaubriand continued to teach Smith during the two summers he was a participant in the Jazz Institute in the early 2000s, and Smith returned again to serve on the Institute's staff before graduating from Saratoga Springs High School in 2005.
Smith's jazz career has taken him to venues across the globe, but now he's mostly stationed across the pond as a member of the internationally acclaimed Kansas Smitty's House Band, the house musicians at a popular London jazz bar.
Before Kansas Smitty's House Band performed to a packed house at Arthur Zankel Music Center on July 6, Smith led a master class for this summer's 51 Institute participants.
"He's a good teacher," Beaubriand said, not sounding the least bit surprised.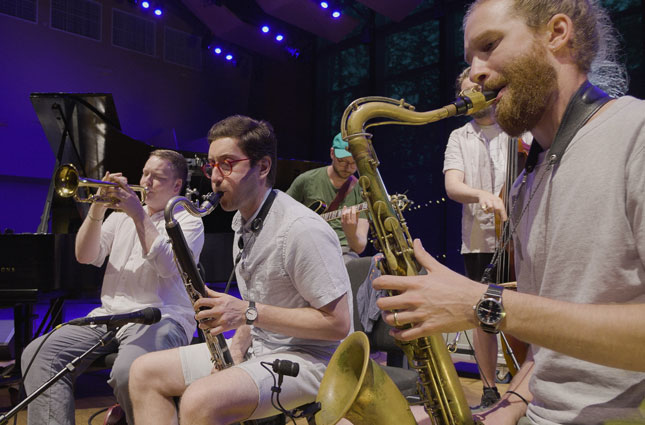 Giacomo Smith, center, plays as part of Kansas Smitty's House Band on July 6 at Arthur Zankel Music Center.
The Skidmore Jazz Institute, which was started in 1987 and supported early on by distinguished artists, is still thriving because of its strong reputation as one of the country's standout jazz camps — a reputation that continues to be furthered by its dedicated faculty members, Beaubriand said. The current programming model — in which students work closely with faculty in daily combo rehearsals, private lessons and classes, in addition to experiencing evening performances by guest artists and the faculty Skidmore Jazz All-Stars — is "working very well," he said.
Another key component of this year's Institute is a workshop on Avid Pro Tools, the preeminent recording, mixing and editing software in the music industry. The class is taught by Skidmore Senior Artist-in-Residence John Nazarenko.
"A lot of the students here want to play, but they also end up finding other ways to get involved in music — whether teaching or doing work behind the scenes," said Beaubriand.
Jazz Institute participants perform two shows at Arthur Zankel Music Center, which are free and open to the public, during the two-week program.
The vibrant Saratoga Springs arts scene also plays a significant role in the success of the Institute. On the first weekend of the program, the participants attended Saratoga Jazz Festival at Saratoga Performing Arts Center, where Smith also happened to take the stage for the first time. And on July 8, they played historic Caffe Lena in downtown Saratoga Springs.
"I've never seen the students so pumped," Beaubriand said of their evening at Caffe Lena. With how wildly they were dancing, "I thought the floor was going to fall out from underneath them. They sounded great."
Previous Skidmore Jazz Institute participants who have successfully pursued jazz-related careers in the areas of performance, teaching and business include Troy "Trombone Shorty" Andrews, Richie Barshay, Jonathan Batiste, Ryan Cohan, James Francies, Brandon Lee, Christian Scott, Kendrick Scott, Walter Smith, Burniss Earl Travis, Myron Walden and rising star Noah Preminger.
The Skidmore Jazz Institute is supported by the Arthur Zimtbaum Foundation, the National Endowment for the Arts, the New York State Council on the Arts, the Howard Bayne Fund and members of Skidmore College and surrounding communities.
To watch Kansas Smitty's House Band's concert and others from the Institute, visit the Livestream page of Skidmore College Music Department.