Looking forward … looking back
November 14, 2019
Phil and Marie Glotzbach woke up abruptly their first morning in Scribner House. There, standing in the bedroom where Skidmore's new first couple slept, stood a work crew discussing an urgent repair that was needed in the president's historic campus residence.
"They didn't know we were there. As far as they were concerned, it was a workplace, and they were just doing their job," the president recalled. "They were as surprised as we were."
Sixteen years later, Phil and Marie are the ones doing the work as Skidmore prepares for the next occupant of Scribner House. A presidential search is underway, but Phil and Marie remain very much so on the job.
Since arriving in 2003, the Glotzbachs have propelled major initiatives at Skidmore — from introducing Skidmore's First-Year Experience to bringing the first phase of the Center for Integrated Sciences near completion and cementing a plan to finish the entire project in 2024.
They have also learned firsthand that life in Scribner House is rewarding, but it doesn't always mean a good night's sleep. They often return home late.
"On those rare occasions when we're not at an event, we have some dinner, we watch the news," Phil says of their evening routine. "The laundry," Marie interjects. "It's not very exotic."
It's not things I've done; it's things we've all done together, over time, to move the College to where it is.

Phil Glotzbach
Scribner House is a home, but also an extraordinary one. "We didn't have a piano when we first came to Scribner House, and Marie immediately set out to get one because she wanted to make sure there was music in this place," Phil recalls.
When Grammy-winning classical pianist Emanuel Ax was a featured performer at the newly opened Arthur Zankel Music Center, which opened in 2010, he also visited Scribner House for a pre-performance reception. "He sat down and played a few tunes on the piano at Scribner House. Those are memories we always will have."
There have been many others. They quickly count off a who's who list of prominent dinner guests, including New York Times columnist David Brooks, singer-songwriter Paul Simon, jazz trumpeter Terence Blanchard and literary giant Michael Ondaatje. "The list is very long — over the years — of people who have come to Scribner House," Phil says.
Equally important for the Glotzbachs, every first-year student now pays a visit to the house through their Scribner Seminars — a program introduced during their tenure and in which the Glotzbachs have even co-taught.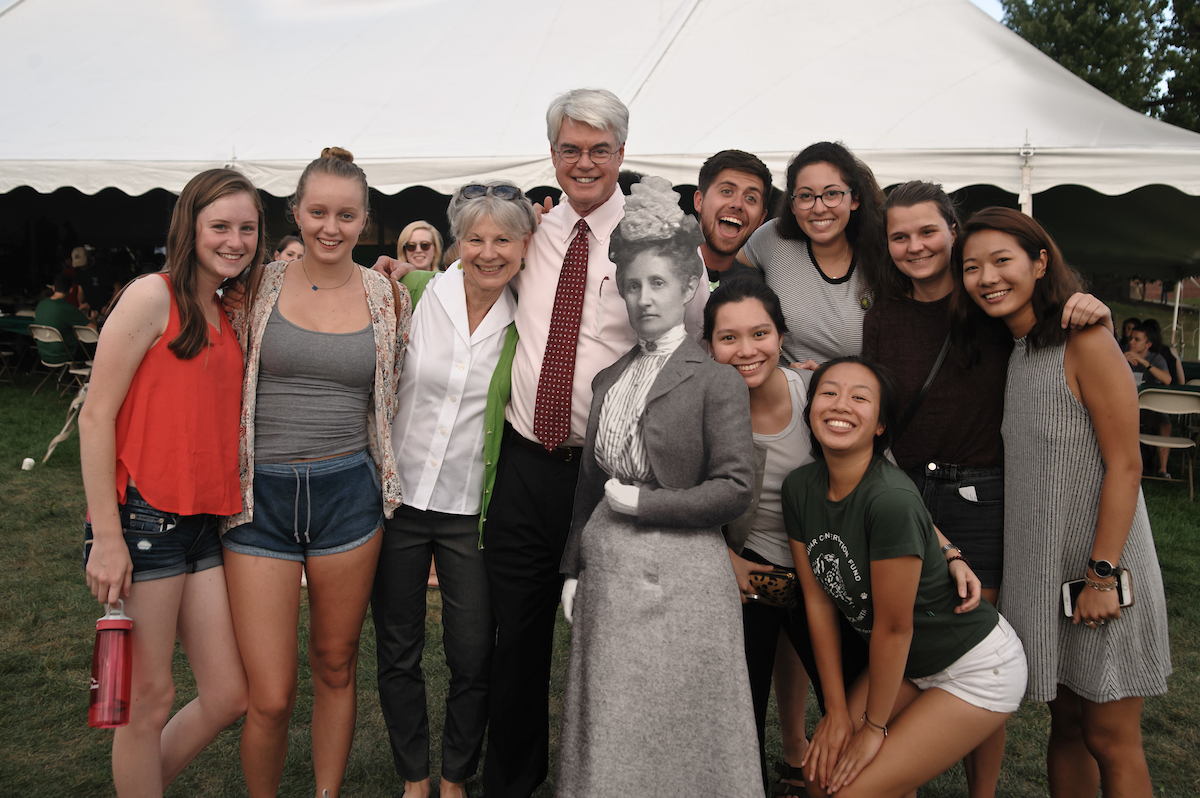 "The first year we were here, we invited every single faculty member over for receptions," Phil says. "We said, specifically, that people should look at the president's house as the living room of the campus."
Both are humble about their accomplishments and speak of the College's remarkable success. "It's not things I've done; it's things we've all done together, over time, to move the College to where it is," Phil says.
Phil and Marie occasionally finish each other's sentences and routinely cheer each other on. "I came to be a committed partner — to provide the 'do-op' — and I feel I have done that," Marie says.
"Marie's modest," Phil says, rattling off a list of her leadership roles in important College and Saratoga Springs community initiatives, including Saratoga Reads, the Saratoga Arts Fest and Skidmore Cares, as well as the many theater courses and productions she has led.
Phil has dunked ice-water over his head as part of the ALS Ice Bucket Challenge and dressed up as Skids, the Skidmore mascot. Together, they've greeted dignitaries, such as Oprah Winfrey and Joe Torre, and led Skidmore forward on some of its most important strategic priorities.
Phil seems more lighthearted when Marie is around. She tells him to smile more at public events, and they joke gently about each other. They share many common interests, but not on everything, including the movie "Top Gun."
"It's not my favorite. He's fanatical about it," Marie says.
"It doesn't speak to her. But there are some people who believe that there's a line in 'Top Gun' for every conceivable human situation. I'm one of them," Phil says.
"And he uses them a lot," Marie says. "'Don't you leave me, Mav'" is one of his favorite lines," she says.
"We like a lot of movies," Phil says wryly.
They also enjoy the Adirondacks, where they escape on an occasional weekend. They enjoy quiet time, watching a movie or reading. In the mountains, they kayak or take out a canoe. They enjoy gardening. Phil golfs. "The mundane things that are just very different from what we do in our more visible lives," Phil notes.
The Glotzbachs sometimes find it difficult to talk about themselves. "I'm a philosopher," Phil quips. "I only know general things." They prefer to talk about the success of the College that they both clearly love and with which their identity has very quickly become interwoven.
They draw inspiration from the stories of students, such as the Palamountain scholars who have overcome incredible obstacles to achieve remarkable success. They speak glowingly of moments when alumni have stepped up for the College. For example, Phil mentions how alumnus Steve Sullivan '78 helped successfully launch the Friends of Skidmore Athletics, allowing the College to keep the men's hockey team that was to be eliminated.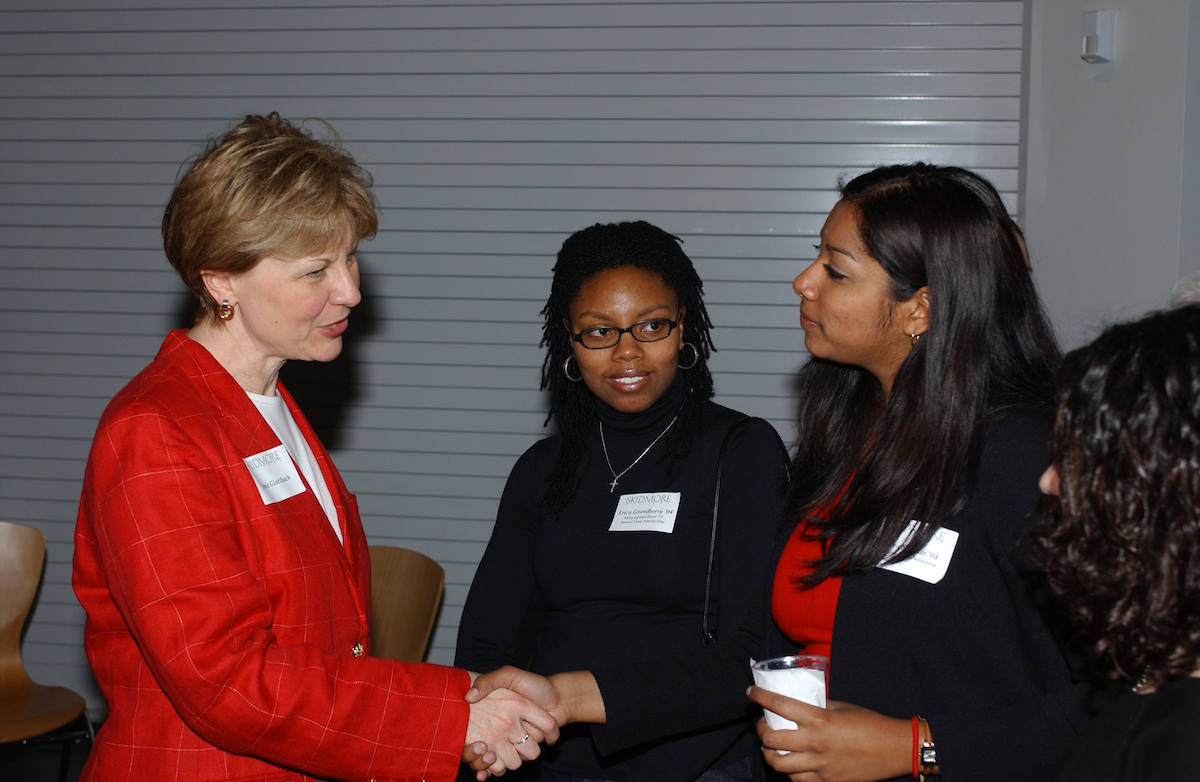 Commencement inspires them both.
"Many students hug you," Marie tells Phil. "I think that also makes a statement about the kind of place this is … You wanted to be connected, to feel connected to the students."
Commencement is very personal. It demonstrates our sense of community. There's a lot of pride. There's a lot of uniqueness. It's like a parade of what Skidmore is all about.

Marie Glotzbach
They love the campus. They speak with admiration of the Arthur Zankel Music Center, which opened under their leadership. There's Sussman Village, which opened in 2013, and the award-winning Murray-Aikins Dining Hall, which was renovated under Phil's leadership. They list favorite student performances and projects that have captivated them. Phil rattles off a list of faculty-curated exhibitions at the Tang. College populations are far more diverse today as well, making Skidmore a much more vibrant and interesting place than it was before.
I think the story I would want to tell is a story of having collaborated with a great many people who have really done all the work that we've been talking about.

Phil Glotzbach
"It has been a team effort all the way through. As president, one sometimes gets more blame for things that go wrong than one deserves. But one also gets a lot more credit than one probably deserves" Phil says.
So, what is Phil and Marie's story at Skidmore?
"When we came in 2003, I believe that Skidmore was not as proud of itself as it should have been," Phil says. "We had so much to be proud of then, and we have so much more to be proud of today. I believe that growth in our shared sense of pride is one of the best markers of our progress."
This article first appeared in the fall 2019 issue of Scope magazine.
The Glotzbachs' Celebration Tour
Phil and Marie Glotzbach are touring the U.S. for a series of events celebrating their leadership and legacy at Skidmore.
Nov. 6 — Boston
Dec. 12 — Twin Cities: Minneapolis
Feb. 20 — Naples, Florida
Feb. 23 — Vero Beach, Florida
more about The Glotzbachs' Celebration Tour