Top Random House editor shares tricks of the trade
February 12, 2020
Good editors bring books to the next level without imposing their own voice on them, bestselling author and Random House copy chief Benjamin Dreyer told an audience at Skidmore College.
Dreyer, author of the New York Times bestseller "Dreyer's English: An Utterly Correct Guide to Clarity and Style," spoke at the Tang Teaching Museum and Art Gallery on Feb. 6. The event was sponsored by the English Department and Skidmore's Philip Boshoff Writing Center.
Dreyer, who also discussed the experience of having his own book copyedited, said it is important for copy editors to maintain high standards while resisting the urge for perfection.
"Working with writers means trying to get a book to the highest level it can be," said Dreyer, who is also vice president and executive managing editor of Random House. "It's about listening to what writers are trying to say."
Dreyer began his publishing career as a freelance proofreader and copy editor. In 1993, he became a production editor, overseeing books by Michael Chabon, Edmund Morris, Suzan-Lori Parks, Peter Straub and Elizabeth Strout, among others.
His lecture was followed by a brief Q&A session with the audience, which included Skidmore students, faculty and staff as well as Skidmore's next president, Marc C. Conner, who was visiting campus. Conner is provost at Washington and Lee University as well as an English professor.
The event concluded with a book-signing session.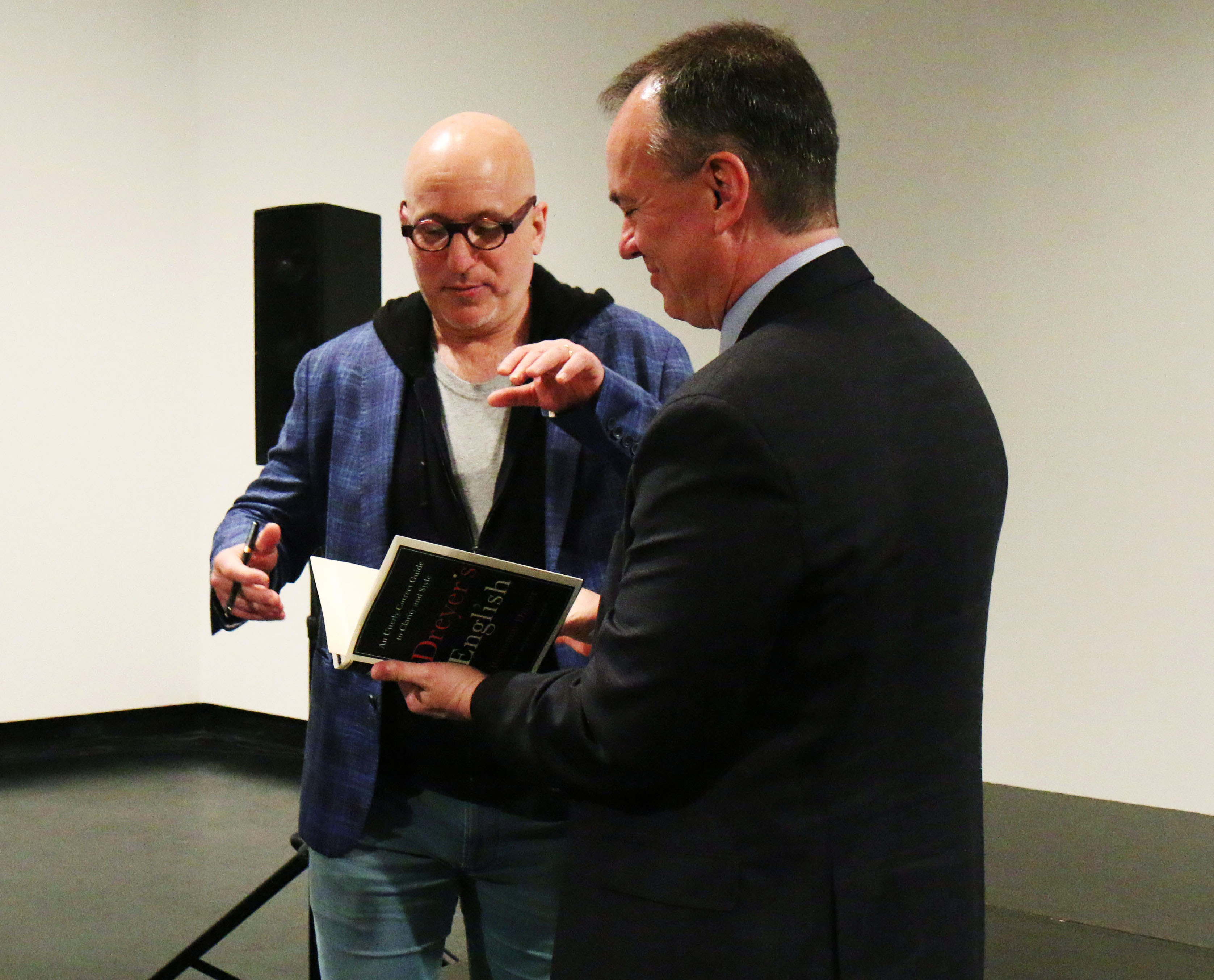 Benjamin Dreyer signs a copy of his book, "Dreyer's English," for Skidmore President-elect Marc C. Conner.