Skidmore welcomes Class of 2024 at virtual Convocation
August 23, 2020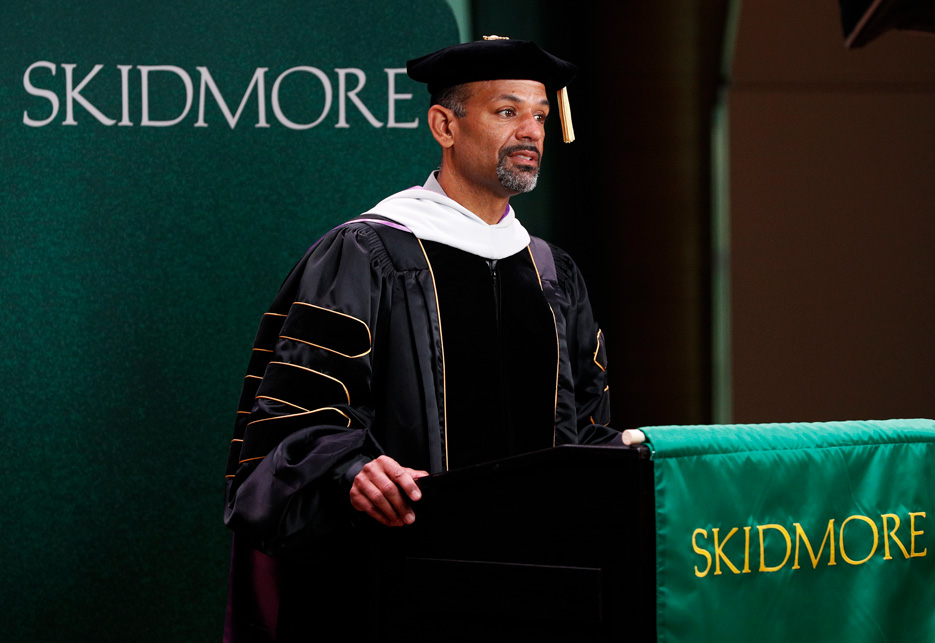 Skidmore College welcomed a diverse and talented incoming class of 730 students with invitations to cherish Skidmore's liberal arts education while also confronting the challenges of the COVID-19 pandemic and demands for racial justice.
During his Convocation speech that was broadcast live from the Zankel Music Center on campus, President Marc C. Conner reiterated his call for "truly heroic action" from all members of the Skidmore community to prevent cases of COVID-19 on campus while also building a more inclusive campus community.
"We are absolutely committed to fostering at Skidmore a community where everyone can thrive, everyone feels at home and everyone has the opportunity to do their best work," Conner, who assumed office as president in July, told the Class of 2024 and transfer students. "This is the responsibility of us all, and it's easy to say and really tough to do."
"But Skidmore does not shrink from challenges, and I'm eager to do this work in collaboration with you all."
President Marc C. Conner is filmed during Convocation.
(A recording of the ceremony is available online.)
Members of the Class of 2024 come from 27 countries, including the United States, and 37 different states. They were selected from a near-record applicant pool of more than 10,000 applicants. Half were accepted through the Early Decision process.
New students, who also include 19 transfer students, arrived last week to a Skidmore campus that is following strict plans for the fall that include weekly testing for COVID-19 and social distancing and sanitation measures to avoid any potential spread of the illness.
Students from states and countries on New York's Travel Advisory List were also required to complete a precautionary 14-day quarantine before the start of the semester. Fall courses are being offered in person, online and in hybrid formats, and many employees continue to work remotely. Student orientation was held online.
Mary Lou Bates, vice president and dean of admissions and financial aid, described the remarkable diversity of the Class of 2024: Fourteen percent are the first in their families to go to college, and a quarter identify as domestic students of color. They hold citizenship from 25 different countries and converse using languages ranging from American Sign Language to Zulu. A number have already run their own businesses, while others are accomplished athletes. Many have participated in social justice initiatives and have held leadership positions in schools and other organizations.
Rachael Borthwick '21 invites new students to sign Skidmore's Honor Code during Convocation.
"You have worked, interned and volunteered in all kinds of interesting capacities all over the world: as glassblowers, a blacksmith, welders and a magician," Bates said. "You've performed at Carnegie Hall and Lincoln Center, with the Boston Ballet and the Joffrey Ballet."
"You are a wonderfully talented, energetic and diverse group," she added.
Kate Landino '24, who is from Rumson, New Jersey, said she chose Skidmore because she wanted an arts-centered campus that also offered opportunities to explore courses of study.
"My first few days have been so great! My dorm room is super cozy, and it's nice to socialize outdoors with some friends. The food is so good, and I feel like the campus has been really good at enforcing masks and prioritizing safety," Landino said. "I thought it would be really strange but coming to campus has felt pretty normal. I think because we are all used to wearing masks and social distancing that it is easier to transition into the school year in the same way."
As the students navigate their first year of college, they will continue to be supported by professors, staff and fellow students – peer mentors – through Skidmore's First-Year Experience (FYE) program.
The centerpiece of the FYE program is the Scribner Seminar: Students choose from dozens of interdisciplinary courses that range from DNA: History, Technology and Ethics, led by Associate Professor of Biology Jennifer Bonner, to Science Fiction and Religion, taught by Eliza Kent, professor and chair of the Religious Studies Department. The small-group courses help first-year students explore ideas, challenge assumptions, think critically and build a solid foundation for continued study at Skidmore.
FYE Director Amon Emeka praised the character, persistence and potential of the incoming class.
"Take the responsibilities of community membership seriously and take full advantage of opportunities and resources membership in this extraordinary community affords you," the associate professor of sociology said during Convocation. "Skidmore College is now and forever your college."
View photos of new student move-in on Aug. 19-20 below.