Skidmore earns gold rating for sustainability
January 26, 2022
Skidmore's creative and comprehensive approach to sustainability has earned the College a gold rating from the Association for the Advancement of Sustainability in Higher Education (AASHE).
"This is an outstanding accomplishment to celebrate and recognize the work done around campus to minimize our environmental footprint and to make the College a more equitable place for people and planet," said Interim Director for Sustainability Programs Jen Natyzak.
Ora Erhlich '22, the 2021 Skidmore Community Garden manager, uses a broad fork to loosen soil before planting garlic in November 2021. The garden produces around 1,000 pounds of produce each year, which is sold to the Dining Hall.
AASHE's Sustainability Tracking and Rating System (STARS) is a transparent, self-reporting framework for colleges and universities to quantify their sustainability performance. The report measures sustainability efforts and outcomes in the areas of academics, campus and public engagement, operations, planning and administration, and innovation and leadership. Skidmore's submission detailed the College's Racial Justice Initiative and partnership on the Palmertown Range trails network, demonstrating how sustainability intersects with equity, access, and community.
Students, faculty, and staff engage in sustainability work at Skidmore in a wide variety of ways: through more than 150 sustainability-related courses in nearly 30 academic departments or programs; through annual campus events and initiatives, such as the Give and Go move-out donation program and the fall Harvest Dinner co-hosted by the Skidmore Community Garden and Dining Services team; through campus waste reduction and management efforts; and through campus planning and building projects, among other efforts.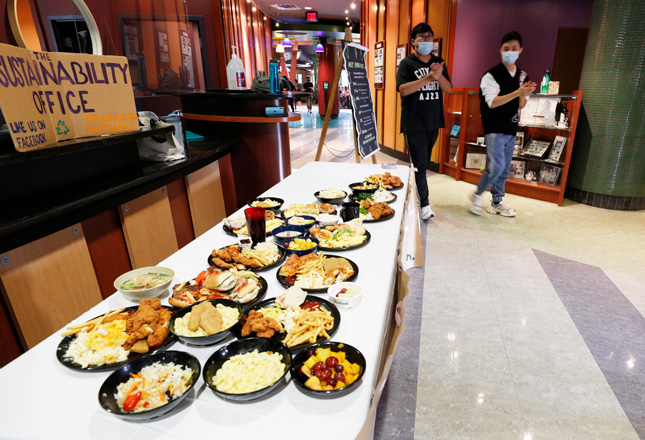 Each fall, the Sustainability team partners with Dining Services to educate diners about waste. The "food waste buffet" at Murray-Aikins Dining Hall features discarded items from the dish return that are replated and returned to the table for a "feast for your eyes only."
The Sustainability Office is a hub for campus projects that address energy, food, waste, lands and grounds, and engagement. The Office supports initiatives across the institution and employs about 25 students each year in internships and student programs.
"Here at Skidmore, a lot of what we do is spurred by students — students excited about taking hands-on, community-based action to address climate change," said Natyzak.
The residential compost program, campus bike-share program BikeMore, and community garden were once projects piloted by student volunteers and are now programs led by paid student staff. From BikeMore managers fixing flat tires to North Woods stewards constructing staircases, these jobs and internships offer experiential learning opportunities and provide students with the chance to build leadership and job skills.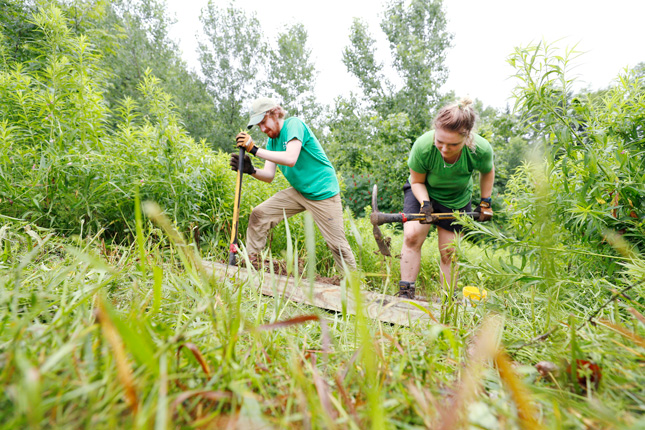 Summer 2021 North Woods stewards Jacob Adams '21 and Stella Piasecki '23 level the earth to install wooden steps.
In terms of campus operations, Skidmore's 2.1-megawatt solar array and small hydropower project produce 20% of the College's electricity needs, and a 54-panel solar thermal array on the roof of Murray-Aikins Dining Hall heats over 1,000 gallons of water every day. About 35% of campus is heated and cooled with geothermal energy, and once completed, all 200,000 square feet of the College's new Center for Integrated Sciences will be as well. The project is the first in Skidmore's history to be LEED-certified.
Skidmore earned a silver rating through the first STARS report it completed in 2017. Sustainability efforts at Skidmore have also earned the College a place on the Princeton Review's "Top 50 Green Colleges" list and recognition as a state leader for the New York State Renewing the Energy Vision Challenge.