The start of a new century
September 14, 2022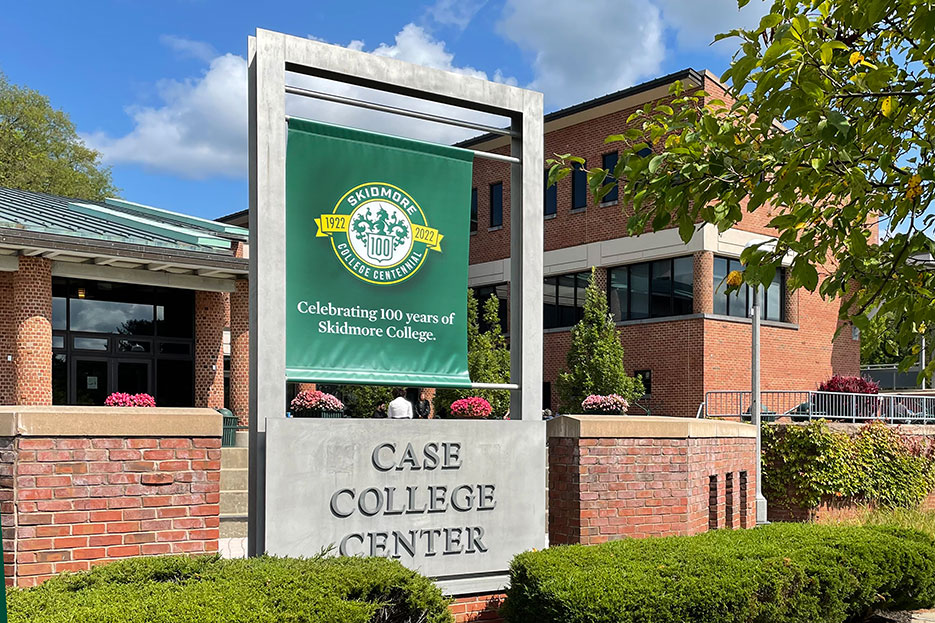 Skidmore College is marking its College Centennial with a yearlong celebration of its history and reflections on the journey ahead.
Skidmore's origins trace to the Young Women's Industrial Club founded by Lucy Skidmore Scribner in 1903, which sought "to help little girls and young women to become self-supporting, and to provide a social center for them." The school, which would be open to all women regardless of race or religion, grew into the Skidmore School of Arts, which was chartered in 1911.
A century ago, in 1922, the New York State Board of Regents officially recognized the institution's collegiate status, and Skidmore College came into being as a fully accredited, four-year institution of higher education.
On Tuesday, Sept. 6, the Skidmore community kicked off the start of the 2022-23 academic year with its traditional celebration of the life and legacy of Lucy Skidmore Scribner with a community barbecue.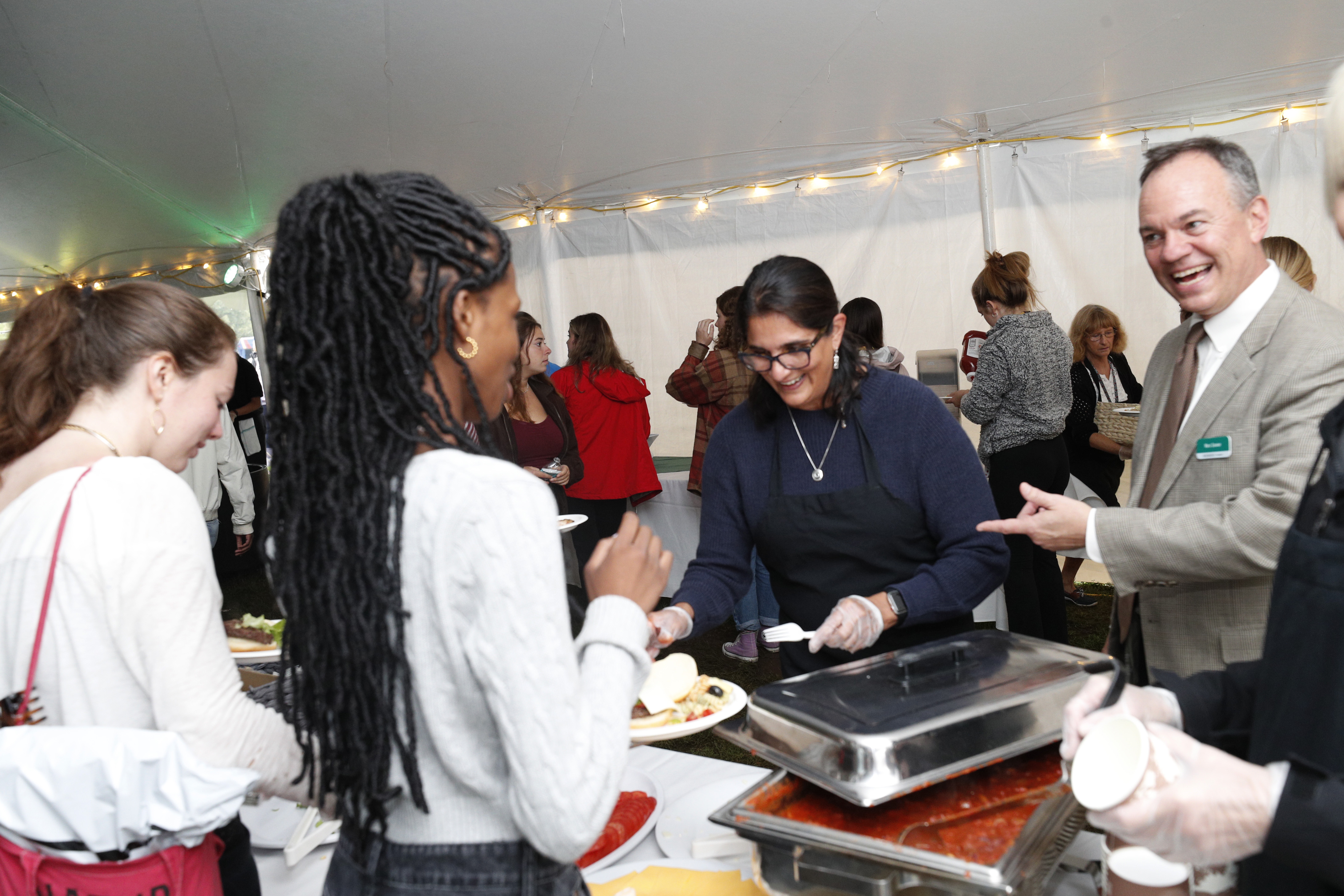 Barbara Reyes-Conner and President Marc Conner serve food during Founder's Day.
This year's Founder's Day festivities also represented the official start of Centennial celebrations and the first time that all students, faculty, staff, and families could all gather on campus since the onset of the COVID-19 pandemic.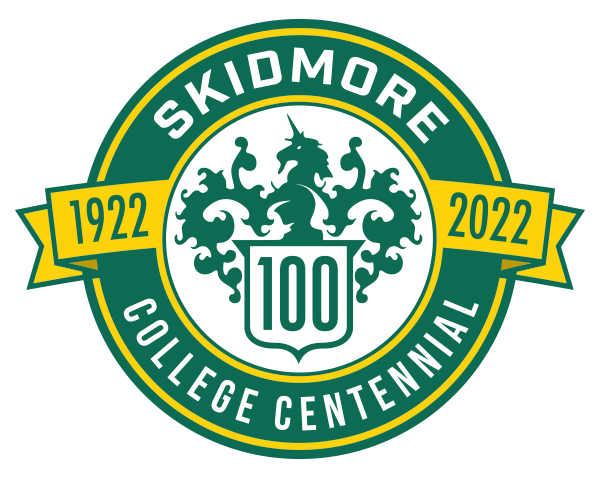 Despite overcast weather, community members enjoyed delicious food prepared by the College's award-winning Dining Services team, music from the Jeff Walton Trio, and other activities. Desiree Palmateer, office coordinator in the Facilities Department, dressed up like Lucy Skidmore Scribner, while President Marc Conner, Barbara Reyes-Conner, and College administrators helped to serve food and clean up following the event.
Skidmore students take photos in a photo booth during Founder's Day.
The gathering offered an opportunity to reflect on Skidmore's transformation over the past century, which has spanned its shift to co-education in 1971, its ambitious move from downtown Saratoga Springs to its current North Broadway campus, and dynamic initiatives such as the Tang Teaching Museum, Arthur Zankel Music Center, and Billie Tisch Center for Integrated Sciences that have helped make Skidmore the leading liberal arts college it is today.
If you want to know where you're going, you need to know where you've been and you need to know who you are. That's really what this Centennial is all about.

Marc C. Conner

President
Skidmore students grab a bite to eat during Founder's Day celebrations.
Throughout the 2022-23 academic year, Skidmore will organize a series of events in celebration of the College Centennial. This year's Celebration Weekend, which welcomes the families of Skidmore students to campus, will feature special nods to Skidmore history. President Conner will also host gatherings and other engagements that examine Skidmore's history and encourage community members to consider what makes Skidmore such a special place.
"We've come a long way from our rather humble beginning, but Lucy's vision remains," Conner said. "We are a community of learners, where students and faculty work closely together in the pursuit not just of knowledge but of character; we educate 'the mind and the hand,' offering an education that is both eminently practical and highly idealistic. We prioritize creativity, whether in music or business, dance, or economics. And above all else, we foster a community of trust."