StartUp Skidmore supports innovation through mentorship, experiential learning
February 23, 2023
The College's first StartUp Skidmore skill-building workshop and competition brought together students from a variety of majors and class years, all united by a common interest in entrepreneurship and learning from knowledgeable alumni mentors and faculty members with proven records of success.
The three-day event invited all students, regardless of prior experience, to learn and hone skills in business, marketing, and design – from turning an idea into a prototype to making a convincing pitch to potential investors.
David Tago '23, right, speaks with mentors in the Schupf Family IdeaLab during StartUp Skidmore on Feb. 18 in the Billie Tisch Center for Integrated Sciences.
StartUp Skidmore is the latest in an extensive "constellation" of curricular and co-curricular entrepreneurial opportunities at the College, President Marc Conner noted in remarks to kick off the event on Friday, Feb. 17, in Gannett Auditorium.
"Entrepreneurship, at its heart, is a diverse and inclusive avenue. It is accessible to all – defined by grit and effort and creativity," he said.
Keynote speaker Helena Yohannes '04, co-founder of 2.4.1 Cosmetics, spoke of the resilience, resourcefulness, and tenacity that fuel her work, including the inspiring story of her family's emigration to the United States and her motivation to address a lack of representation for women of color in the beauty industry.
Her company, which she owns and runs with her twin sister Feven, has been listed twice among Oprah's Favorite Things and offers "a line of clean, cruelty-free products for all shades that instill confidence, kindness, and integrity – qualities we saw in our mother," Yohannes explained.
The Yohannes sisters were born in a refugee camp in Sudan during the Eritrea-Ethiopian War, and their parents moved the family – four children in all – to Rochester, New York, where they had to learn a new language and adapt to a new culture while working demanding jobs. Yohannes observed, "Despite facing significant challenges, they never gave up on their dreams."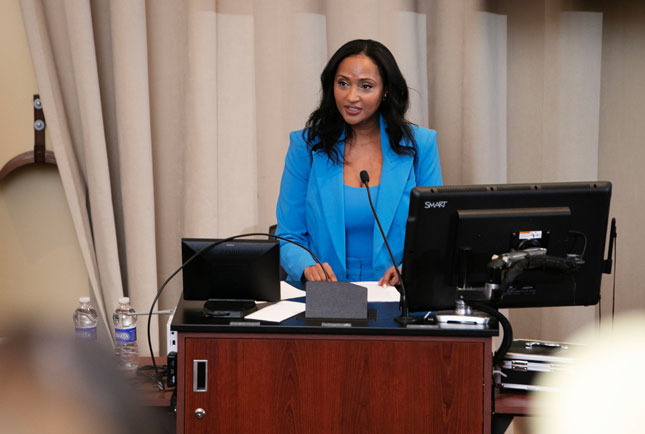 Helena Yohannes '04 delivers the StartUp Skidmore keynote address Friday, Feb. 17, in Gannett Auditorium in Palamountain Hall.
When she arrived at Skidmore, Yohannes was "a financial aid, work-study student who rarely left McClellan dorm room without eyeliner on." Through her expertise in applying makeup, she made a number of friends. "It was my conduit to connection," she recalled.
Years later, when she and her sister launched 2.4.1 Cosmetics, many of her Skidmore friends enthusiastically purchased the company's products because they were authentic to her, Yohannes noted.
Based on the lessons she has learned through both failure and great success in the business industry, Yohannes offered many words of wisdom to the students about to take part in StartUp Skidmore. Among them:
"Start with what you have. You get to bet on yourself. You get to bet on your vision."
"Starting a business means taking risks. But it's about taking calculated risks. It means doing your research, analyzing the data, and making informed decisions."
"The best form of thinking is actually doing. Don't be afraid."
"Embrace your unique perspective, your strengths, and your accomplishments and be bold in sharing them with the world."
"Be kind in your pursuit of something bigger. The energy released into this world will be reciprocated."
"Remember, there is no right way to succeed, and your journey is your own."
In reflecting on Skidmore's motto, Creative Thought Matters, she observed, "This was, and still is, an inclusive community that encourages different ways of thinking."
From left, Azizul Hakim '26 and Ankit Gupta '26 talk with Guy Mastrion, F. William Harder Chair in Business Administration, during StartUp Skidmore on Feb. 18 in the Billie Tisch Center for Integrated Sciences.
The rest of the weekend's events took place in the lobby and atrium of the College's new Billie Tisch Center for Integrated Sciences and in its Schupf Family IdeaLab, where students were able to take advantage of the innovation center's state-of-the-art equipment, including 3D printers and scanners, embroidery and sewing machines, and laser and desktop cutting systems.
Prince Shyllon '26, a Skidmore men's basketball player and aspiring business major and computer science minor, reflected on his experience after taking home the second-place prize for his clothing brand, Only 1 Up.
"I participated in StartUp Skidmore because I wanted to gauge the strength of my company's operational and financial structure in front of successful and experienced entrepreneurs," he said. "Just from being there, I was introduced to more than 15 potential mentors and additional resources."
He said he especially valued the feedback he received from the alumni judges – from advice on minimizing company debt to converting his brand's message into long-term sales and sustainability – as well as watching the other presentations and meeting all of the faculty, alumni, and fellow students who participated.
Lucy Altman-Coe '26, left, and Juan Pablo Borrego-Hinojosa Sarralde '24 work in the Schupf Family IdeaLab during StartUp Skidmore on Saturday, Feb. 18, in the Billie Tisch Center for Integrated Sciences.
The StartUp Skidmore program is an outgrowth of Skidmore's marquee Freirich Entrepreneurship Competition, founded by Ken Freirich '90, a trailblazer in conversations about entrepreneurship at the College. The annual competition is on pause this year as the College explores ways to further enhance its programming.
In 2022, the College announced the launch of a $10 million Sands Family Foundation Initiative for Creativity, Innovation, and Entrepreneurship that will encourage the expansion of entrepreneurship among all Skidmore students.
"This is an integrated approach to education, where every experience that a student has comes together into this effort to enhance their creativity and their possibility," said President Conner. "This is a model rooted in our past, thriving in our present, and defining our future."