Alumna's cosmetics listed among Oprah's Favorite Things
November 6, 2020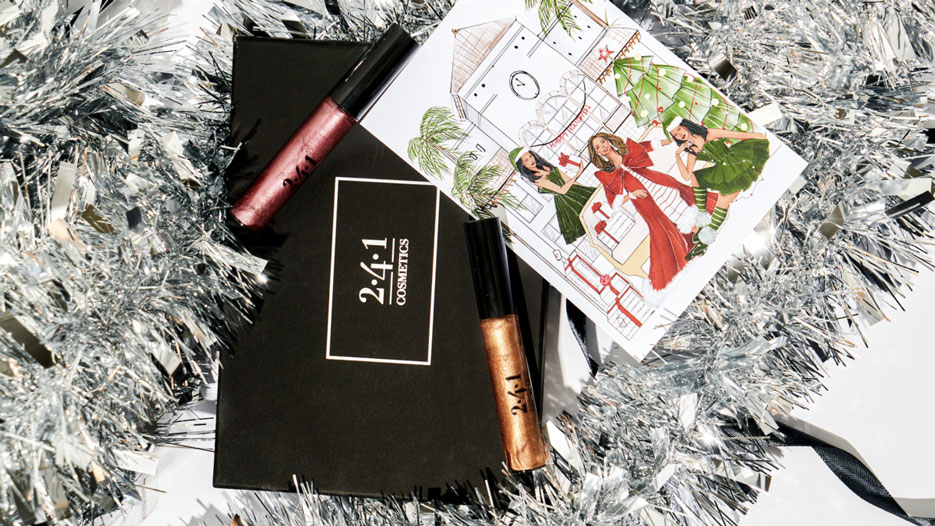 Oprah Winfrey has included Skidmore College alumna Helena Yohannes' Limited Edition Holiday Lip Gloss Collection on her list of Oprah's Favorite Things for 2020.
This year, Winfrey's selection of noteworthy holiday gifts is giving special attention to Black-owned businesses, including 2.4.1 Cosmetics, co-owned and co-founded by Yohannes, a 2004 Skidmore graduate.
"We believe Black lives — and Black businesses — matter. So for 2020, most of my Favorite Things are from Black-owned or -led companies," said Winfrey, a 2016 Skidmore honorary degree recipient and Commencement speaker, according to O, The Oprah Magazine.
Inclusion on the coveted list caps a journey that has taken Yohannes from a refugee camp in Sudan, where she was born during the Eritrea-Ethiopian War, to Rochester and Saratoga Springs, New York, and eventually to work with some of the top names in the beauty industry, including industry veteran Bobbi Brown.
"This is a moment of overwhelming love," Yohannes said in a recent interview with Skidmore.
Helena Yohannes '04 (right) and her sister, Feven, co-founded and co-own 2.4.1 Cosmetics
Yohannes, who was a government major, said much of her positive spirit and self-confidence were planted and cultivated during her time at Skidmore.
"I'd certainly seen a lot moving from Eritrea to Rochester, New York, where I lived before coming to Skidmore, but I was still somewhat isolated from other people and perspectives. So I came to college wide-eyed, inspired … and unsure of myself," she said. "But Skidmore is the type of place where you can do that, landing in a safe, creative community. It supported me as I came into my own and, quite literally, discovered my own beauty."
Yohannes said that evolving views of what real beauty entails, and her cosmetics talent, helped her to express her own identity as a Black and African woman while also forging lasting relationships at Skidmore.
"Soon, I was doing everyone's makeup, helping everyone feel beautiful and developing friendships along the way. Years later my 'Skidmore girls' are some of my closest confidants," she said. "Obviously where I landed it's clear that I love cosmetics. But it was also about confidence — especially feeling like I, too, was capable of pursuing and succeeding in challenging academics. That's Skidmore."
Today, Yohannes' "Skidmore girls" continue to support her and are often the first in line to purchase products from 2.4.1 Cosmetics.Yohannes has continued to carry forward a similar spirit of support with others: Recently,Yohannes accepted an invitation from current student and aspiring entrepreneur NovilhelhaMoleni '21 to speak during aSkidmore Women in Business Club meeting.
Helena Yohannes '04 meets with members of Skidmore Women in Business Club on October 26, 2020.
Sharing lessons and discoveries from her life and career with budding business leaders, one expression rose to the top:
There's no clear path or template for life. But your North Star has to be faith. Believe that the dream sewed in your soul is far greater than anything you can ever dream of for yourself."
Since launching 2.4.1 Cosmetics in July 2019, Yohannes and her business partner and identical twin sister, Feven, have quickly gained the attention of several powerful women in their industry in addition to Winfrey.
This summer, beauty veteran Bobbi Brown announced on Instagram that she would be mentoring the women. And 2.4.1 was recognized as a "Black-Owned Beauty Brand that Deserve Your Dollars — & Space on Your Vanity" by the Zoe Report, founded by fashion icon Rachel Zoe.
InStyle recently featured the pair in a story celebrating their dedication and decision to work multiple jobs and take a longer road to launch because they wanted to own 100% of their business.
2.4.1 Cosmetics products are available for purchase on the brand's website, and the specialty collection featured in Oprah's Favorite Things is also available on Amazon.