Students explore, strategize, and make connections at Career Jam
October 25, 2023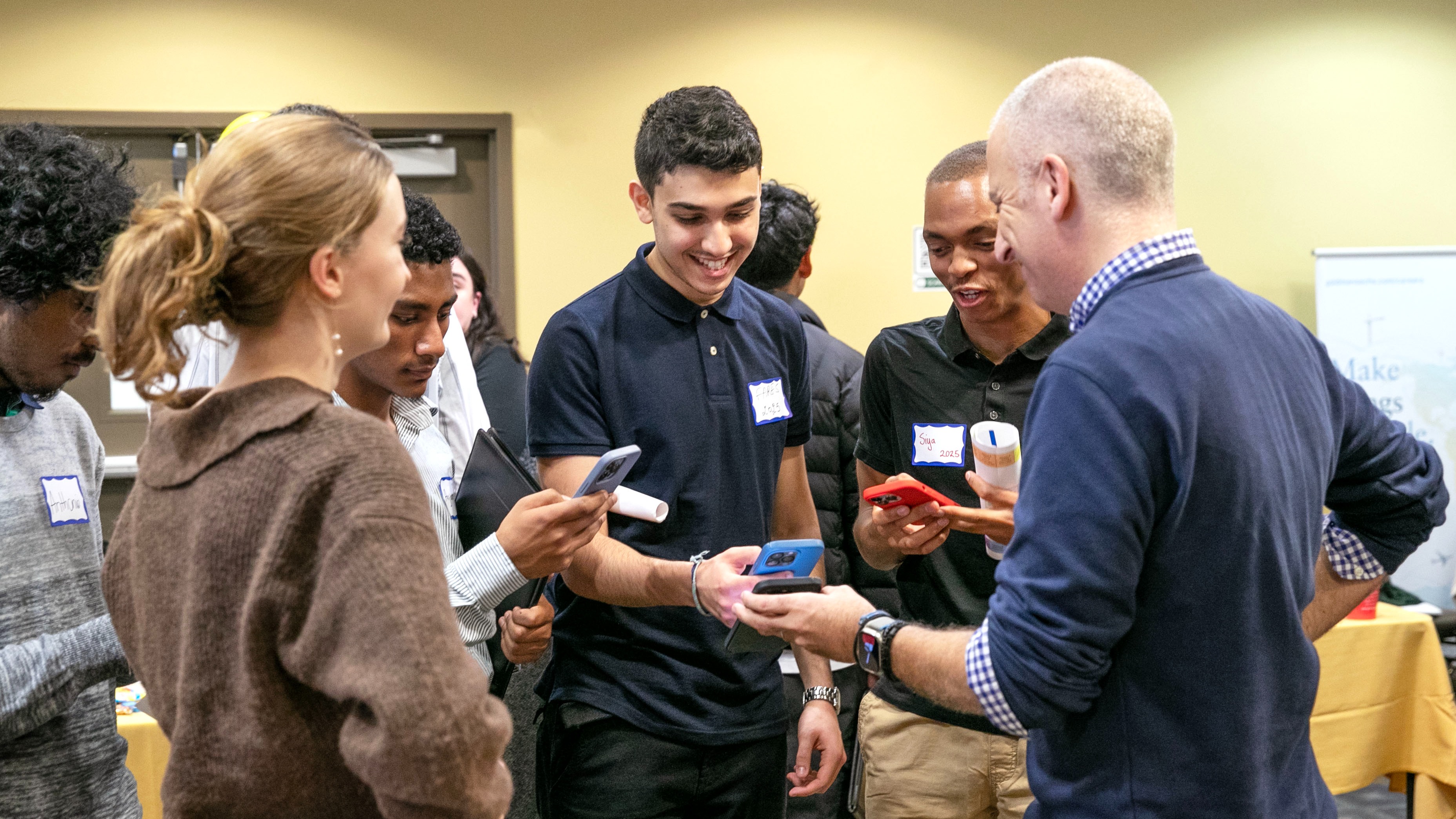 Creative leaders know that creative thinkers are at the center of success, no matter how it's defined. The Skidmore community is also eager to support the next generation as they embark on their professional journey.
That's what Career Jam, the Skidmore College Career Development Center's largest on-campus networking event, is all about: Dozens of alumni and parents working for some of the biggest names in their respective industries return to campus to share their career stories and journeys with students. This year saw 269 students — from first-year students to graduating seniors — in attendance.
The Oct. 20 event brought together almost 70 alumni, parents, and friends of the College from across the U.S. and a wide range of professions to support students as they consider career possibilities, learn about internships and volunteer experiences, or delve into the next phase of their professional lives. Students could also sign up to have professional headshots taken; more than half of attendees — 159 — participated.

"There's really a little something for everybody," said Shannon Rodriguez, executive director of the Career Development Center. "Whether you're a first year just looking to explore careers or a senior looking to uncover opportunities or learn about grad school options, no matter what your goal is, there's usually someone here who can answer those questions."

The event included representatives from many organizations — from the American Museum of Natural History and New York State Office of the Attorney General to Adobe and Grumbling Gryphons Traveling Children's Theater, among others.

Each year, alumni, parents, and other friends of the College in attendance go above and beyond to offer information about their industries and their own experiences.

Ely Lettow '25, a neuroscience major with plans to apply for medical school after graduation, noted that he appreciates Career Jam as an opportunity to receive guidance from people experienced in the field of health sciences. "I talked to volunteers who have been able to help clarify a few things, chart some paths, have some experiences looking forward on the path to med school," he said, referencing the seven health sciences representatives who attended the event. "I'm leaving feeling invigorated and directed."

Meanwhile, Tierell Dilligard '27, a first-year student with interests in math and computer science, found value in making connections with representatives from a range of organizations — even those that did not correspond directly to his specific career goals.
They said I could reach out to them —

even though I might not be drawn to their specific company.

But they have connections that can help me out. So far, I'm actually really excited. This whole experience has been very helpful.

But students aren't the only ones who get something valuable out of Career Jam. Amy O'Leary '92, executive director of Strategies for Children and a member of the Skidmore Board of Trustees and Alumni Board, expressed her gratitude for the event, both as a volunteer mentor and former Skidmore student.
It is inspiring to be here at Career Jam — to see so many different students talking to parents, talking to alumni, trying to figure out their best next steps, and I think it's incredible to have this kind of experience at liberal arts colleges like Skidmore. I use my Skidmore experience one way or another in my work every day.


Amy O'Leary '92, executive director of Strategies for Children, member of the Skidmore Board of Trustees and Alumni Board
In addition to Career Jam's traditional lineup, this year's event also saw the inclusion of a similarly varied mix of volunteer opportunities with representatives from Peace Corps along with many local organizations, including the Children's Museum at Saratoga, the National Museum of Racing and Hall of Fame, Wilton Wildlife Preserve, and Saratoga Bridges. The expansion reflects the Career Development Center's recognition of community service as a valuable component of students' learning and career exploration processes.

"Pursuing volunteer opportunities is a great way for students to get more experience, and experiential learning is an important aspect of career development. It makes sense for us to include local organizations at a networking event where students can learn about different opportunities available to them," explained Lauren Sisson, associate director of the Career Development Center and Career Jam organizer.

While Career Jam may be the Career Development Center's biggest event, it's certainly not all the CDC has lined up for students this year. Visit the Career Development Center's website and Handshake for information about upcoming events.