Meet SEE-Beyond's Class of 2014
June 9, 2014
Ayako Shapiro '14 and reading buddy.
In the dead of night on a Florida beach, Anna Gubbins '15 will park her ATV and apply a flipper tag to a nesting sea turtle as part of Mote Marine Laboratory's conservation and research program. Out west, far from the partisan reach of the nation's capital, James Rider '16 will be grabbing his first cup of coffee before work at Project Vote Smart's Montana offices, where he'll collect and check data to help citizens make educated decisions at the polling booth. Across the Pacific, Ayako Shapiro '14 will wrap up her day in bustling Tokyo, where she will help Second Harvest Asia organize an international food-bank conference.
Gubbins, Rider, and Shapiro are just three of 25 Skidmore students from a wide variety of academic disciplines and programs whose proposals earned them a 2014 SEE-Beyond grant of $4,000 each, to support summer opportunities apply their classroom learning to the real world and clarify their postcollege plans.
SEE-Beyond, which stands for Summer Educational Experiences—Learning Beyond Campus, is in its third year.
This year's students are involved in research, internships, arts residencies, coursework, or fieldwork in locations ranging from China and Japan, to France, Germany, and Ireland, to Haiti and Peru, some of them working on behalf of people from Ecuador, El Salvador, and Rwanda. In the US, projects stretch from Maine to Florida, from Pennsylvania to Illinois, and out to California.
Director of Academic Advising Kim Marsella, an environmental studies professor, oversees the SEE-Beyond program, working with academic chairs and directors from 40 different majors and minors. "This year," she says, "we funded our largest cohort of students across a wide range of disciplines. The awards are generous enough and the opportunities broad enough that we can provide access to students who might not otherwise be able to pursue these types of experiences."
Over the past two years, it has been exciting to watch students apply their SEE-Beyond experiences back on campus, Marsella notes, adding that a "large majority have used their summer experience to launch senior thesis or capstone work, and then later to help themselves in graduate school, the work force, and in one case on a Fulbright Fellowship. SEE-Beyond truly allows students to engage in the mind-and-hand philosophy of the college."
Gubbins, majoring in the natural-science track in environmental studies, is one of only two interns selected from a pool of 30 applicants for turtle-tagging duties. Her research experience includes a Skidmore lab course in conservation ecology and biological work during her semester abroad with the School for Field Studies in Australia. After graduation next year, she plans to pursue a career in conservation or natural resource management—which makes a summer of collecting data on turtle nesting, hatching, migration, and population dynamics a great match.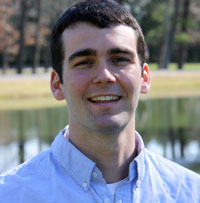 James Rider '16
Rider, a government major who writes for The Skidmore News and was the editor of his high school newspaper, says he is eager to be working at Project Vote Smart because it will be "integral in affirming (or challenging) my choice to pursue a communications career." As government professor Bob Turner notes, "The future of political journalism will be original data collection and analysis like Ezra Klein's vox.com or Nate Silver's fivethirtyeight.com. Project Vote Smart is the perfect fit of data collection, analysis, and Web presentation for a position in those future jobs."
Shapiro, a double major in Asian studies and dance, thinks of SEE-Beyond as an opportunity to build on a recent semester at Japan's Sophia University, where she took a transformative course in nongovernmental organization management. That professor—and her supervisor this summer—started Second Harvest Asia, a US nonprofit that increases food security and decreases food waste by promoting food banking in Asia. "It feels as if everything I have worked for at Skidmore, every assignment and conversation, will assist me in making the most of this opportunity," says Shapiro, who hopes to work in the non-governmental sector in the future.
The full list of 2014 SEE-Beyond awardees:
Kengthsagn Louis '15, gender studies major, interning with Fondation Toya in Port-au-Prince, Haiti, working in her home country on projects to empower girls and women and promote their leadership skills.
Eve Ross '15, anthropology major, participating in the International Partnership in Service Learning's Summer Study Abroad in Cuzco, Peru.
Surbhi Hablani '14, physics and mathematics double major, researching synthetic muscles for the International Space Station Project of the Center for the Advancement of Science in Space, working at Ras Labs in Quincy, Mss., and the US Department of Energy's Plasma Physics Laboratory at Princeton University.
Lisa Fierstein '16, American studies major and arts administration minor, interning with the director of education and community engagement at independent radio station WYEP in Pittsburgh, Penn.
Caitlin Link '16, art history major, attending the Summer Institute for Curatorial Practice at Hampshire College in Northampton, Mass.
Ayako Shapiro '14, Asian studies and dance double major, interning with Second Harvest Asia, a food-security nonprofit, helping to organize its International Food Bank Conference in Tokyo, Japan.
Julie Ochs '14, biology major and art minor, visual exploration on algal cell-wall synthesis at the National University of Ireland in Galway, exploring connections between the visual worlds of science and art.
Jiakun Fu '15, neuroscience and mathematics double major, conducting ion-channel regulation research at the Institute of Neuroscience in Shanghai, China.
Ruth Allard '16, biochemistry major and art minor, internship with Beth Israel Deaconess Medical Center's Emergency Medicine Research Program in Boston.
Anastasia Eckerson '15, dance major and gender studies minor, combining a dance intensive at Deeply Rooted Dance Theater in Chicago, Ill., with research into the experiences of black women through dance.
Mayra Nunez '16, economics major and business minor, working with undocumented high school students as part of the Bright Prospect Dream Team in Pomona, Calif
Kiara Boone '15, education studies major and sociology minor, interning as a math teacher at Tech Boston Academy in Dorchester, Mass., through Breakthrough Greater Boston, which serves ethnically diverse, low-income middle school students.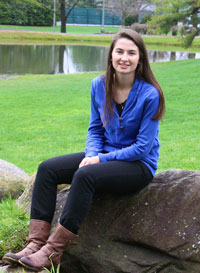 Anna Gubbins '15
Anna Gubbins '15, environmental studies major, conducting research with Mote Marine Laboratory in Sarasota, Fla., through the Sea Turtle Conservation and Research Program's Nighttime Tagging Internship.
Musa Komeh '15, health and exercise sciences major, interning in New York City with the Clinton Foundation Global Initiative's Health Team, which seeks to improve health, strengthen local economies, promote health and wellness, and protect the environment.
Catherine King '15, German and international affairs double major and government minor, interning with the political party Die Linke in Berlin, Germany.
Michelle Mendia '14, psychology major and Spanish minor, helping Ecuadorians transition to the US through Organizacion Juventud Ecuatoriana (JUVE) in New York City.
James Rider '16, government and international affairs double major, doing research for the nonpartisan Project Vote Smart in Philipsburg, Mont.
Hannah Smith '16, history major, conducting Revolutionary War research with the Saratoga National Historical Park at Schuyler House in Stillwater, N.Y.
Camila Mena '16, international affairs and political economy (self-determined) double major, interning with Ambassador Carlos Garcia Gonzales at the Permanent Mission of El Salvador to the United Nations in New York City.
Sally Jernigan-Smith '15, international affairs and religious studies double major Latin American studies and Spanish double minor, providing translation services and community organization for Latino racetrack workers through the Backstretch Employee Service Team in Saratoga Springs.
Makeda Diggs '17, potential business major and arts administration minor, interning for entertainment company Spirithouse Music in Northampton, Mass.
Kate Bridgham '15, psychology major, interning at the Margaret Murphy Center for Children in Auburn, Maine, working with children with autism spectrum disorders and other developmental disabilities.
Nicole Becker '16, dance science (self-determined) major, researching the biomechanics of tendon injury and repair at the Icahn School of Medicine at Mt. Sinai in New York City.
Rebecca Morofsky '15, religious studies and anthropology double major, doing ethnographic research at the Ecumenical Community of Taizé in France.
Hope Spector '15, sociology major, working with New York City-based Atikus Insurance Inc. to launch a new model of microcredit loans in Kigali, Rwanda.
For more on SEE-Beyond, click here.