The year in pictures
December 22, 2014
Sustainability, the sciences, visual literacy, and documentary studies are a few areas in which the college made major strides in 2014.
January


Dining-hall chefs win gold


A pear and pecan tart helped melt judges' hearts and win gold for Skidmore in an American Culinary Federation competition, hosted on campus. The king crab, apricot-glazed pork, and duck sausage didn't hurt either. Four dining-services chefs were one of 10 college teams from five states in the contest this year. Skidmore has medaled before, but this was its first gold.



Glotzbach attends White House summit on access

President Philip A. Glotzbach joined some 100 other college presidents and leaders in business, government and philanthropy at the White House for a meeting focused on new ways to increase opportunities for low-income and historically underserved students. As Skidmore's new initiative, Glotzbach committed the College to doubling the number of SEE-Beyond stipends from 20 to 40 within the next five years.



February


College Comedy Fest celebrates 25th year

The UCB All-Stars were among the performers at the National College Comedy Fest, founded at Skidmore 25 years ago by Brooklyn 99 producer David Miner '81. This year, student sketch and improv groups from nine colleges joined professional troupes on campus for a sold-out weekend of wall-to-wall comedy.



March


'Classless Society' explores American Dream

This interdisciplinary show at the Tang Museum made headlines with its examination of class in America from various social and economic perspectives. Co-curated by Professor of English Janet Casey, Professor of Economics Mehmet Odekon, and Tang staff, the show's Web site — largely designed and developed by Joe Klockowski '14 — was named Best Small Museum Project at the 2014 Museums and Web conference.



Visual studies offerings expand

Learning in the areas of visual literacy and analysis got a boost from a major Andrew W. Mellon Foundation grant. The funds created Project VIS, which includes the Moore Documentary Studies Collaborative, a range of visual communication training and resources for students and faculty, and a new academic minor in media and film studies.



April


A team of story tellers wins Freirich Competition

Three Skidmore seniors who share a passion for storytelling were awarded the $20,000 top prize in the fourth annual Kenneth A. Freirich Business Plan Competition. Roommates Walter Ian Van Nest, Walter Barber and Andrew Zimmerman impressed the judges with their plan to produce original stories on a variety of platforms ranging from games and action figures to TV shows and films. Their mentor was Christine Juneau '82, principal, Christine Juneau, LLC.




Garden moves to center campus

Volunteers from the Environmental Action Club, assisted by Facilities Services, broke ground on the new student-run Skidmore Community Garden, placing it in a more central and visible location on Wiecking Green.




Issues of inclusion come to the fore

I, Too, Am Skidmore's petition and photo campaigns launched by five students generated a campuswide discussion about inclusion and race that continued throughout the year. As a result, an ad hoc task force is exploring the creation of an ethnic studies program and other initiatives.



May


Skidmore graduates largest class in its history

At 712 members, the Class of 2014 was the largest graduating class in Skidmore history. "Bigger doesn't always mean better but I think we can all agree that Admissions got it right with the class of 2014," noted Class President Xavier Hatten. "You, my dear friends, are teachers as well as students and together we are the liberal arts experience."



July


'Twelve Years a Slave' sparks major interest in Solomon Northup

Skidmore's Black Faculty and Staff Group and the Special Programs Office assumed leadership of the Saratoga community's annual Solomon Northup Day, established in 1999 by Skidmore alumna Renee Moore. The multi-Oscar-winning film based on Northrup's autobiography, Twelve Years a Slave, and the presence of some Northup descendants, helped spark unprecedented interest in the day's events.



Decoda offers a new institute for young musicians

In its inaugural season at Skidmore, the Decoda Chamber Music Institute welcomed 22 young artists from as far away as New Zealand and New Mexico and as near as Saratoga Springs. Decoda is a cutting-edge New York City-based chamber music ensemble comprising alumni of Ensemble ACJW—The Academy, a program of Carnegie Hall, The Juilliard School, and the Weill Music Institute.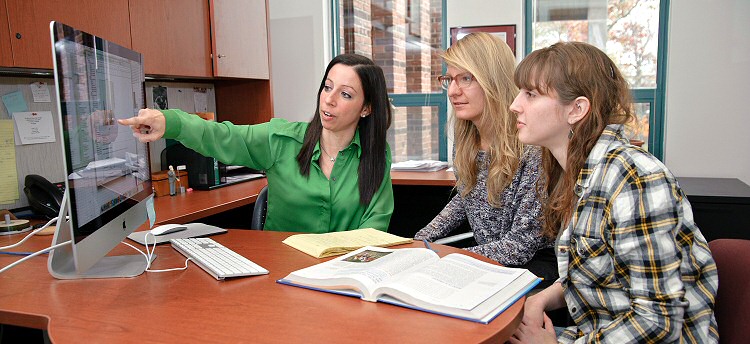 White House testimony by psychology professor
Assistant Professor of Psychology Corinne Moss-Racusin, who has researched gender bias among science academics,
testified on that subject at a hearing held by the White House Office of Science and Technology Policy.


August


Orientation was just the beginning


Student Affairs launched The First Six Weeks: Building Connections and Establishing a Sense of Place, a new program aimed at helping first-year students make the transition into college life and build a strong foundation for the next four years. The schedule included nearly 100 events. including a hot-air balloon launch.

September


Documentary studies program debuts

The Moore Documentary Studies Collaborative was launched to foster video, oral history, and other storytelling projects by students, faculty, and community partners. Support for MDOCS's workshops, summer institute, and other offerings came from the family of John and Bettina Towne Moore '41, who are the son and daughter-in-law of Skidmore's second president. Among noted speakers brought to the campus by the program was Chip Kidd, acclaimed Alfred A. Knopf book jacket designer and main driver of Pantheon's graphic books program.



October


Solar array furthers shift toward renewable energy

College, government, and industry reps attended a ribbon-cutting ceremony for a large solar array that will annually generate 2.6 million kilowatt-hours of electricity, enough to meet 12 percent of Skidmore's needs and reduce greenhouse gas emissions by the equivalent of taking 412 cars off the road each year. The project was supported by $2.3 million from New York Governor Andrew Cuomo's NY-Sun initiative administered by the New York State Energy Research and Development Authority.




Expanding the College's global reach

Marking its 10-year partnership with the Davis United World Colleges Scholars Program, Skidmore celebrated the expansion of its international student population from 1 percent of the student body to nearly 10 percent. The festivities included a panel discussion on the future of international education and the awarding of honorary degrees to the program's main architects, Philip O. Geier and Shelby M.C. Davis.




Plan developed for the Center for Integrated Sciences

The Board of Trustees approved design and development plans for the Center for Integrated Sciences (CIS). Housing nine academic departments and 90 faculty, the CIS is configured to support interdisciplinary collaboration and an approach that emphasizes "strategic knowledge" — the ability to problem-solve in a variety of situations.



November


A transformative gift to the Tang Museum

Computer programmer and philanthropist Peter Norton donated 75 works of contemporary art to the Tang Museum and Art Gallery. It was part of a series of gifts to university art museums and teaching museums throughout the country—drawn from Norton's personal collection—to support the integration of the visual arts in higher education, foster creative museum practice, and engage diverse audiences with contemporary art.



Dani DeGregory '16 leads the nation


With 34 goals and 13 assists for 81 points in the regular season, field-hockey forward Dani DeGregory '16 wasn't just the top scorer in the Liberty League; she was number one in the nation for points per game (4.22) and third for goals per game (1.78). She and forward Jenn Hanks '16 were both selected as 2014 All-Americans.



December



Adam Beek '16 named All-American

The National Soccer Coaches Association of America named Thoroughbred soccer forward

Adam Beek

'16 to the NSCAA/Continental All-America Third Team. The Kingston, Jamaica, native posted career highs with eights goals, eight assists and 24 points and led the league in goals, points, goals per game (0.44) and points per game (1.33).