Skidmore takes lead role in Solomon Northup Day
March 4, 2014
The story of Solomon Northup, a local African-American man abducted into slavery in 1841, is now known internationally thanks to the acclaimed Fox Searchlight film based on Northup's autobiography, Twelve Years a Slave. The film just garnered three Academy Awards—best picture, best supporting actress, and best adapted screenplay—not to mention other accolades like a Golden Globe Award for best picture.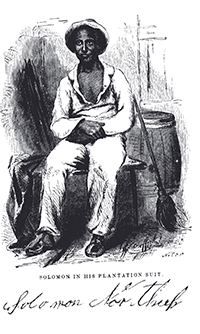 But a grassroots effort to raise awareness of this compelling story has been going on for the past 15 years, in particular through Solomon Northup Day, an annual celebration launched in 1999 by Saratoga Springs resident and Skidmore College alumna Renee Moore.
The yearly tribute is now undergoing a change of leadership, as Moore hands the reins over to Skidmore College. The event will be jointly managed by the college's Black Faculty and Staff Group and the Office of the Dean of Special Programs.
Solomon Northup Day has traditionally been held on the third Saturday of July. In past years, the day's activities have included talks by experts and historians on a range of topics related to Northup's life, musical performances, readings, and more. The event is typically attended by Northup descendants from around the country.
Last summer's Solomon Northup Day was held in the 250-seat Filene Recital Hall on the Skidmore campus and drew a capacity crowd. Through collaboration with Fox Searchlight, the program included film segments from 12 Years a Slave in advance of the movie's release as well as attendance by Lupita Nyong'o, winner of this year's Oscar for best supporting actress for her role as Patsey in the film. Nyong'o addressed the gathering, telling of the emotional challenges she faced in portraying such tragedy and anguish.
"Given the success of last year's event, along with Skidmore's management capabilities and excellent facilities, it makes sense for the college to take over the organizing of Solomon Northup Day," said Moore. "I'm excited about the future prospects of the event, beginning this coming summer."
Moore's vision statement for Solomon Northup Day states that the goal is to "bring to light all of the people involved in the struggle for freedom in the Americas and to encourage a better understanding of freedom and justice through the eyes of the African-American experience past and present; and to encourage youth participation in the struggle for freedom throughout the world."
Said Skidmore's Dean of Special Programs Paul Calhoun, "Skidmore is very pleased to continue and build on Renee Moore's important work in creating this Saratoga tradition. We think that over time, the event can attract not only more attention from the public but also from history scholars worldwide."