How to get the Skidmore experience on your summer visit
June 25, 2018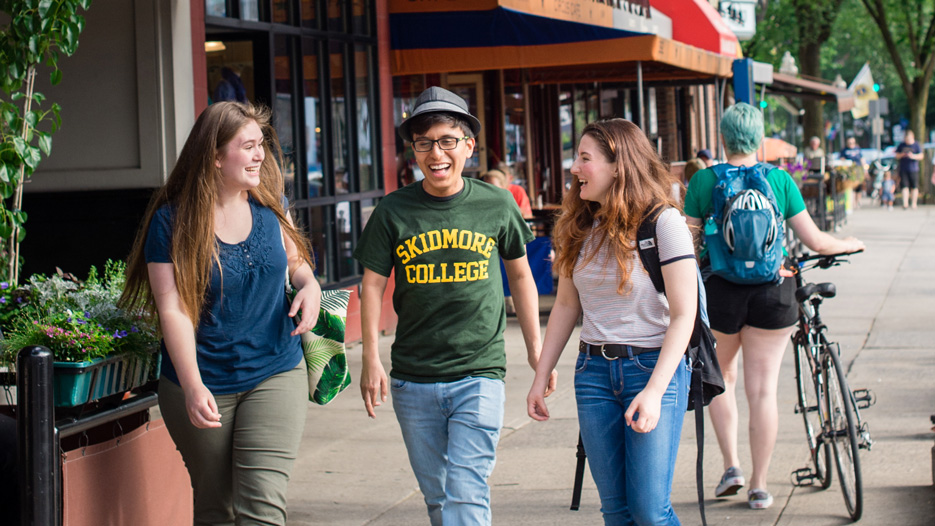 Saratoga Springs, New York, is famous for its natural mineral springs, thoroughbred horse racing, Revolutionary War history, vibrant culture and more. An international travel destination, especially during the summer, there's no shortage of things to see and do.
But, while a concert at the Saratoga Performing Arts Center or a day spent at the Saratoga Race Course are must-dos for many guests, prospective Skidmore families are likely using their summer visit to our home town for a specific mission—to find out what life might be like as a Skidmore student and parent.
Though Summer at Skidmore brings dozens of renowned learning and entertainment opportunities, it's no surprise that student life is a bit quieter this time of year. However, the hot spots around town that ooze Skidmore "vibes"—and are student favorites all year—are far from quiet.
Here are a few recommendations for getting the Skidmore experience on your summer visit.
Take a campus tour
There's no better way to start your visit than with our friendly Admissions team and a campus tour with a student ambassador. This time of year, you'll benefit from smaller tour groups, which means more time for even more questions and personalized answers.
Tours and open house schedules
Don't forget to ask what your guide's friends are doing when class isn't in session. Are they doing internships? Working with professors on research? Or venturing abroad for a service trip?
Skid tip: This time of year, student ambassadors enjoy relaxing on the front porch of Eissner Admissions Center. Before or after your tour, feel free to linger with them to sneak in a few more questions about life at Skidmore.
Sightsee in our community
Part of the Skidmore experience in Saratoga is walking, biking and living in beautiful neighborhoods, many near public parks and trails. To get a feel for our home, take a walk or drive through one of these districts.
Broadway Historic District
Adjacent to Skidmore, this area is like a second campus for students. Its sidewalks and bike lanes connect campus residents to a multitude of resources and retreats and is generally split into two sections—downtown and North Broadway.
The commercial core, or "downtown," is a lively scene of restaurants and shops in an artful mix of historic and modern buildings.
Closer to campus is North Broadway with its impressive Victorian homes, or "summer cottages" as the original owners called them. Built in the late 1800s and early 1900s, these homes were summer retreats for wealthy families. Some continue the tradition today and pull out all the stops to beautify their properties during the summer months.
Skid tip: 791 North Broadway is the former home of Skidmore's founder, Lucy Skidmore Scribner, and the current home of President Philip A. Glotzbach and Marie Glotzbach.
Beekman Street Arts District
This three-block, mixed-use neighborhood is a relaxed, but colorful community of art galleries, restaurants and residents. Whether it's touring a friend's art exhibit in one of the galleries, or grabbing funky food at spots, this west-side area is a Skidmore draw.
East Side Historic District
The eastern side of town is another residential district and features, among many architectural gems, the Saratoga Race Course and historic Congress Park. Like North Broadway, the homes here were built by the city's well-to-do. But many of these original residents were here year-round, owning and running popular hotels, stores and spas.
Skid tip: This is where Lucy Skidmore Scribner founded the Young Women's Industrial Club in 1903, the earliest incarnation of Skidmore College. Many of the buildings served as the Club's campus, soon the Skidmore School of the Arts and eventually Skidmore College, until 1976 when our current campus was built. Check out an interactive map of Skidmore's old campus
Get a taste for Saratoga
When it comes to student dining, the most authentic experience is breakfast, lunch or dinner in our own Murray-Aikins Dining Hall, picked by Business Insider as the 7th best college food in the nation.
If you're looking for the Skidmore experience while you dine around town, consider some of these student favorites.
Uncommon Grounds
402 Broadway
Fresh-ground coffee, comfy couches and bagels that are (almost) as good as they are in New York City. Uncommon Grounds is a quintessential Skidmore-Saratoga hang out. "Uncommon" is a favorite spot for off-campus studying, people-watching and just plain ol' getting away.
Skid tip: Live the college-budget life and bring Uncommon home with a sleeve of discounted day-old bagels.
Druthers Brewing Company
381 Broadway
"Loaded" mac and cheese, pretzels and beer cheese, decadent burgers dripping in cheese. Sometimes there's a hunger that only Druthers can satisfy. Students will often dig into this restaurant's eclectic menu with friends and family.
Gennaro's Pizza Parlor
46 Marion Ave.
How do you get students to attend a meeting, event, or other campus activity? Provide pizza. What pizza? Gennaro's, of course. Head to this pizza joint for a taste of one of the Skidmore community's go-to delivery choices.
Esperanto
4 Caroline St.
Co-founded by a Skidmore alum and professor—Will Pouch '86 and Sheldon Solomon— Esperanto is a restaurant that specializes in grab-and-go-street food, especially the kind you crave late at night (luckily, Esperanto is open until 4 a.m. on the weekends).
There are burritos, chimichangas, twice-baked potatoes, pizza and more. However, the real allure of Esperanto is the famous doughboy, which originated in Solomon's own kitchen "when he was in college and didn't have anything else to cook with."
Triangle Diner
400 Maple Ave.
Right around the corner from campus, this restaurant is a weekend breakfast favorite with generous portions of traditional diner fare. Get there before you're hungry though, as this popular location will likely have a wait (that's well worth it).
Check out ten spots students love to grab coffee
The perfect college town
Travel & Leisure calls Saratoga Springs one of "America's Greatest Main Streets" as well as "one of the best college towns in the nation," Money Magazine says it's one of the nation's top 100 places to live, and Princeton Review describes it as a "perfect college town" that's "extremely fun and accepting of college students."
We just call it home.
Learn more about visiting our home town, our campus and Skidmore Admissions.