January/February | March/April | April/May | LI 113 Workshops
---
Workshop: Oral History with Eileen McAdam
Friday, January 29, 2–5 p.m., LI 118
MDOCS instructor Eileen McAdam will teach attendees the basics of audio recording and interviewing.
This workshop provides an introduction to the work of audio storytelling: the collecting, processing, and preserving of cherished stories using the latest digital equipment. In this workshop you will work with portable digital audio recorders and learn basic recording and interviewing techniques. Whether you want to record family stories, use interviews in your research project or start a community oral history project, this workshop will get you off to a good start and touch on both technical and ethical aspects of interviewing.
What's provided: portable digital audio recording devices, headphones, microphones
What to bring: your ideas, paper and pencil/pen, comfortable shoes, and a lot of enthusiasm
Eileen began recording ambient sound and the stories of some of the old-timers in her rural town of Stone Ridge, New York. She learned how to do sound editing and production while producing personal audio profiles that she gave to families as gifts. The interest and gratitude that these gifts received propelled her to take her hobby to the next level by starting the Sound and Story Project.
This event is hosted by MDOCS and the Retiree Initiative Planning Group.
---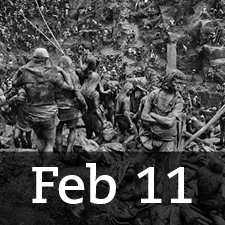 Screening and Discussion: The Salt of the Earth with Professor of Art Robert ParkeHarrison
Thursday, February 11, 7–9 p.m., Tang Museum, Somers Room
For the last 40 years, the photographer Sebastião Salgado has been traveling through the continents in the footsteps of an ever-changing humanity. He's witnessed some of the major events of our recent history: international conflicts, starvation and exodus. He's now embarking on the discovery of pristine territories, wild fauna and flora and grandiose landscapes as part of a huge photographic project, a tribute to the planet's beauty.
In The Salt of the Earth, Salgado's life and work are revealed to us by his son Juliano, who went with him during his last travels, and by photographer Wim Wenders.
This event is hosted by the Art Department, Tang Museum and MDOCS and is open to everyone.
---
Workshop: Event Photography with Eric Jenks
Friday, February 12, 2–5 p.m., LI 113
Do you take pictures of events—speakers, parties, sports or entertainment? Would you like some tips on how to create more engaging, lively images? In this 2.5 hour workshop, you will get an overview of some techniques and approaches to help you frame a compelling image and then a hands-on exercise to practice what you've learned.
Eric Jenks is a photojournalist and Skidmore alum based in the Capital Region with a background in photography, videography and sound. He has been photographing events, culture, landscapes and music throughout the world since 2001. Past publications include National Geographic Adventure, New York Daily News, Saratoga Living, PBS Mountain Lake, the Saratogian and the Times Union.
*Please RSVP: mdocs@skidmore.edu
---
Ethics Bowl: Media Production Ethics and Morals

Tuesday, February 16, 6–8 p.m., Emerson Auditorium
Soon to be a required seminar for students taking MDOCS and media and film studies production courses, this training session tackles issues facing today's nonfiction storytellers. The session will be a combination of lecture providing tips followed by an activity in which attendees grapple with a real-world case and come together to discuss solutions.
This is an important seminar for any students who are or will be working with subjects outside of the campus community.
This event is hosted by The Media and Film Studies Program and MDOCS.
---
Exploremore: Media and Film Studies and MDOCS
Thursday, February 25
Monday, Friday, Saturday 5–6 p.m., Tisch 301
MDOCS, 6–7 p.m., Tisch 301
Interested in a media and film studies minor? Curious about documentary work and media production? Meet faculty and students in both programs to learn more!
---
Award-Winning Youth FX Program with Bhawin Suchak
Tuesday, March 1:
11:10–12:30 p.m.: Join the conversation in "Principles of Doc" (Zankel 214)
12:30–1:30 p.m.: Lunch discussion with Director Bhawin Suchak (LI113); RSVP appreciated: mdocs@skidmore.edu
6–8 p.m.: Screening of award-winning shorts (Davis Auditorium)
Albany's own Youth FX film program presents an evening of award-winning short films with a Q&A with the filmmakers after the screening. These powerful short films range from dramatic narratives to insightful documentaries that reveal the hopes, dreams and realities of young people living in the Capital Region. Written, directed and produced by local teens, Youth FX films have screened and won awards at some of the biggest film festivals across the country, including the San Francisco International Film Festival, Los Angeles Film Festival, Chicago International Film Festival and Woodstock Film Festival.
The screening will be followed by a panel discussion with Youth FX filmmakers and program directors Bhawin Suchak and Darian Henry.
---
Mid-Semester Production Student Showcase
Wednesday, March 2, 5–7 p.m., LI 113
Check out what MDOCS students have been up to! LI 113 is hosting a showcase of production student work from the spring semester. A sampling of audio creations, short videos and oral history projects will be up on the screens for everyone to experience individually and in small groups.
If you're sharing work, want to make connections for future projects, or are just interested in learning more about the program stop by! There will be pizza and drinks.
This event is open to the public.
---
Screening: Oriented, a film by Jake Witzenfeld and
Discussion with Khader Abu Seif

Tuesday, March 8, 7–9 p.m., Davis Auditorium
Oriented (2015) follows the lives of three gay Palestinian friends confronting their national and sexual identity in Tel Aviv, including Khader Abu Seif.

Determined to "change their reality," the three best friends form a group called "Qambuta," a nonviolent, cultural resistance movement fighting for gender and national equality. Through their activism, they address what it means to grow up with the burden of a multi-faceted identity.
This event is free and open to the public.
---
Discussion with David DeSario, Researching a Hidden Story about A Day's Work
Thursday, March 24, 11:10–12:30, Zankel 214
Join Executive Producer Dave DeSario for a discussion about the creative process and research involved in bringing social documentary stories to life through filmmaking.
This feature documentary A Day's Work (2015) profiles the sister of Day Davis, a young man killed on his first day of work as a temporary employee, as she searches for answers. An investigation reveals the troubling issues that led to Day's death and how the $100 billion temporary staffing industry is putting millions of American workers at risk.
A Day's Work will screen at 5:30 p.m. at Albany Law School, Dean Alexander Moot Court Room, 80 New Scotland Ave., Albany, New York. Sponsored by the NorthEast New York Coalition for Occupational Safety and Albany Law School Labor and Employment Law Society. For details, nenycoshATgmail.com.
Join Dave in an open session of DS 201 "Principles of Documentary." Free and open to the public.

---
Test Screening of Virgin Blacktop with local filmmaker Charlie Samuels.
Thursday, March 31 at 7 p.m., Palamountain 202
This sneak-peek screening of a feature-length hybrid documentary 21 years in the making is to provide the director with audience critique and feedback. A personal coming-of-age story made with real film reel about a crew of wildly diverse kids from the suburbs of New York City in the 1970s who had nothing in common but skateboarding yet forged lifelong friendships.
---
Screening of Marwencol with filmmaker Jeff Malmberg
Wed April 6 @ 6:30 p.m., Davis Auditorium
Marwencol is a documentary about the fantasy world of Mark Hogancamp. After being beaten into a brain-damaging coma by five men outside a bar, Mark builds a 1/6th scale World War II-era town in his backyard. Playing in the town and photographing the action helps Mark recover his hand-eye coordination and deal with the psychic wounds from the attack. But when Mark's homemade therapy is discovered and deemed "art," he's forced to choose between the safety of his fantasy life in Marwencol and the real world that he's avoided since the attack.
Winner of many awards, including several Independent Spirit Awards and the Grand Jury Prize at South By Southwest, Marwencol will be adapted into a narrative feature film starring Steve Carrell and directed by Robert Zemeckis.
The director will be in attendance for a post-screening Q & A.
---
MDOCS Student Work Showcases
Details listed below.
Wednesday, April 20: Video Projects, 6:30–8 p.m., Emerson Auditorium
Friday, Apr 29: Tang Art Party, 8 p.m.–midnight, Tang Museum
Contemporary Time-Based Media: Presenting Media Installations
Intro to Audio: live on air via FM transmitter, 2–5:30 p.m.
Tuesay, May 3: Video Storytelling, 5–7 p.m., Somers Room, Tang Museum
Wednesday, May 4, Academic Festival, 3–4:20 p.m., Palamountain 300
Evidence-based audio, video and exhibit projects from Doc Studies
Wednesday, May 11: Audio Doc, 1:30–4:30 p.m., LI 113
---
Stay posted on all upcoming MDOCS events at our Facebook page