Alumni Stories: Barbara Stroock Kaufman '40 and Stacey Gerrish '87
October 12, 2015
by Rebecca Stern '16
From left: Stacey Gerrish '87, Barbara Stroock Kaufman '40, and
Rebecca Stern, '16
_________________________

We walk past people with stories every day. Our student peers, faculty members and neighbors all have narratives that together create episodes in the history of Skidmore and Saratoga Springs. Taking the time to sit down and record each voice helps contextualize our home. This year I look forward to discovering stories both from those who knew Skidmore and Saratoga decades ago as well as today's Skidmoreans as part of the MDOCS Skidmore-Saratoga Memory Project (SSMP) and using a recorder to share important community voices.
This year's first interview happened just before the fall semester began. On August 30, SSMP traveled to conduct an interview with Barbara Stroock Kaufman '40 in her Woodstock, Vermont, home. Joined by her granddaughter, Stacey Gerrish '87, she discussed what the studio art major entailed, dorm life on the downtown campus of a women's college, and living in Saratoga Springs in the late 1930s. Barbara never graduated (leaving college to get married, as many of her generation did), but continued sculpting, a craft that she cultivated during her time at Skidmore. Barbara's anecdotes on strict dress codes and making snow sculptures during the winter because of a lack of art supplies bring to life what a typical art student might have experienced at Skidmore more than 75 years ago.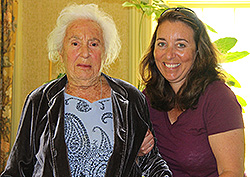 Barbara Stroock Kaufman '40 and her
granddaughter, Stacey Gerrish '87
Stacey, a second-generation Skidmorean, also welcomed the chance to recall her Skidmore years, noting that she went to Skidmore because of her grandmother's fondness of the school. A student in management and business, Stacey still uses foundational skills that she learned at Skidmore and had clear memories of reading news pulled from a tickertape (AP wire) once a week at lunch time on WSPN. In this featured clip, Stacey recounts a story of what happened when her boyfriend surprised her with a secret kitten on her dorm window seat in Jonsson Tower.
Unfortunately, on September 13, just two weeks after our interview, Barbara passed away. Her departure highlights why we need to pause in our own lives to listen to those who are around us. You never know what you will find out to help understand what it is that we love about Skidmore and Saratoga.
We'll be conducting interviews throughout the school year, so please be in touch if you've got a story you'd like to share or suggest (rstern2@skidmore.edu).
To hear the full interviews, and for additional SSMP oral histories, check out the Project's website.