SSMP Highlight: Skidmore Retiree Project
April 1, 2016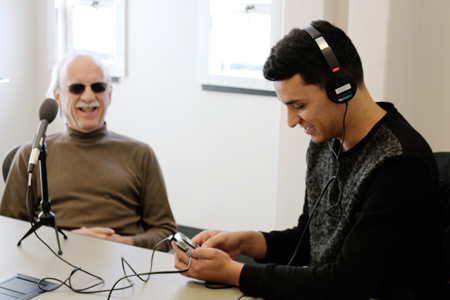 Renato Dornelas '18 interviewing Skidmore retiree Leo Geoffrion
This spring Sue Bender, professor emerita of anthropology, taught "Interview 101," a half-semester course dedicated to the basics of interviewing and to adding to the archive of Skidmore retiree oral histories that is part of MDOCS' Skidmore-Saratoga Memory Project (SSMP).

The course assigned each student to interview a retired Skidmore faculty or staff member and create an audio recording of their personal history and to take or provide a portrait photograph to add to the SSMP online archive.
As should any seasoned interviewer, students also prepared by doing background research. For this project, they focused on Skidmore history during the time their interviewees would have worked on campus. For many, this was the first formal interview of someone "on record," so to develop each interviewing technique, each one also conducted a pre-interview with Skidmore community members who knew their interviewees well.

In addition to developing research and interview skills, the class learned how to use audio equipment to record a conversation clearly and precisely, receiving training on basic audio recording and interviewing techniques with audio documentarian Eileen McAdam of the Sound and Story Project of the Hudson Valley.
After the interview, each student edited their 40 minute interview to improve sound quality and created a full-length transcription. Each completed interview will be added to the Skidmore Saratoga Memory Project, which archives oral histories of influential members of both the Skidmore and Saratoga communities.

I sat down with some of the students to discuss their experience...
"I think it's really crucial to any bigger entity's history to look at personal narratives."
Liv Fidler interviewed retired faculty member Joanna Zangrando (American studies, women's studies and education). Listen to a clip of her talking about the development of Skidmore's Feminist Discussion Group.
Learn more about Liv's experience in Interview 101 and her take on oral history.
Liv Fidler '19 is an anticipated American studies major and media & film studies minor.
"...it is important to talk to people who were here [at Skidmore] years before because you get to appreciate and perhaps contribute more to the school because you're going to take a little bit more care of it."
Renato interviewed retired staff member Leo Geoffrion (information technology). Listen to a clip of him talking about the start of the Academic Computing program.
Hear more about Renato's experience and the skills he gained from Interview 101.
Renato Dornelas '18 studies international affairs and media studies.
"I saw interviewing 101 and I thought that that's an amazing skill to have..."
Maria interviewed Chrisana Joseph, who started working at Skidmore in 1987. Hear more about her experience starting out as a secretary and progressing to an administrative coordinator on larger projects.
Maria joined MDOCS in her last semester at Skidmore. Learn more about what attracted her to the program.
Maria Mayböck '16 studies international affairs and Spanish.
"If you're an interviewer, rather than just being in a conversation with somebody, you learn to listen so much better."
Emily interviewed recent retiree John Anzalone (French) who was convinced to delay his retirement in order to become the principal investigator for the grant proposal that created Project VIS, the Media and Film Studies Program and MDOCS.
Before "Interview 101," Emily had never heard of the term "oral history"; learn more about her first experience recording one.
Emily Meagher '18 studies international affairs.
To listen to full-length interviews of the Skidmore Retiree Project, visit the Skidmore Saratoga Memory Project, Retiree archive.
—Rebecca Stern '16