---
Production Equipment AND Spaces
DOCLab is an open-access area located on the first floor of Scribner Library. It is a campus resource whose mission is to support work across the curriculum. We welcome your proposals to host informal gatherings, screenings, discussions and workshops, and we will do our best to accommodate and help you advance your work! Reserve or request access for any of the spaces or equipment below by emailing doclab@skidmore.edu with details about your project and interests in using these resources.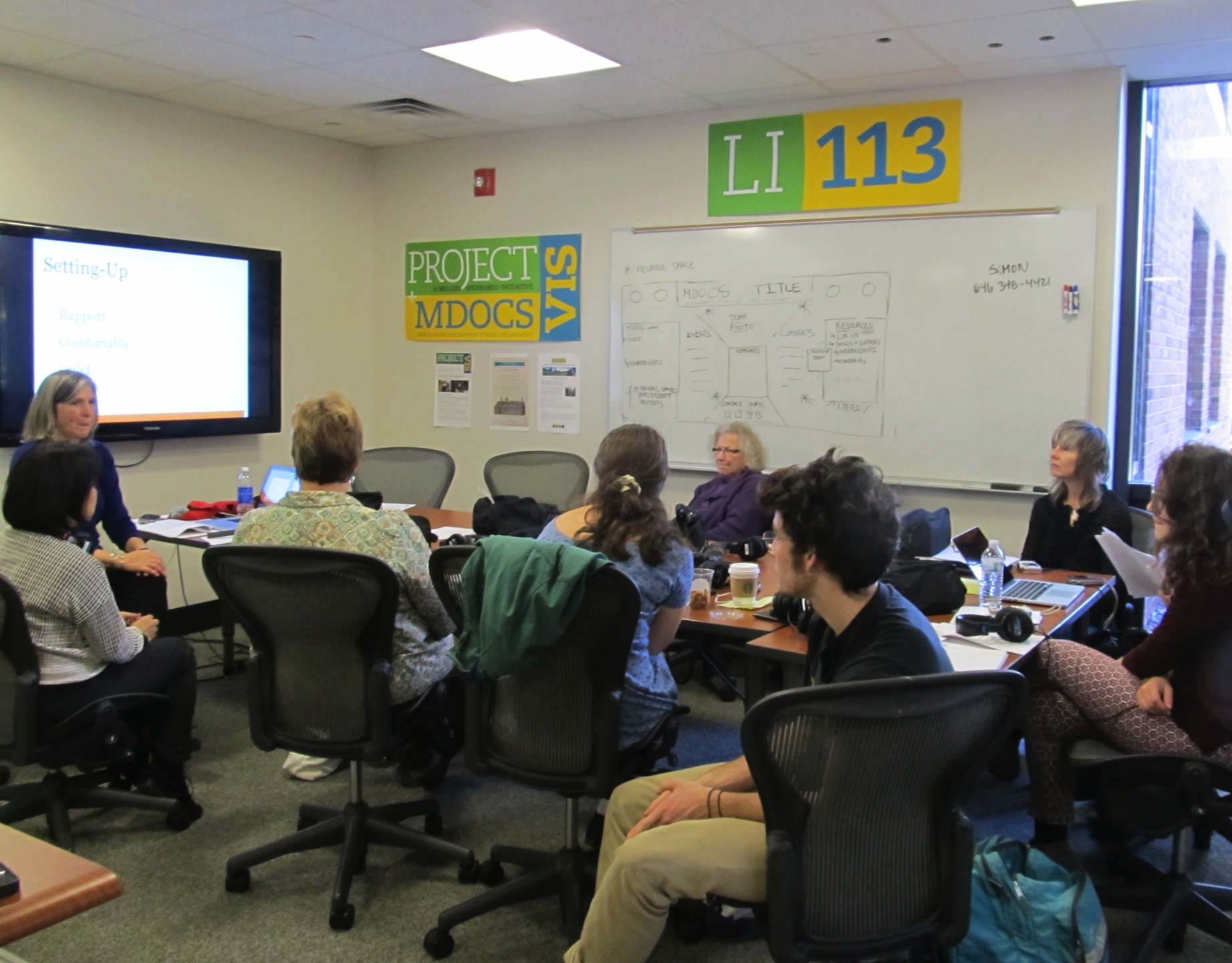 EQUIPMENT
Audo/visual equipment: Most of MDOCS' production equipment is managed by Media Services in the basement of the Library. A limited number of audio/walking tour headsets, audio recorders, advanced cameras and relevant support materials are housed in DOCLab. MDOCS production equipment and software list.
Exhibition and Display: MDOCS offers portable display cases as well as frames and supports for individuals and classes working in exhibition, as well as one permanent floor case in Scribner Library. For multimedia display, there are a small number of monitors with stands for streaming media and mini-iPads with wall mounts. These are all available upon request.
Access: Students enrolled in Doc Studies production courses are given automatic access to the MDOCS equipment collection at the start of each semester. Individuals not enrolled, but interested in borrowing gear should write to Jesse O'Connell (joconnel@skidmore.edu) for approval.
Equipment Lending Policy: For more information on equipment lending, click here. This form needs to be signed by anyone planning to use MDOCS production equipment.
LIBRARY 113 (Classroom and Post-production Studio)

Lib 113 A: A conference area with a large display screen
Lib 113 B: A 12-seat computer lab with podium/projector. For computer software, click here.
Recording booth: Small recording booth for voiceovers, interviews and sound creation and editing.
FILENE ATTIC
Archival storage and workspace
Private video/audio editing station
4-channel sound editing and recording capabilities
Exhibit design workshop space