Skidmore Saratoga Classic earns USHJA recognition
December 18, 2011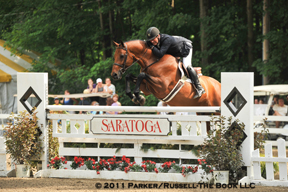 A scene from the 2011 Skidmore Saratoga Classic
The Skidmore College Saratoga Classic Horse Show has received the Member's Choice Award from the United States Hunter Jumper Association (USJHA).
Presented at the association's annual meeting earlier this month in New Orleans, the award was developed by the USHJA Show Standards Committee and confers special status to the Skidmore show. It enables show exhibitors and participants the opportunity to award excellence at United States Equestrian Federation-licensed hunter jumper competitions through feedback on the competition, the facility, footing, show personnel, and hospitality. The goal of the Member's Choice Awards Program is to promote exhibitor-friendly competitions and reward excellence based on the amenities and qualities that exhibitors value most.
Adele Einhorn, executive director of Skidmore College Saratoga Classic Horse Show, said, "We are extremely proud and pleased to be the recipient of this prestigious award."
Adele Einhorn
She continued, "Since we started this show in 1998 our goal has been to offer an outstanding venue that provides good footing, a friendly and customer service-oriented atmosphere, thoughtful scheduling, and limited entries. We have invested a substantial amount of money on improving the facility and in particular, the footing, which seems to have clearly paid off. Horse showing is an expensive sport and in today's economy, people want to feel as if they are getting value for their investment. They are appreciative when the show management invests in the quality of the event."
According to Einhorn, the trend in today's American horse shows is the "one-stop, box-shop mentality." Equestrians are drawn to shows that offer multiple weeks of competition, large venues, numerous vendors, and many class offerings. Hosting a show at the same venue for six weeks helps limit costs, enabling management to offer more prize money and generate more advertising and sponsorships. In return, participants save on shipping and related costs incurred when moving from horse show to horse show.<
She said, "It has been hard for us with our 'boutique' style of horse show to compete with these large box events and we have had to work hard to maintain our niche in the equestrian market. Winning the USHJA Member's Choice Award will give us more exposure and help us grow our market."
Added Einhorn, "Participants at the Skidmore College Saratoga Classic love the show and what we offer. We continually hear that this show is the favorite of many. Winning this award confirms all that we have heard for many years."
Click here for details on the 2012 Skidmore College Saratoga Classic Horse Show.