Pitch perfect
February 20, 2013
Pitch perfect
The Drastic Measures, one of Skidmore's co-ed a capella groups, is heading to the International Championship of Collegiate A Cappella Quarterfinals this weekend. Get your tickets now!
February 20, 2013
On Saturday, Feb. 23, 12 members of Skidmore's Drastic Measures will take the stage in Hartford, Conn., to compete for a capella glory in the International Championship of Collegiate A Cappella (ICCA) Quarterfinals.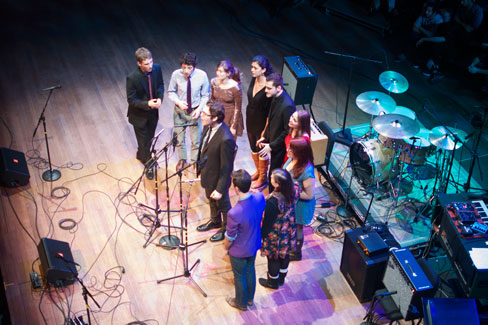 Drastic Measures perform at Beatlemore Skidmania
For the second time in two years, Skidmore will compete against eight other groups from colleges such as UMass Amherst, Vassar, and University of Hartford in the regional contest. The top two groups from the five Northeast quarterfinals will participate in the semifinals, held at Massachusetts Institute of Technology in March.
"We're so excited; we've worked hard and we're looking forward to competing. It's going to be a blast," says Dan Plumer '16.
Of the five a capella groups at Skidmore, the Drastics are the only group dedicated to performing for charity. The group annually choses an organization or cause to support and this year will allocate proceeds from performances to WAIT House of Saratoga, an organization that supports homeless youth.
Founded in 2003, the student group performs 10 to 14 times a semester on campus and at community events, including the Victorian Streetwalk in Saratoga Springs. Membership is by audition. Of the 75 students who tried out this year the following members were selected: Lindsay Kellstrom '15, Tory Waldron '15, Eli McCormack '16, Allie Chipkin '14, Christine Pardos '14, Katie Martucci '16, Jack Mallory '15, Sam Kastner '15, Gabe Glissen-Brown '14, Duncan Gregory '16, Dan Plumer '16, and Harrison Lipton '15.
Click here to purchase tickets to ICCA quarterfinals.