Student research commissioned
February 28, 2013
Student research commissioned
Research for use by living, local clients is bringing four students to Saratoga's public library Monday, March 4, to give talks on the city's religious traditions and architecture.

February 28, 2013
"History on the hoof" is how Jordana Dym describes a new course in which her students learned and practiced public history—from interviewing archivists to researching city registers and maps to analyzing and shaping data for use by citizens and policymakers. "They brought intellectual rigor as well as a lot of creativity to their projects, moving from architectural histories to a narrative that placed their findings into broader historical context," Dym explains.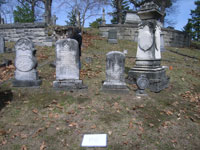 Greenridge Cemetery (Alex Garcia '11,
Geneva Kraus '11, Sara Gross '13,
Heather Hurst '97)
A historian of Latin America whose scholarship has covered city governments, mapping, and travel writing, Dym wanted to bring history home and hands-on in offering last fall's pilot "Public History" course, which drew on relationships that department colleagues Eric Morser and Tillman Nechtman had built with local history sites and resources. Little did she know the course would be such a hit that she'd add a two-credit workshop in the spring, to allow some of its students to continue their work.
The fall students conducted research for the Saratoga Springs Preservation Foundation, which sought information on the city's "sacred spaces"—historic churches, temples, cemeteries—to help it in developing a walking tour (earlier, Sophie Don '14 and Adam Smith-Perez '14 interned with Sara Boivin '96, the SSPF's outreach director, to select the sites). From hours of poring over documents in the public library's Saratoga Room, church storage closets, and Skidmore's special collections, and from scores of interviews with historians, clerics, congregants, and caretakers, the students wrote papers, created a Web site, prepared oral presentations, and even worked up a few internship proposals. Because "we made connections with local historians who were really excited about what we were doing," says Sara Gross '13, "I took the spring workshop to keep working with some of these great people."
Among them is Teri Blasko, who oversees the public library's Saratoga Room of history documents. "I've been impressed," she says, "that the students always seem well prepared before they come to us." She also remarks, "Saratoga people take their history very seriously, and these students have earned acceptance into the local history community, which I can see makes them a little nervous but also proud."
In the workshop, Dym confirms, "I'm coaching them, but really we're all collaborating, doing genuine professional history." Last week they were sharing and discussing each other's finds, such as the dates when their sites first appear on city maps. Some old maps have sketchy labels, such as "Catholic church" without "St. Peter's" or "St. Clement's." Temple Sinai appears to have had several headquarters before it acquired its own building. Some street names changed around cemetery perimeters. Working from primary sources can be "tedious and frustrating," Dym acknowledges with a grin, "but it results in some wonderful discoveries." One thing Gross discovered was that "the sheer volume of articles, books, records, maps, and interviews that inform a single written history is astounding."
Another topic of classroom discussion was how to tailor the presentations for the foundation and library audiences. Gross says it's challenging to figure out "how much content is appropriate, what voice would be most engaging, and what story to tell." She adds, "I'm not used to framing my writing this way, but it's been fun to experiment with and learn about."
March 4, 7 p.m.
Dutcher Community Room
Saratoga Springs Public Library
Drawing on their peers' work from the fall and their own distillations this spring, the students will present Saratoga's spiritual traditions in local and national contexts, including Gross discussing Greenridge Cemetery, David Schlenker '13 on St. Clement's Catholic Church, Addy Shreffler '13 on Bethesda Episcopal Church, and Sophie Don '14 covering Temple Sinai. Their presentation is scheduled from 7 to 8:45 p.m. Monday.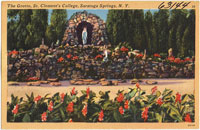 St. Clemen'ts grotto, 1930-45 postcard
(Boston Public Library)
In addition, the foursome is writing essays to be printed in the Saratogian newspaper with help from Dan Forbush, Skidmore's executive director of communications and a board member of the Preservation Foundation. The students will also collaborate with local journalist and historian Field Horne on his new book.
For her part, Dym says the course has arrived at "one of those exciting moments when you see students applying 'traditional' skills (research, analysis), learning new ones (teamwork, ethics, public speaking), and growing by leaps and bounds." She adds, "It's a great way to help students connect their internships with their studies. Now we're excited to identify our next public-history project."